UNIQSTAR M200+ DIGITAL SATELLITE RECEIVER SOFTWARE UPDATE
Download UNIQSTAR M200 PLUS Sat Receiver Software, Firmware Latest Update. Update UNIQSTAR HD Receiver Firmware with Many New Options. For All Model UNIQSTAR Receiver, Latest Software Update Click Here. New Updates and For any Help Contact Us on Facebook Page or Twitter.
The new Uniq star M200+ full HD receiver with auto-resolution capability, excellent image quality, supports the H265 codec with 10-bit color depth, has a built-in digital TV receiver, a powerful multi-stream tuner, storage capacity of 8000 TV channels, a writing panel (VFD), and an audio output ( RCA) S-PDIF with LAN port, with 2 USB ports, with 1 USB WiFi with antenna and the ability to support USB-WIFI types, with 1 remote control, large size, very high quality, with 12 months of Internet sharing, with 12 months of free IPTV subscription.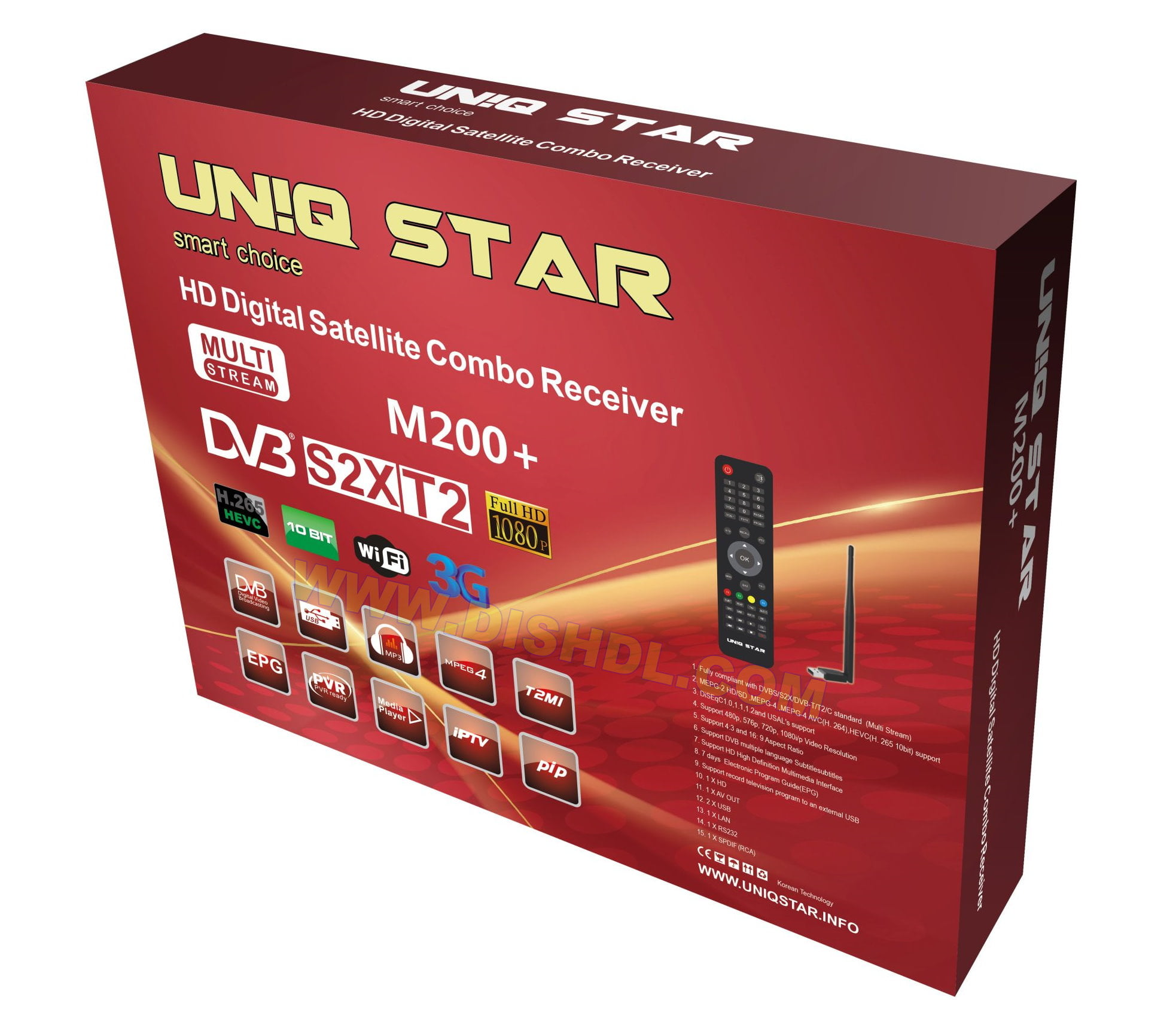 FEATURES:
1、Fully Compliant with DVB-T2/T,/DVB-S2/DVB-S,/DVB-S2X
2、Support HEVC Main [email protected] 4.1 and Main10 [email protected](H.265 10bit),and H.264/AVC,SD/HD MPEG2/4…
3、Auto and manually scan all available TV and radio channels
4、Support Full HD 1080P, HDMI 576i, 576p, 720p,1080i,1080p
5、Multi-language audio and subtitle output supported
6、Aspect ratio 16:9 and 4:3
7、Powerful and highly effective 7-day EPG function
8、Supports teletext, Parental lock
9、USB 2.0 for PVR, Timeshift, Software upgrade, Multimeida Playback, Support OTA function
10、Multimedia format: MPEG-2, MPEG-4/ASP, H.264/AVC ,JPEG,BMP,PNG, Motion JPEG,AVI, VOB, MOV, MKV…
11、DVB-S2: SCPC & MCPC receivable from C/Ku band satellites
12、DVB-S2: DiSEqC 1.0/1.1/1.2/1.3(USALS) supported, Universal LNB, NIT search supported"
Specifications :
DVBT2 Tuner;
InputFrequency Range VHF&UHF
Demodulation COFDM(QPSK/QAM16/QAM64)
Bandwidth Bandwidth 7,8
RF output Connector (bypass)IEC 169-2 Male
Loop through 177.5-226.5MHz(VHF),474-858 MHz(UHF)
DVBS2 Tuner;
InputFrequency 950 to 2150Mhz
Input level -79 to-11dbm
Symbol Rate 1 to 45M
In put impedance 75
DVBS2 Demodulation
Wave from 64/16/4QAM
Demodulation QPSK,8PSK,16APSK,32APSK
Rate 1/2,2/3,3/4,5/6,7/8,8/9,9/10
Video;
Standard ISO/IEC 13818-2 and ISO/IEC 14496-10
Transport stream ISO/IEC 13818-1
Video decoding "HEVC Main [email protected] 4.1 and Main10 [email protected], High tier,MPEG-2, MPEG-4/ASP, H.264/AVC ,
(JPEG,BMP,PNG, Motion JPEG,AVI, VOB, MOV, MKV…)
Video Resolution 480i, 480p, 576i, 576p, 720p, 1080i, 1080p
Aspect ratio 4:3, 16:9,Auto
Audio;
Standard ISO/IEC 13818-3
Audio Decoder digital audio decoding,SRC,RA8-LBA , AC-3,E-AC-3, HE-AAC5.1, Dolby Digital . (MP3,WMA,AAC-LC,RA8-LBR…)
Sample rate 32, 44.1, 48
Subtitles & Teletext
Subtitle DVB Subtitle
Rear Panel
HDMI Digital HDTV video output with HDCP. HDMI version 1.3
LNB IN RF Male
ANT IN IEC169-2 Female
USB 1*USB2.0
LAN
RS232
SPDIF Coaxial
CVBS & Audio R/L RCA
Front Panel
Display 8 digital VFD Display
Key 7 keys
USB 2*USB2.0
Accessories;
Remote control
User Manual in English
HDMI Cable 1pcs
Battery 1pcs
Power;
AC INPUT AC 100-240V
Power consumption Max 15W
File Name
New! UniqStar M200 PLUS_ V7.1.1870 16042023.rar
1- UniqStar M200 PLUS_ V7.1.1869 05042023.rar
Update UNIQSTAR M200 PLUS_ TV Receiver Software 16/04/2023
Download UNIQSTAR M200 PLUS_ Sat Receiver Software, Firmware New Update