VISION FUN PRO PLUS NEW SOFTWARE UPDATE FREE DOWNLOAD
Download VISION FUN PRO PLUS Latest Software Version and Android Apps. VISION Activation, Smart Vision Youtube, Smart TV. And also Vision Smart Pro IPTV. Update VISION Software PC GX_Rom Update, And PC Loader. Vision Help Desk  How to Update Vision, Vision Software For Soloution. User Manual in PDf Format and also Download Channel List For Vision Satellite Receiver. For Latest Satellite TV Receiver Software and every Update about Satellite TV Contact us, Like our Facebook page. And also follow us on Twitter.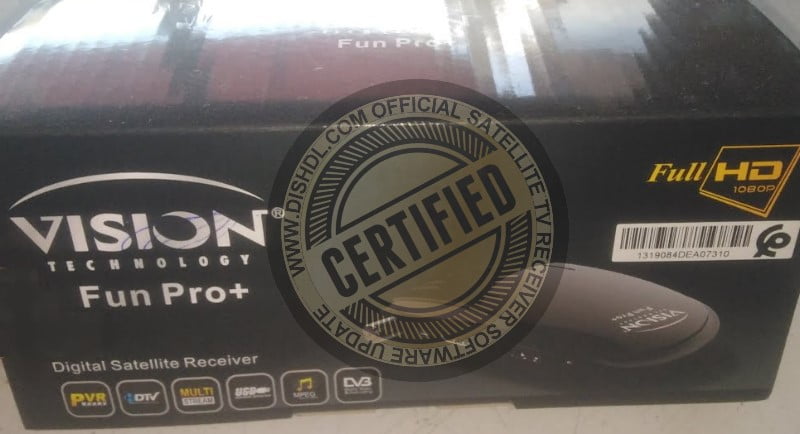 Specifications:
RÉCEPTEUR SATELLITE
MULTISTREAM
SUPPORT WIFI – 3G
12 MOIS Fun Pro PlusCAM offert par le fournisseur
12 MOIS Appolo IPTV
Récepteur Full HD
USB
VISION FUN PRO PLUS
Youtube
MultiStream
Enregistrement par USB (USB PVR)
Câble HDMI inclus.
Câble RS232.
Inclus support et sticker pour fixation.
Dessin optimal pour ventilation du chaleur.
Mise à jour via USB
Blind Scan, DVB Digital Video Broadcasting
Media Player, Weather update
MULTI STREAM, PVR Ready, EPG
DVB-S/DVB-S2 Satellite Compliant (MPEG-II/MPEG-IV/H.264/H.265)
SCPC & MCPC receivable from Ku and C band satellites
Universal, Single, Single S & C Band Wideband LNB
Compatible Code Rates: 1/2, 3/5, 2/3, 3/4, 4/5, 5/6, 7/8, 8/9 and 9/10
Sensitive Tuner with Loop-Through
DiSEqC C 1.0/1.1/1.2/1.3(USALS)

Unicable Supported
Blind Search supported.
Multi-satellite search, network search, Multi tp search
Auto DiSEqC Search
PAL/NTSC
variable aspect ratio(4:3, 16:9)with PAN&SCAN vector or letter BOX option
Favorite group add, delete,
it is Supported Pro Plusgram lock, delete, move, (group move), rename, swap
Supported transponder add, delete, edit
also Supported multi-language menu (English, German, Russian, Arabic, Hungarian)
Supported multi EPG language
Multi-language audio.
Multi-language DVB Subtitle output
(Now/Next Daily, Weekly)Electronic Pro Plusgram Guide (EPG)
MultiEPG (14 Days)
Teletext output through VBI and OSD.
Software and additional data upgrade through USB or Ethernet
USB 2.0 Interface
File Name
New! VISION FUN PRO PLUS_ V2.63 01062023.rar
10- VISION FUN PRO PLUS_ V2.62 09052023.rar
9- VISION FUN PRO PLUS_ V2.71 31032023.rar
8- VISION FUN PRO PLUS_ V2.69 24102022.rar
7- VISION FUN PRO PLUS_ V2.68 01072022.rar
6- VISION FUN PRO PLUS_ V2.67 24122021.rar
5- VISION FUN PRO PLUS_ V2.66 15102021.rar
4- VISION FUN PRO PLUS_ V2.64 24052021.rar
3- VISION FUN PRO PLUS_ V2.63 12032021.rar
2- VISION FUN PRO PLUS_ V2.62 08092020.rar
1- VISION FUN PRO PLUS_ V2.59 27042020.rar
Channel List! VISION FUN PRO PLUS_ Channel List.rar
VISION Receiver New Software Update 01/06/2023
Download VISION FUN PRO PLUS_ RECEIVER NEW FIRMWARE AND SOFTWARE.