GTMEDIA V8X NEW FIRMWARE DOWNLOAD
GTMEDIA V8X Satellite Receiver Software Latest Update. Download GTMedia Satellite Receiver Manual, and Software with New Option. For All Model GTMedia Receiver Update Click Here. Icone Receiver Software, For any Help Contact Us @ Facebook Page or Twitter.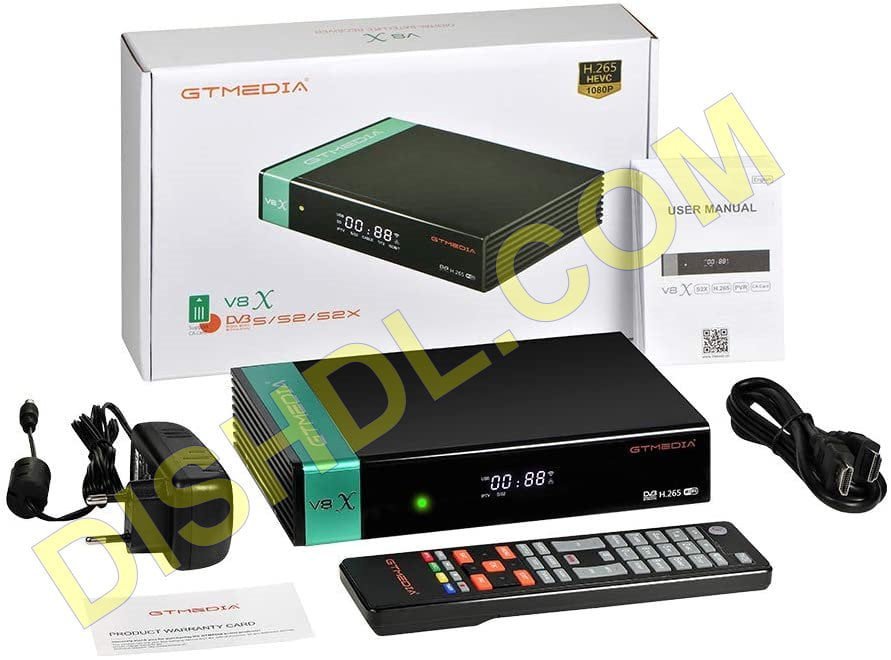 GTMEDIA V8X HD DVB-S/S2/S2X FTA Digital Satellite Receiver, Free to Air Built-in 2.4G WiFi TV Sat Decoder Supports Intelsat 901 at 27.5°W BBC Channel
GTMEDIA V8X Price    $57.99
BUY NOW
Specifications:
CA Card Reader and Multi-room: allows you to share your CA card with other receivers on the same network, which means that if you insert one CA card into our satellite receiver, then the receiver in your other rooms can also use the card at the same time, but they need to be on the same network.
DLNA and Sat to IP: DLNA function supports transmitting the video in your phone and tablet on a large TV screen. Sat to IP function supports satellite TV program transmit to your mobile phone, tablet and other device via GTShare.
Built-in 2.4G WIFI Module: This satellite receiver is with integrated 2.4G WiFi module, Ethernet and 3G dongle supported. You can connect WiFi or wired network to watch YouTube videos and online movies.
Channel Search: Support automatic network search for new added transponders. 6000 channels TV and Radio programmable. Supports 7 days electronic program guide and various channel edit functions (favorite, move, lock, skip, delete, rename, find, sort). There is Parental control for channels. It can control the viewing rights for each program.
USB Port Soft-upgrade: Software upgrades through USB port, or FTP upgrade. The USB port also supports PVR video recording and media files playback function.
Important Note:
1- backup the channel list.                                        Backup Channel List
2- export the softcam.key to usb device                         Backup softcam.key
3- update the firmware to box by allcode mode 4-
update channel list then import softcam.key
File Name
New! GTMEDIA V8X_ Mars V1.10.6238 24032023.rar
36- GTMEDIA V8X_ Mars V1.10.5954 02032023.rar
36- GTMEDIA V8X_ Mars V1.10.5846 10022023.rar
35- GTMEDIA V8X_ Mars V1.10.5758 15012023.rar
34- GTMedia V8X_ Mars V1.10.5592 22122022.zip
Update Note:
1.Mars is a new firmware for the user interface promoted by gtmedia. It adopts a composition similar to Android style, allowing users to have a new user experience. v7pro mars will continue to roll out at a later date.
Therefore, mars is just the name of this new firmware, and has nothing to do with account or a specific feature attribute, hereby declared
1. Before the old software upgrade Mars, back up the database and data
2. Mars does not support old software channel lists
3. List of SDX program supported by Mars
4. It is not recommended to import V8UHD Mars channel list into V8X
5. Do not upgrade this software for users who use smart card
6. This software is available for both V8X and X8 platforms
Change log:
1. Fix the issue of the 5750 lnb type
2. Fix the issue of Xtream playback
3. Fix he issue of Stalker playback
4. Support the video type of AVS+
5. Update the Box ID Display
6. Update Power Vu&Biss Key
7. Add French and Bulgarian
Solving V8X cannot update the MARS method:
1. Download the following zip software and unzip the bin file
2. Bin file copy U disk root directory
3. Insert the V8X machine
3. Select USB Upgrade, All Code
4. Upgrade gtMedia_v8x_v325_20221206.bin
5. After the upgrade is completed, upgrade Mars software
33- GTMedia_V8X_V325_20221206.zip
32- GTMEDIA V8X_ Mars STBEditor V1.7.4.rar
31- GTMEDIA V8X_ Mars 19.2E 29112022 Channel List.rar
30- GTMEDIA V8X_ Mars 13E 29112022 Channel List.rar
29- GTMEDIA V8X_ V323 22112022.rar
Change log:
1. Version information update
28- GTMEDIA V8X_ Mars V1.09.5376 16112022.rar
27- GTMEDIA V8X_ Mars V1.09.5257 31102022.rar
26- GTMEDIA V8X_ Mars V1.09.5109 14102022.rar
25- GTMEDIA V8X_ Mars V1.09.5024 30092022.rar
24- GTMEDIA V8X_ Mars V1.09.4898 16092022.rar
23- GTMEDIA V8X_ Mars V1.09.4852 09092022.rar
Mars Software Note:
1. If v8x has any OMEGA firmware installed, it won't work even without activation
2. At present, the sdx program list supported by mars and the original v8x program list cannot support each other
3. Do not upgrade this software for users who use smart card
4.The firmware has a new style and a new user experience.
5.solve the problem that Spanish users have been unable to watch channels stably
22- GTMEDIA V8X_ Mars V1.09.4777 02092022.rar
Note:
1. If the last digit of the HW item is 4, after upgrading the Mars software,
there will be a problem that the wifi password and system parameter will not be saved.
We will fix it as soon as possible.
2. If v8x has any OMEGA firmware installed, it won't work even without activation
21- GTMEDIA V8X_ Mars V1.09.4739 31082022.rar
Note:
1. If the last digit of the HW item is 4, after upgrading the Mars software,
there will be a problem that the wifi password and system parameter will not be saved.
We will fix it as soon as possible.
2. If v8x has any OMEGA firmware installed, it won't work even without activation
20- GTMEDIA V8X V319_ 19052022.rar
Change log:
1. support tivusat merlin card
2, support TNTSAT card
3. add flash type information
19- GTMEDIA V8X_ V311 16022022.rar
Change log:
1.Update Italian translation
2. Fix 131W BISS card problem
3. infor add youtube video connection QR code,
4.Dump v8x_playlist.m3u file supports FAV display
5.Antenna Setup, the cursor is on the satellite page
18- GTMEDIA V8X_ V302 14122021.bin
Change log:
1. Update 30W frequency table
2. AV settings, switch resolution, add prompt box
17- GTMEDIA V8X_ V298 25112021.rar
Change log:
1. Solve the problem of missing programs at 30W
2. Update IPTV function
16- GTMEDIA V8X_ V293 28102021.rar
Change log:
1. Optimize the system
15- GTMEDIA V8X_ V289 23092021.rar
Change log:
1. Optimize the system
14- GTMEDIA V8X_ V276 24062021.rar
Change log:
1. Fix the problem of Youtube button playback under T2MI channel
13- GTMEDIA V8X_ V273 28052021.rar
Change log:
1. Update YouTube
2. Update Polish
3. Update the short-circuit prompt
4. Support V7 remote control
5. AUTO BISS update
12- GTMEDIA V8X_ V268 21042021.rar
Change log:
1. Update YouTube
2. Update Polish
3. Update the short-circuit prompt
4. Support V7 remote control
5. AUTO BISS update
11- GTMEDIA V8X_ V260 11032021.rar
Change log:
1. Adjust the font size of the number keys
2. Increase the network upgrade menu and prompts
3. Update EMM KEY
10- GTMEDIA V8X_ V257 04022021.rar
Change log:
1. Solve the problem that youtube music cannot be played
9- GTMEDIA V8X_ V255 26012021.rar
Change log:
1. Fix DVB-S2 short circuit protection function
2. Fix the problem of too short waiting time for number keys
3. Fix 78.5E T2MI search problem
8- GTMEDIA V8X_ V251 20210113.zip
Change log:
1. Support URL M3U format import,
2. Support the "Find" button does not distinguish between uppercase and lowercase letters, and the keyboard layout starts from the letter
3. Add ORF ICE card.
4.Add skylink ICE card
5. Update 19.2E satellite built-in frequency
7- GTMEDIA V8X_ 23122020.rar
Change log:
1. Fix the problem of Italian LCN search channel number and channel sorting
6- GTMEDIA V8X_ 16122020.rar
Change log:
1. Need to add Italian LCN search function
2. Update Polish
3. Solve the problem of userdb export, FAV name error
5- GTMEDIA V8X_ 07122020.rar
Change log:
1. Support 5W_FranSat channel playback
2. Support 19.2E_ French channel TNT playback
3. Solve the problem that Youtube can't play
4- GTMEDIA V8X_ 17112020.rar
3- GTMEDIA V8X_ 13112020.rar
2- GTMEDIA V8X_ 28102020.rar
1- GTMEDIA V8X_ 22092020.rar
GTMEDIA V8X Receiver Software 24/03/2023
Download GTMEDIA_V8X Receiver Firmware New Update