DUOSAT NEXT UHD LITE DIGITAL SATELLITE RECEIVER LATEST SOFTWARE (Atualização)
Download Duosat Next UHD Lite sat receiver software, activator (antigo), encoded (codificado) and loader Latest update (Atualização). This website (dishdl) provide all duosat series model tv receiver new software and all duosat receiver tools download for free and fast. For more information comments on page like our Facebook Page or follow us on Twitter.
Next UHD Lite uses the optimized version of Quad-Core processors, providing smoother streaming and amazing gaming experience. It is equipped with a high-performance Quad-Core ARM Cortex A7 processor and Mali450 Quad-Core GPU, all of which means that Next UHD Lite will run faster and more efficiently than a single-core or dual-core device, giving you a Extraordinary entertainment at the speed of light!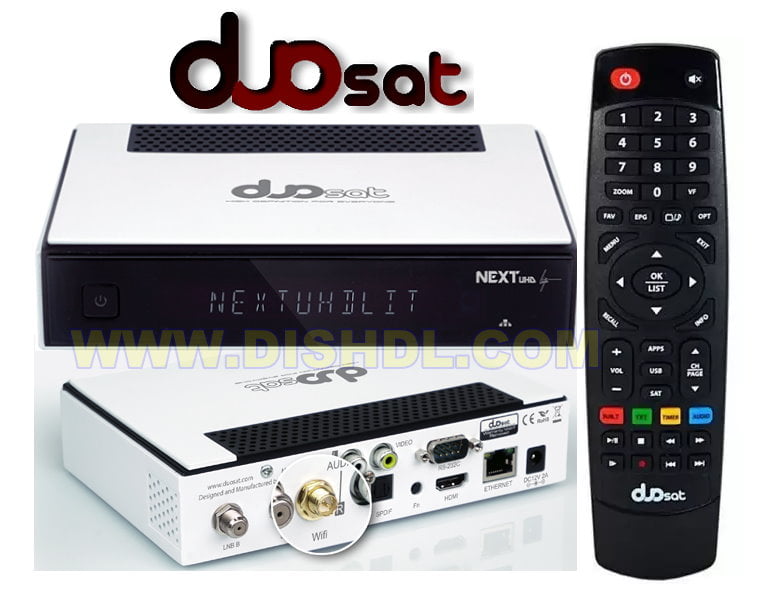 Specifications:
Tuner
Dual Tuner. Support DVB-S2 : 2~45 Ms/s, Demodulation: ACM, VCM, QPSK, 8PSK, 16APSK, 32APSK. Input Connector: F-Type, IEC 169-24 X 2, Female. Input Frequency: 950 ~ 2150MHz. LNB & Polarization: Vertical: +13.5V, Horizontal: +18V, Current: Max. 450mA
Video
Ultra HD 4k x 2k resolution: 3840p x 2160p, 1080p/i, 720p, 576p/i, 480p/i, decoding: HEVC (H.265),H.264 BP/MP/[email protected], Full HD 3D (MVC), Blu-ray, [email protected]/[email protected], AVS baseline @L6.0 and AVS -16(AVS+), VC-1 [email protected], [email protected], and [email protected],Mpeg4 SHF (h.263 baseline)
Processor
Quad-Core ARM Cortex A7. High Performance Quad-Core Mali450. Integrated Multimedia Engine Acceleration: NEON. JAVA Acceleration. Integrated Floating Point Coprocessor.
USB
2 X USB 2.0 Host (Side) 1 X USB 3.0 Host (Side)
Display
1 X 10 digit VFD, 1 X Dual LED (Standby), 1 X LED (Networks)
Audio
2 X RCA Chinch(L/R), Digital Audio Out 1 x SPDIF(Optical), Dedicated DSP Audio, G.711 decoding, Dolby Digital and Dolby Digital plus, 2-channel Audio Mix, Echo Cancellation, SRS ,MS11 Sound Effects, Pounding Bass Processing, AAC-LC and HE AACV1/V2 Decoding, APE, FLAC, Ogg, AMR-NB, and AMR-WB Decoding, MPEG L1/L2/L3
Memory
Memory: DDR3 RAM 1GBytes, Flash Memory: 8GBytes
Physical Specifications
Size: 180mm x 40mm x 124mm (W x H x D). Weight (Set) Approx. 0.7Kg. Operating Temperature: 0° C to +45° C. Storage Temperature: -10°C to +70°C.
WIFI
(Built-in WLAN 11b/g/n): 1 RP-SMA Female (with 4dB Antenna)
File Name
New! Duosat Next UHD Lite_ V1.1.79 18042023.rar
2- Duosat Next UHD_ Lite V1.1.78 27032023.rar
1- Duosat Next UHD Lite_ V1.1.77 19012023.rar
Update Duosat Next UHD Lite_ Receiver Software 18/04/2023
Download Duosat Next UHD Lite Receiver Firmware New Update