GTMEDIA TT PRO NEW FIRMWARE UPDATE DOWNLOAD
GTMEDIA TT PRO Satellite Receiver Software Latest Update. Download GTMedia Satellite Receiver Manual, and Software with New Option. For All Model GTMedia Receiver Update Click Here. Icone Receiver Software, For any Help Contact Us @ Facebook Page or Twitter.
DVB-T/T2 & Cable Receiver Digital

If you receive DVB-T2 and DVB-C signals, you can watch more TV shows. Automatic switching of PAL/NTSC conversion for different situations and areas. H.265,1080p video decoding formats for excellent viewing Connected to the Internet, Cccam, Newcam, YouTube and PowerVu are supported. 64MB serial flash memory ensures stability of playback and smooth TV programs. It is very easy to use, plug and play, compact and lightweight.
GT MEDIA PRO TT cable box support for terrestrial decoder cable for DVB – T / T2 / H 1080p Full HD. 265 – top box so that you, many high – TV – – can enjoy programs free definition.
Supports USB – 3G dongle at full speed, YouTube, CCcam, Newcam etc. via USB – stick, USB PVR and USB – WLAN for network shares. Combine a USB – Wi – Fi for an excellent viewing experience.
6000 programmable TV and radio channels, fully seven – days – Support Electronic Program Guide (EPG), NIT search, automatic network for newly added transponder, different channel editing functions (favorite, move, lock, skip, delete, rename, search).
Plug & Play – installation with a user-friendly menu system. Support – Logic – channel number (LCN). Support automatic PAL / NTSC – conversion.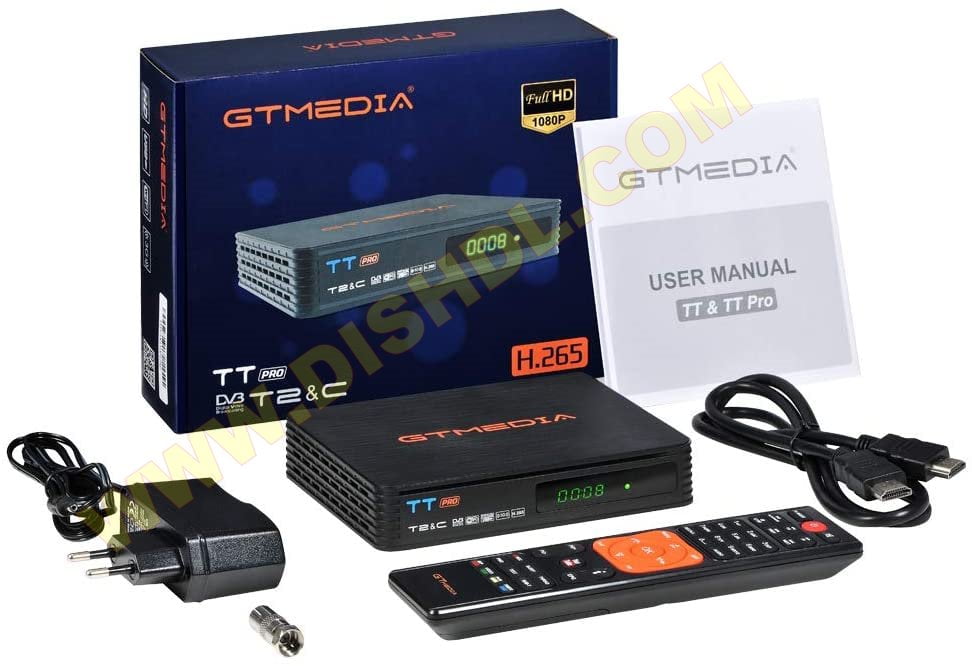 GT MEDIA TT PRO Cable Receiver for Digital Cable TV DVB-T DVB-T, T2 TV HD Receiver with Antenna WiFi USB HEVC H.265 Full HD 1080P Support PVR, CCcam and YouTube
GTMEDIA TT PRO Price   
Buy Now
TT PRO Specification
EPG Full support for 7 days electronic program guide (EPG)
Video decoding High Definition MPEG4 AVC / H.264 HP @ L4.1, MPEG-2 MP @ HL / ML Auto, 16: 9 column box, 4: 3 Pan & Scan, 4: 3 letter box
Audio decoding MPEG1 layer I, MPEG1 layer II, MPEG1 layer III, MPEG2 AAC, MPEG4 HE-AAC
Number of channels 6000 channels TV and radio programmable
Favourites 16 different favourite group selections
Photo codec JPG, BMP, PNG, GIF
OSD language English, Spanish, French, Russian, Portuguese, Polish, Indonesian, Arabic, Turkish, German, Italian, Persian, Thai
Edit channel Various channel editing functions (favorite, move, lock, skip, delete, rename, search, sort)
Timer 5 event timer, off / once / daily / weekly
Parental control Child lock for channels
Important Note:
1- backup the channel list.                                        Backup Channel List
2- export the softcam.key to usb device                         Backup softcam.key
3- update the firmware to box by allcode mode 4-
update channel list then import softcam.key
File Name
New! GTMEDIA TT PRO_V432 27042021.rar
change log:
1. Update youtube.
2. Update the emm key.
GTMEDIA TT PRO Receiver Software 27/04/2021
Download GTMEDIA TT PRO Receiver Firmware New Update