GTMEDIA V7 S HD NEW FIRMWARE DOWNLOAD
GTMEDIA V7S HD Satellite Receiver Software Latest Update. Download GTMedia Satellite Receiver Manual, and Software with New Option. For All Model GTMedia Receiver Update Click Here. Icone Receiver Software, For any Help Contact Us @ Facebook Page or Twitter.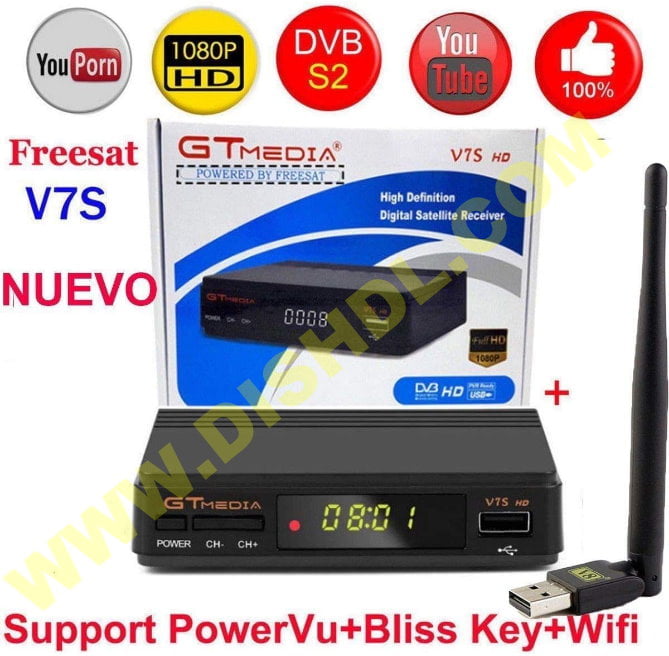 GT MEDIA V7S HD Satellite TV Receiver Built-in Galaxy 19 FTA DVB-S/S2 Digital Sat Decoder Full HD 1080P with USB WiFi Antenna Support YouTube, USB PVR Ready, CCcam
GTMEDIA V7S HD Price    $36.99
Buy Now
Technical Support
Firmware upgrade: The GT MEDIA Firmware Update and launche regularly.
1080P Full HD: DVB-S2 (upgrade DVB-S), easier to receive satellite signals, built-in Galaxy 19 97W satellite. And Support PowerVu, DRE & Biss key, YouTube, CCcam, Newcam via USB Wifi antenna. (code not included)
5000 Channels: Auto search and Blind Scan for your choose. You can enjoy a lot of TV and radio programs, the full support to 7 days Electronic Program Guide. Various channel editing function(favourite, move, lock, skip, delete, rename, find, sort) asy
Menu System:Plug and Play installation, Automatic PAL/NTSC conversion. Multi OSD Language, parents and teenager also can operate, of course, there has Parental Control for Channels.
USB 2.0 High-Speed Host:Support USB PVR Ready, Media player to playback the media in USB flash disk or USB HDD or USB card reader with the memory card, PVR with USB HDD, Time shifting with USB HDD, with 2 x USB ports
Important Note:
1- backup the channel list.                                        Backup Channel List
2- export the softcam.key to usb device                         Backup softcam.key
3- update the firmware to box by allcode mode 4-
update channel list then import softcam.key
File Name
New! GTMEDIA_V7S_V432_Release_27042021.rar
change log:
1. Update youtube.
2. Update the emm key.
5- GTMEDIA_V7S_V431_Europe_UI_24122020.rar
change log:
Update YouTube.
4- GTMedia_V7S_Europe_UI_202008018.zip
change log:
Update YouTube.
3- GTMedia_V7S_Rease_Note2020.3.12.zip
2- GTMedia_V7S_Asia_UI_20200312.zip
1- GTMedia_V7S_Europe_UI_20200312.zip
change log:
Update YouTube.
Support Czech language for Europe UI.
Fixed bug that menu lock function cannot lock all menus.
Add 97W satellite data to preset.
Fixed some inner bugs.
GTMEDIA V7S HD Receiver Software 27/04/2021
Download GTMEDIA V7S HD Receiver Firmware New Update