SatIntegral S-1412 HD Rocket, Full HD Satellite Receiver, H.265(HEVC) (S1412 plus USB-WiFi) NEW FIRMWARE DONLOAD
Download SAT-INTEGRAL S-1412HD ROCKET Receiver Software Latest Update. With a lot of free IPTV Packages Free Server Download. Other SAT-INTEGRAL Receiver Latest Software Update Click Here. and Contact Us at Facebook Page or Twitter. 
WiFi antenna, HDMI cable 1.2 m gift, HDMI multimedia output 1080p_60Hz FullHD
High-performance processor GX6621
USB PVR function and media player
DLNA, Youtube, Dailymotion, Picasa/Flickr, Google Map, RSS, FTP; You can control the receiver from your smartphone/tablet, and stream the TV show to your mobile device.
Two ports USB2.0 Host compatible with USB-WiFi and USB-3G modem; Supports FAT, FAT32 and NTFS format USB disk or USB-HDD. AVI, MKV, MPG, TS, WMA, WMV, M2TS, FLV, DAT, ASF, MP3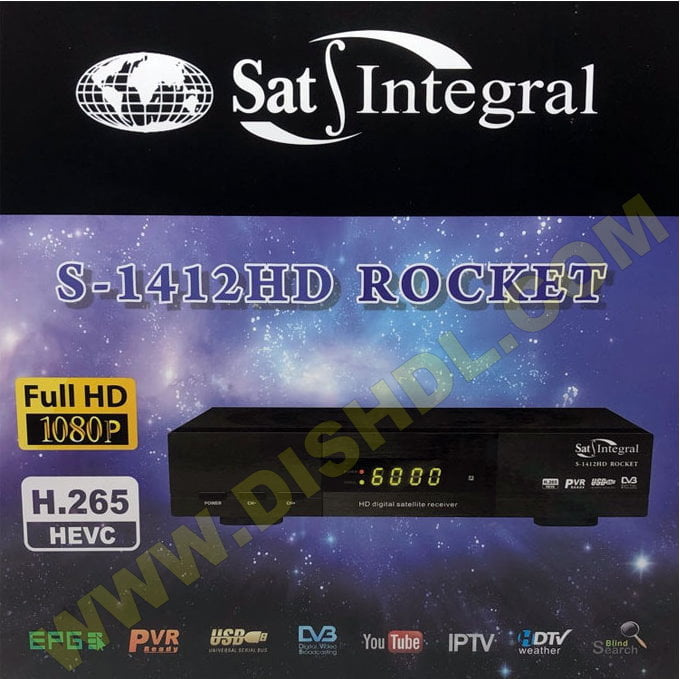 Product description

The receiver is designed on the basis of the new powerful dual-core processor. It has excellent image quality with 1080p_60Hz FullHD, a menu with convenient and intuitive navigation.
The receiver allows you to record two channels at a time and play the third channel of a transponder. Built in the planner will help you record your favorite program without taking into account the time of broadcasting.
Media Player works with USB and USB-HDD Flash drives. It supports a wide range of multimedia formats, so you can watch almost any video content.
Among the features of Internet access: cable, wireless WiFi or 3G.
The front panel is made of matte plastic. On the panel is 4 digit LED display with adjustable brightness.
Universal card reader compatible with most access cards.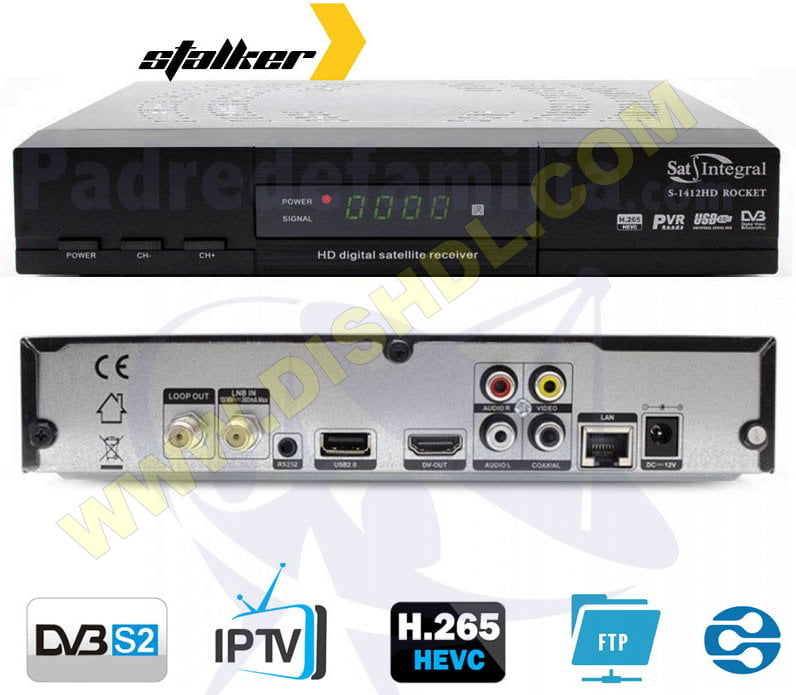 Features S-1412 HD Rocket:
Ultra-fast for HDTV-receiver channel change
Coaxial digital audio output
Fully DVB-S / DVB-S2 (MPEG-2 / MPEG-4 / H.264) compliant
SCPC and MCPC Ku / C satellite band reception
Control with DiSEqC 1.0 / 1.1 / 1.2 / 1.3 (USALS), DiSEqC Auto
Search for "blind"; multi-satellite-, network-, hand- search
PAL / SECAM / NTSC support
Memory: 100 satellites and 8000 channels
8 Favorite Groups
Parental control
Supports multi-language menu (in English, German, Russian, Ukrainian, without Spanish)
Channel classification in numerous parameters
Convenient function group transfer channels, return history (RECALL)
The dual program schedule for 7 days (EPG)
Software updates via USB / FTP / RS232
SAT-INTEGRAL ADDITIONAL PROGRAMS
File Name
New! Sat-Integral S-1412HD ROCKET_ V179 26092023.rar
8- Sat-Integral S-1412HD ROCKET_ V178 15082023.rar
7- Sat-Integral S-1412HD ROCKET_ V177 21072023.rar
6- Sat-Integral S-1412HD ROCKET_ V173 19042023.rar
5- Sat-Integral S-1412HD ROCKET_ V167 06092022.rar
4- Sat-Integral S-1412HD ROCKET_ V164 08072022.rar
3- Sat-Integral S-1412HD ROCKET_V158 09082021.rar
2- Sat-Integral S-1412HD ROCKET_V153 28042021.rar
1- Sat-Integral S-1412HD ROCKET_V151 13042021.rar
Update SAT-INTEGRAL S-1412HD ROCKET Receiver Latest Software 26/09/2023
DOWNLOAD SAT-INTEGRAL S-1412HD ROCKET RECEIVER LATEST SOFTWARE UPDATE