HELLOBOX V5 PLUS SATELLITE RECEIVER NEW SOFTWARE DOWNLOAD
Download HELLOBOX V5 PLUS Receiver Software, Firmware, Tools, dump flash file, loader and apps. Hellobox activation code, dvb player, CCCam, specification, channel list, gx6605s hellobox software. hellobox Receiver Firmware with Many New receiver Option. All Latest hellobox Software download website Click Here. New Update and For any Help Contact Us @ Facebook Page or Twitter.
Hellobox 6 Satellite Receiver Support H.265 HEVC Multistream T2MI USB WiFi Auto Powervu Cccam Newcamd IPTV Comptatible V5 Plus.
Product Description
1. H.265 HEVC 1080P Full HD
2. Support MultiStream, T2MI
2. PwrVu and BISS fully autoroll
3. Online software upgrade
4. Support WiFi MT7601&5370, 3G/4G dongle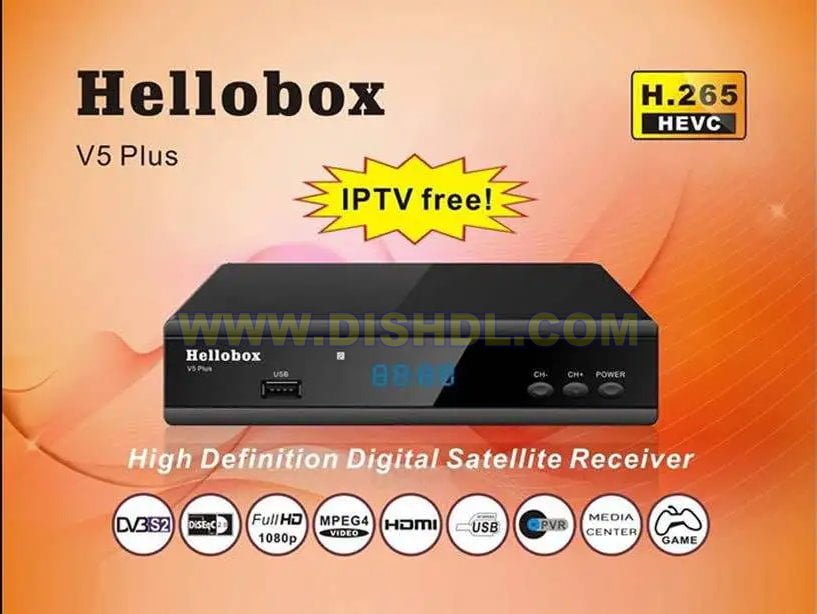 Price: $26.90
Hellobox V5 Plus جهاز استقبال قنوات الأقمار الصناعية للتلفزيون ل Cccam H.265 HEVC كامل HD DVBS2 PowrVu Biss تماما autoroll IKS جهاز استقبال قنوات الأقمار الصناعية للتلفزيون

HELLOBOX V5 PLUS_ SPECIFICATION :

1. full SD/HD DVB-S2/S compliant, support full HD 1080p picture: JPEG, BMP, PNG
2. Support SD/HD MPEG2/MPEG4 Audio: WMA, MP3, AAC (wma, mp3, m4a)
3- SCPC & MCPC Receivers from C/Ku Band Satellite Video: mj. mjpeg. ts. trp
4-Disk Control (DISC 1.0, 1.2, 1.3 (USALS)) NTFS, FAT32, FAT16
5. Universal LNB, support NIT JPEG search/audio combo playback
6. Auto and manually scan all available TV and radio channels
7. Support software upgrade via OTA
8.7-day EPG channel decoding
9-Multi-language menu, subtitle and audio output supported Standard Satellite Receiver: DVB-S/S2 SCPC/MCPC Compatible
10. PVR, TIMESHIFT FEC: 1/2, 2/3, 3/4, 5/6, 7/8 automatically
11. Supported aspect ratio 16:9, 4:3 Red Solomon: 204,188, t = 8
12. Support parental lock, local time and Teletext code rate: 2PM~44.9PM
13. OSD friendly
14. Support USB WiFi Dongle Video Decoration
15. Up to 6000 Standard Channels: MPEG-2 Megapixels ML, H.264, SD and HD Transfer Stream Decoding
16. Support YouTube, WEATHER, IKS, POWERVU AUTOROLL, BISS, AC3 Aspect Ratio: 4:3, 16:9
Audio tuner decoder

Input frequency 950~2150MHz Standard: MPEG Layer 1 and 2, MP3
Loop out frequency 950~2150MHz Output mode: left/right channel, stereo
Input level -65 ~-25dBm Sampling frequency: 32,44. 1,48KHz
Input impedance 75∮
LNB Power 13V/18V/OFF Terminal Interface
Tuner Model Number M88TS2022 Indicators: Power, Signal Lock
IR Receiver Processor and Memory: 38KHz
CPU Montage USB2.0
4MB flash memory LED display
SDRAM 512MB DDR2 HDMI 1.3 with HDCP
Loop thru output: IEC-type, conductor, single tuner
UART
Power input: AC 95-245V, 50/60Hz or DC12/1A 10W max
File Name
New! Hellobox V5 Plus_ 25022022.rar
2- Hellobox V5 Plus_ Upgrade Tool.rar
1- Hellobox V5 Plus_ Flash Dump.rar
HELLOBOX V5 PLUS_ Receiver Software New Update 25/02/2022
Download HELLOBOX V5 PLUS_ NEW SOFTWARE, FIRMWARE.