Q-SAT Q-07 HD DIGITAL SATELLITE RECEIVER LATEST SOFTWARE
Q-SAT Q-07 HD Satellite Receiver latest software, Firmware Download. Manual for QUMAX digital satellite Receiver and QUMAX TV Receiver Specification. Now Download All Model of QUMAX satellite receiver firmware Click Here. Download Other digital satellite tv receiver software latest software and information Visit and Like Our Facebook Page.
Supported Applications: YouTube IPTV Megogo Weather Subscription for 6 months Other services planned
Satellite HD receiver on a modern processor GX6605S (600 MHz) with two USB ports. Depending on the firmware, it supports Wi-Fi adapters made on RT 5370, RT 7601 chips or compatible with them, and can also work with 3G USB modems. The receiver is designed to receive a variety of satellite television standards: DVB-S / S2, Multistream in standard (SD) and high definition (Full HD). Very rich functionality makes this receiver the best in its segment. The built-in LED display and control buttons on the front panel help you control the receiver, and when using an external IR remote control sensor (sold separately), it is possible to hide the receiver behind the TV. In terms of parameters and functionality, it resembles uClan (U2C) B6 .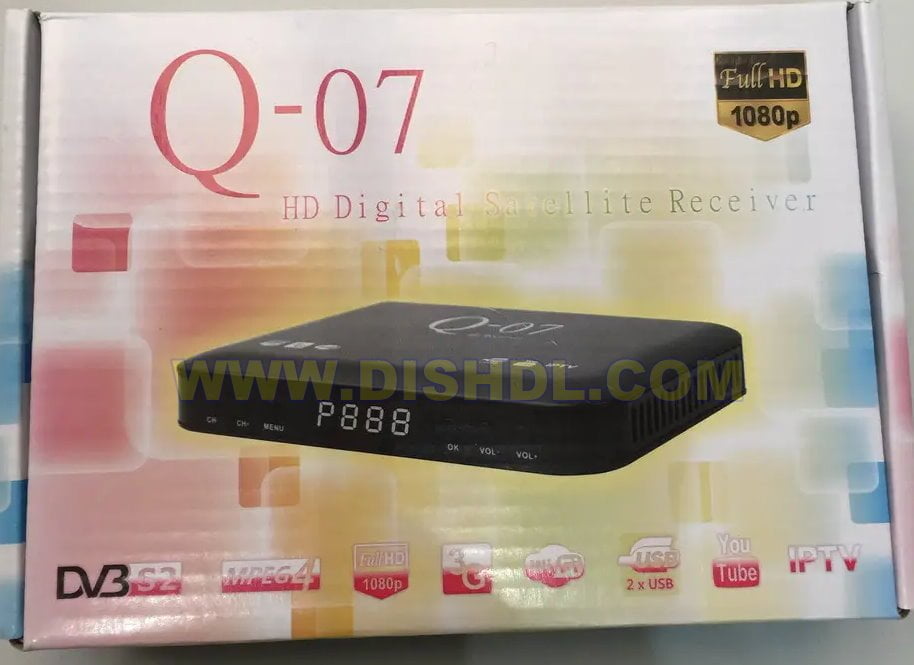 Specification :

Producer: Q-sat
Developer: n.d.
Processor: GUOXIN GX6605s (600MHz)
RAM, MB: 64
Flash memory, MB: 4
Operating System: Proprietary
Card receiver: There is none
Common Interface: There is none
Number of tuners: 1
TV permission: SD, HD
DVB standard: DVB-S, DVB-S2
DVB tuner variables: There is none
Compression standard: MPEG2, MPEG4
Loop output: There is none
Display: 4 digit (7th segment)
Control buttons: In stock
Wi-Fi support: USB Wi-Fi adapter
3G: n.d.
Ethernet: There is none
Hard drive: There is none
USB: 2
USB-Hub support: n.d.
eSATA: There is none
Time shift: In stock
Recording (PVR): USB
Media player: Minimal + MKV
Playback: USB
Multistream support, t2-mi, PLP0: In stock
AC3 audio support: In stock
HDMI: Yes, ver.1.3
RCA composite: In stock
YPbPr component: There is none
SCART: There is none
RF Out: There is none
S/PDIF: There is none
RS-232: There is none
DiSEqC: 1.0 / 1.1 / 1.2 / USALS
PIP ("picture in a picture"): There is none
Installing plugins / addons: There is none
YouTube: In stock
InternetTV (IPTV, WebTV, etc.): In stock
Receiver cooling: passive
Power Supply: External 12V / 1A
Remote control: Standard
Receiver type: satellite
Color: Black
USB Wi-Fi adapter chipset: RT5370, MT7601
Body size: Mini

File Name
New! Q-Sat Q-07 HD_ 03082022.rar
1- Q-Sat Q-07 HD_ 03072021.rar
Q-SAT Q-07 HD_ Satellite Receiver Software Update 03/08/2022
Download Q-SAT Q-07 HD_ Satellite Receiver Firmware & Tools.