AMIKO MIRA 2 TV RECEIVER LATEST FIRMWARE
AMIKO MIRA 2 WIFI Satellite Receiver Firmware Latest Update. Download Amiko company Firmware and Tools. Download Amiko technologies Satellite and Set-top Box Firmware Download. Amiko Webleaflet, User Manual and PC Software. Satellite Receiver New Update and For any Help Contact Us @ Facebook Page or Twitter.
The Amiko Mira Full HD satellite set-top box is -because of the 12V and IR connection.  suitable for use during camping, in your mobile home or motorhome or on board of your ship. This set-top box can be used for reception of the FTA channels available via satellite, or for the reception of PayTV. when a smartcard (no CI-module!) is available of one of the PayTV provoders.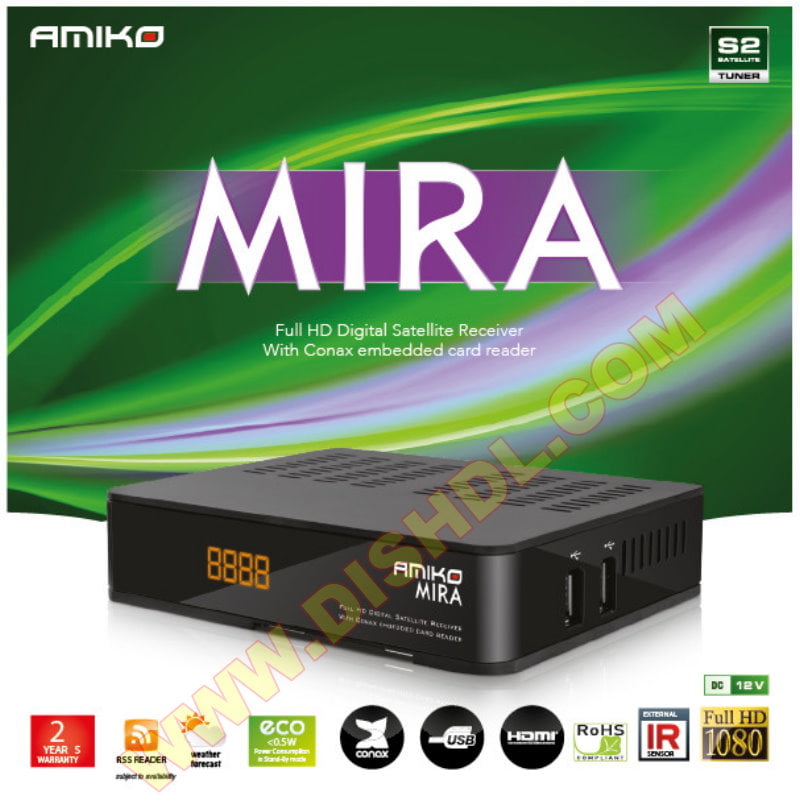 Main Features Amiko Mira Full HD satellite set-top box

One Conax Embedded card reader
6,000 channels (TV and Radio) programmable
External IR Sensor (Included in the package)
One High Speed USB 2.0 Connection
USB WiFi Support (Ralink RT5370 chip only)
RSS Reader & Weather Forecast Functions (Ethernet or WiFi connection required)
DiSEqC 1.0, 1.1, 1.2 and USALS Compatible
Full HD (1080p)
Output via HDMI
Channel Recording to External Storage Devices
Timeshift support
Channel Recording & Timeshifting Simulteniously (optional)
True-color, User Friendly On-Screen Display (OSD)
Full Picture In Graphic (PIG) function
Electronic Program Guide (EPG) for on screen channel information
Subtitle supported
Teletext supported by VBI insertion and software emulation
Parental lock facility by channel and program event
Program and Channel information transfer from receiver to receiver
Exciting games embedded
Multi-Language support
Power Consumption in Stand-By: <0.5W

Technical parameters Amiko Mira Full HD satellite set-top box

Tuner & Demodulation
Tuner Type: DVB-S / DVB-S2
Input connector: F-type, Connector, Female
Signal Level -65 up to -25 dBm
LNB Power & Polarization: Vertical: +13V/+14V, Horizontal: +18V/+19V
Current: max. 400 mA (Overload Protection)
22KHz Tone Frequency: 22±1KHz
DiSEqC support: Version 1.0, 1.1, 1.2 (motor), USALS
Demodulation: QPSK, 8PSK
Input Symbol Rate: 2-45 Mbps
FEC: 1/2, 2/3, 3/4, 5/6, 7/8 and Auto

System Resources

Main processor: Dual Core 494MHz / 337MHz
Flash Memory: 64 MBits
DDR RAM: 1,024 Mbits

MPEG TS A/V Decoding

Transport Stream: MPEG-2, H.264
Input Rate: max.120 Mbit/s
Aspect Radio: 4:3, 16:9, Letter Box
Video Decoding: MPEG-2, MP@ML, MPEG-4 part 10/H264
Video Resolution: 720*480P/I, 720*576P/I, 1280*720p, 1920*1080i, 1920*1080p
Audio Decoding: MPEG-1 layer I/II, MPEG-2 layer II, Dolby digital
Audio Mode: Left / Right / Stereo/ Mono
Sampling Rate: 32, 44.1 and 48 KHz

Power Supply

Input Voltage: 12V DC
Power Consumption: 18 W Max
Stand-By Power Consumption: < 0,5 W

A/V & Data Input/Output

SCART: CVBS Video out / Audio L/R out
USB: One USB 2.0 slot
S / PDIF: Coaxial
HDMI: VER1.4, Type A
IR Port: Internal & Jack Type

Physical Specifications

Dimensions (W x D x H): 144 x 110 x 40 mm
Weight: 0.25 kg
Operation Temperature: 0°C ~ +45°C
Storage Temperature: -10°C~+70°C
Storage Humidity: 5%~95% RH (Non-Condensing)
File Name
New! AMIKO_Mira_2_Wifi_V1.2.35_EMU_26032021.rar
New! AMIKO_Mira_2_Wifi_V1.2.35_MCAS_26032021.rar

AMIKO MIRA 2 WIFI Receiver New Software 26/03/2021
Download AMIKO MIRA 2 WIFI RECEIVER NEW SOFTWARE