Cinebox Supreme Plus WiFi / ACM / IKS / IPTV receiver Latest Firmware
Download CINEBOX SUPREMO PLUS company Firmware and Tools. Also, Download CINEBOX technologies Satellite and Set-top Box Firmware Download. CINEBOX Webleaflet, User Manual and PC Software. Satellite Receiver New Update and For any Help Contact Us @ Facebook Page or Twitter.
The CINEBOX Supremo Plus receiver offers you quality and economy, Full HD 1080p quality on all channels, with a value that fits in your pocket, has an incredible design that would match anywhere in your home.
It has a completely free IKS system with one of the best IPTV on the market. In addition, Cinebox Supremo Plus + ACM has one of the most complete On Demand systems on the market including hundreds of films, drawings, series, access to Youtube, Vimeo, and options for adults with parental locking system.
The Supreme FTA + receiver from Cinebox is the ideal device for those looking for more TV content, with superior quality images. In addition to being able to capture the signals more widely, it will be possible to play music and videos through the USB inputs and is compatible with any Full HD 1080p TV. Due to its compact and modern design, it can be accommodated in small spaces in your living room. Offers Wi-Fi connection via dongle and has HDMI input.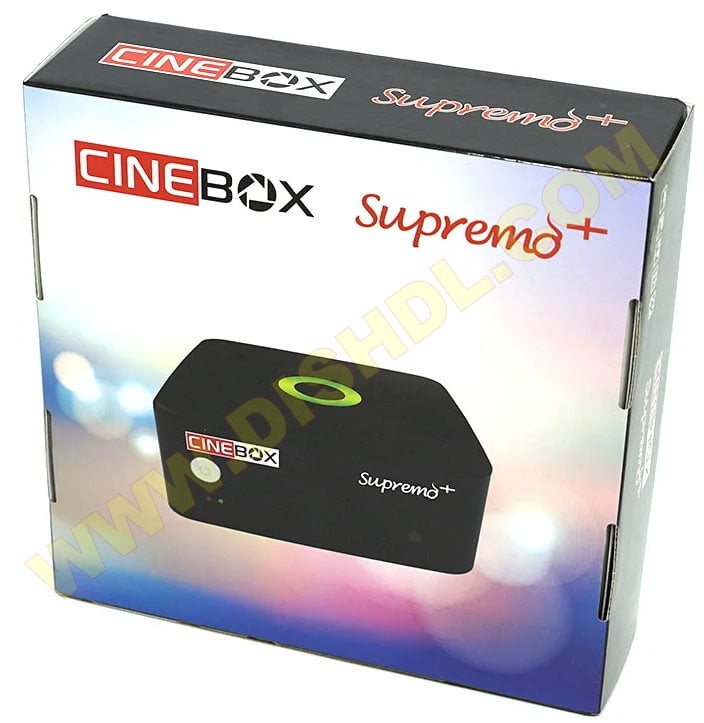 HOW IT WORKS?
You do not need to subscribe to any satellite TV. What you need is the cable and the antenna. Take the entire grid of channels of the operator you choose, being approximately 210 channels, of these, + 30 in HD
SUPREME CINEBOX RECEIVER + ACM – EVERY SATELLITE LINE TODAY WORKS IN 2 WAYS:
In SKS: with 02 Sky type antennas (60cm or 90cm antenna varies according to your region). You must use an Antenna pointed at the Star One C2 Satellite (to receive the signal) and the other pointed at one of these Hispasat Satellites, Intelsat 58w, Ses4 22w, IntelSat 23 53w or Amazonas 61w (to unlock the signal).
In IKS: with 01 antenna connected to the Satellite Star One C2 (to receive the signal) and an Internet connection (to unblock the signal), which can be via RJ45 cable or WI FI adapter.
EM CS: with 01 antenna connected to the Star One C2 Satellite (to receive the signal) and an Internet connection (to unblock the signal) by hiring a server over the internet, which can be via RJ45 cable or WI FI adapter
WHICH SATELLITES?
– Sky (in SKS too)
– Oi TV
– Claro TV
 HOW MANY CHANNELS? (APPROXIMATE)
– 200 channels
– 32 in HD (less on Sky)
– Premier, Adults, PPV, Serials, Children, BBB, etc…
SUPREMO PLUS FILES

New! CINEBOX SUPREMO PLUS_ SA B5 07072023.rar
14- CINEBOX SUPREMO PLUS_ SA B5 21062023.rar
13- CINEBOX SUPREMO PLUS_ SA B5 10062023.rar
12- CINEBOX SUPREMO PLUS_ SA B5 15052023.rar
11- CINEBOX SUPREMO PLUS_ SA B1 04052023.rar
10- CINEBOX SUPREMO PLUS_ SA B1 17042023.rar
9- CINEBOX SUPREMO PLUS_ SA B1 04032023.rar
8- CINEBOX SUPREMO PLUS_ SA B1 14022023.rar
7- CINEBOX SUPREMO PLUS_ SA B1 27092022.rar
6- CINEBOX SUPREMO PLUS_ SA B1 28012022.rar
5- CINEBOX SUPREMO PLUS_ SA B1 14012022.rar
4- CINEBOX SUPREMO PLUS_ SA B1 04012022.rar
3- CINEBOX SUPREMO PLUS_ SA B1 15122021.rar
2- CINEBOX SUPREMO PLUS_ SA B1 17052021.abs
1- CINEBOX SUPREMO PLUS_ SA B1 27042021.abs
Update CINEBOX SUPREMO PLUS Receiver New Software 07/07/2023
Download CINEBOX SUPREMO PLUS RECEIVER NEW SOFTWARE