CONDOR CRISTOR IP3000S Satellite Receiver Latest Files Firmware & Tools Download
CONDOR CRISTOR IP3000S latest software and Manual for CONDOR digital satellite Receiver and CONDOR TV Receiver Specification, Condor imago mise a jour Now Download All Model of CONDOR satellite receiver firmware Click Here. Download Other digital satellite tv receiver software latest software and information Visit and Like Our Facebook Page.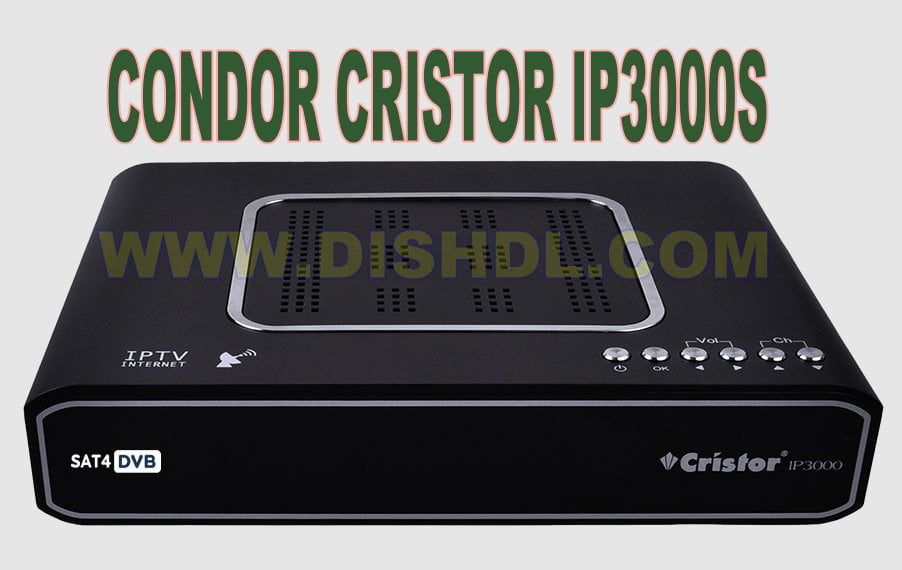 Specification :
Balayage à l'aveugle, diffusion vidéo numérique DVB
Lecteur multimédia, mise à jour météo
MULTI FLUX, compatible PVR, EPG
Conforme aux satellites DVB-S/DVB-S2 (MPEG-II/MPEG-IV/H.264/H.265)
SCPC & MCPC à recevoir des satellites en bande Ku et C
LNB large bande universel, simple, simple bande S et C
Taux de code compatibles : 1/2, 3/5, 2/3, 3/4, 4/5, 5/6, 7/8, 8/9 et 9/10
Tuner sensible avec boucle
DiSEqC C 1.0/1.1/1.2/1.3 (USALS)
Unicable pris en charge
PAL/NTSC
rapport hauteur/largeur variable (4:3, 16:9) avec option vecteur PAN&SCAN ou letter BOX
Groupe de favoris ajouter, supprimer,
il est pris en charge verrouiller, supprimer, déplacer (déplacement de groupe), renommer, échanger
Transpondeur pris en charge ajouter, supprimer, modifier

File Name
New! CONDOR CRISTOR IP3000S_ 02012023.rar
3- CONDOR CRISTOR IP3000S_ 11042022.rar
2- CONDOR CRISTOR IP3000S_ 05012022.rar
1- CONDOR CRISTOR IP3000S_ 02082021.rar
CONDOR CRISTOR IP3000S_ Satellite Receiver Software Update 02/01/2023
Download CONDOR CRISTOR IP3000S_ Satellite Receiver Firmware & Tools.