ECHOLINK CLASICO 3 SATELLITE RECEIVER NEW SOFTWARE
ECHOLINK CLASICO 3 Satellite Receiver Firmware and New beoutq Software Download. Update Spider HD Receiver Firmware with New Option. All Model HD Receiver, Latest Software Update Click Here. New Update and For any Help Contact Us @ Facebook Page or Twitter.
Connected to your satellite dish, the CLASICO 3 receiver gives you a range of more than 5000 international channels with easy navigation from one satellite to another. You can save your favorite programs to a USB key at any time …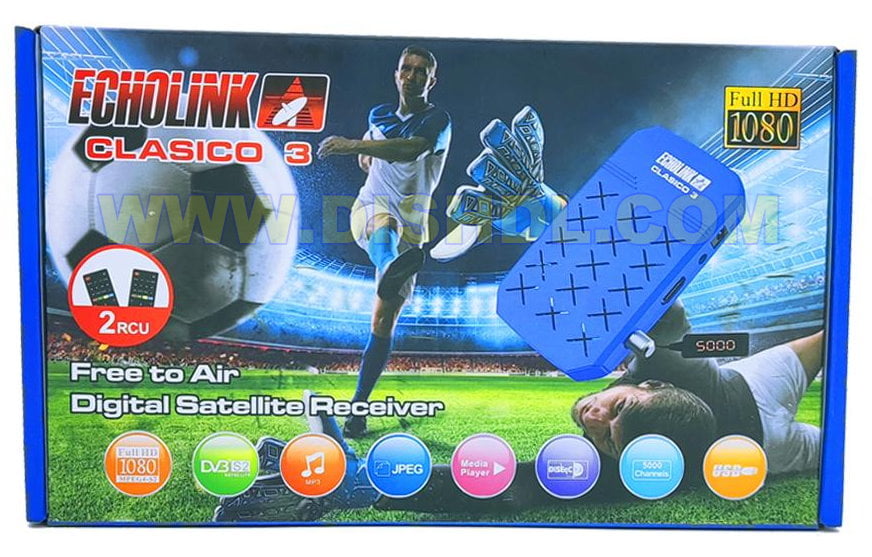 Subscription:
15 month PHOENIX server, all international packages
12 MONTH DIMALIVE very tabby
The device comes with 2 remote controls (Google Telecoms)
Remote control first normal
second remote control bluetooth
INTERNAL WIFI INTEGRE
Supports MULTISTREAM
Supports all modern TANDBERG / POWER VU 3 encoders
FULL HD picture quality
USB input
Applications :
UCAS
TWEBTV
YOUTUBE
XTREAM
YOUTUBE KIDS
Description

Performance at the rendezvous
Enhance your interior.
the Echolink Clasico 2 Receiver brings new options such as the Bluetoot Remote Control
the Echolink clasico 2 receiver gives you access to a range of more than 5000 international channels.
Echolilnk Clasico 2 has a Bluetooth Remote
You have two ways to connect to TV.
AV: you can connect with old TV
HDMI: you can connect with a new TV
YOU CAN CONNECT THE CLASICO 2 WITH INTERNET WITHOUT WIFI KEY BECAUSE IT HAS BUILT-IN WIFI
Echolink Clasico 2 come with more applications for example: Youtube, Youtube Kids, UCAST …
YouTube Online support.
YouTube Kids Online support.

UCAST application

Ucast is a great remote control app that lets you conveniently control your receiver with your Android phone.
Dolby Digital (AC-3)
AC3 is a file extension for surround audio files used on the DVD format. The AC3 file format was created for use in Dolby Digital sound on DVD, Blu-ray, and other digital video formats. AC3 stands for Audio Coding 3.
Full HD 1080p receiver
1080p, also known as Full HD or FHD (Full High Definition), is a very common display resolution of 1920 x 1080 pixels. Resolution explains the number of pixels on a screen in width x height format, and the more pixels there are, the sharper the image.



File Name
New! ECHOLINK CLASICO 3_ V266 22092022.rar
4- ECHOLINK CLASICO 3_ V261 22062022.rar
3- ECHOLINK CLASICO 3_ V260 10052022.rar
2- ECHOLINK CLASICO 3_ V255 23022022.rar
1- ECHOLINK CLASICO 3_ 23022022 Channel List.rar
Update ECHOLINK CLASICO 3_ Software 23/09/2022
Download ECHOLINK CLASICO 3_

 Firmware New Update