ECHOLINK TORNADO V7 MINI 07A SATELLITE RECEIVER NEW SOFTWARE
ECHOLINK TORNADO V7 MINI Satellite Receiver Firmware and New beoutq Software Download. Update Spider HD Receiver Firmware with New Option. All Model HD Receiver, Latest Software Update Click Here. New Update and For any Help Contact Us @ Facebook Page or Twitter.
Connected to your satellite dish, the TORNADO V7 MINI receiver gives you a range of more than 5000 international channels with easy navigation from one satellite to another. You can save your favorite programs to a USB key at any time …
Characteristics :

Connectivity:
Wireless
3G/4G modems
Technical characteristics :
H.264/H.265
Full HD 1080p receiver
2GB CPU
Youtube
Card Reader
HDMI port
2 USB Ports
EPG Teletext and Subtitles
Access control
Timers
TimeShift
Dolby AC3 Audio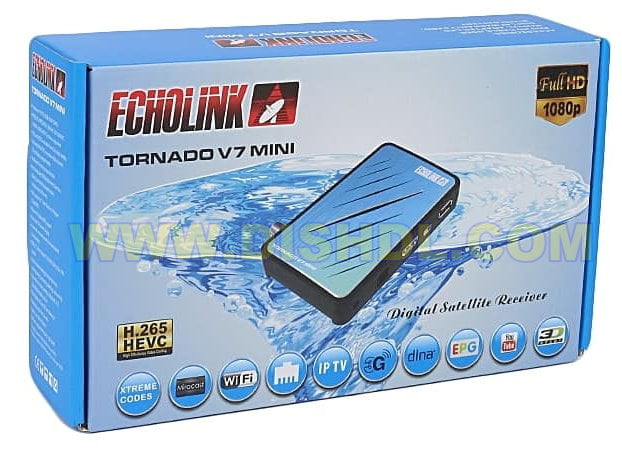 Subscription:
24 Mois Vanilla Premium
12 Mois PopTv + PopVod
12 Mois Ip2Sat
Support H265
IP Audio
Support Ucast Application
Port Lan / Wifi / 3G-4G
Master Code : 8888
Description

Performance at the rendezvous
Enhance your interior.
The TORNADO V7 MINI Receiver brings new options like the h265, and its 2GB Ram, which allows it to be very efficient in your navigation.
The device is equipped with a LAN Cable port to allow you to plug it directly into your ADSL router and have better connectivity.
the Tornado V7 Max receiver allows you to have a range of more than 5000 international channels
3 ways to connect to the internet

Wifi (Wifi Key)
3G/4G modem
LAN port to connect the RJ45 cable
you have two ways to connect to TV
AV: you can connect with an old TV
HDMI: you can connect with new TV
TORNADO V7 MAX come with more apps for example: Youtube, Dlna, Quran, UCAST
YouTube Online support.
Digital Living Network Alliance (DLNA)
DLNA can communicate and share multimedia files (audios / photos / videos) with other DLNA products connected on the network.
QURAN Online support.

UCAST App
1/ Ucast is a great remote control app that lets you conveniently control your receiver with your Android phone.
2/ Share TV screen to phone, you can cast TV screen to phone and control the receiver with your phone and watch the same channel or different channel at the same time.
H265/HEVC

H265, or HEVC (High Efficient Video Coding), is the new video compression standard that offers even more improvement over H264. H265 offers improved bit reduction of 57% at 1080p and 64% of UHD or 4K compared to H264.
Dolby Digital (AC-3) / Dolby Digital Plus (AC3-E)

AC3 is a file extension for surround audio files used on the DVD format. The AC3 file format was created for use in Dolby Digital audio on DVD, Blu-ray, and other digital video formats. AC3 stands for Audio Coding 3



File Name
New! ECHOLINK TORNADO V7 MINI_ 07A V296 26042022.rar
4- ECHOLINK TORNADO V7 MINI_ 07A V292 13012022.rar
3- ECHOLINK TORNADO V7 MINI_ 07A V292 29112021.rar
2- ECHOLINK TORNADO V7 MINI_ Loader.rar
1- ECHOLINK TORNADO V7 MINI_ 02042020 Channel List.rar
Update ECHOLINK TORNADO V7 MINI_ Software 13/01/2022
Download ECHOLINK TORNADO V7 MINI_

 Firmware New Update