EDISION NANO T265 PLUS SATELLITE RECEIVER FIRMWARE UPDATE
EDISION PING T2C Satellite Receiver Software Latest Update. Receiver Update Edision HD Firmware with New Receiver Option. Download edision satellite receiver manual. How to update edision digital satellite receiver. Latest updates for All Edision Satellite Receiver Click Here. New Update and For any Help Contact Us @ Facebook Page or Twitter.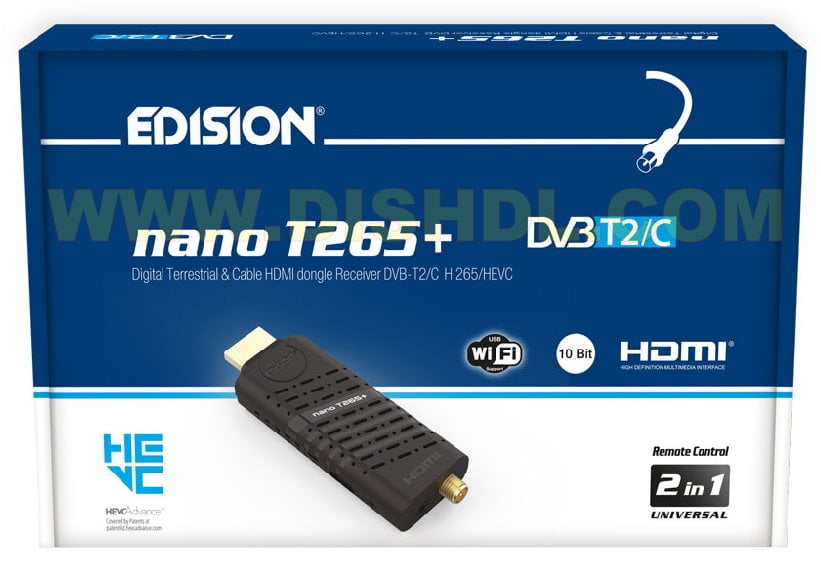 Description:
The NANO T265+ is an innovative EDISION decoder, in DVB-T2 H265 HEVC Terrestrial Digital Receiver category, compatible with Terrestrial Digital and Cable signal, Full High Definition DVB-T2/C H265 HEVC. This Pocket-sized HDMI Dongle receiver provides easy connectivity with the TV and instant, practical functionality, with a rich selection of accessories, included the factory package, for you to enjoy your favorite TV shows wherever you want.
It is the ideal choice, when the decoder is required not to be visible, maintaining the aesthetics of your space as you wish, as it is powered by the USB port of the TV, for easy and complete installation on the back of the TV. Extra compact design, extremely small dimensions, USB WiFi support for YouTube applications, Weather and Online software upgrade (with optional USB WiFi EDI-Mega) and Media Player functions with PVR** recording. It is also designed to be easily portable, with practically "invisible" installation, simply in an HDMI TV port, offering extra ease of use, with the IR extension cable and ergonomic and easy to use 2in1 remote control to operate the receiver and up to four (4) functions of *LG / SAMSUNG TVs or freely programmable.
Key Features:
Digital Terrestrial & Cable HDMI dongle Receiver
DVB-T2/C Tuner H.265/HEVC 10Bit for Terrestrial & Cable Channels
H.265/HEVC 10 Bit decoding support
USB WiFi Support for Apps: YouΤube, Weather Forecast & Softwareupdate
Powered via TV USB port
Universal Remote Control 2in1 for STB & TV
HDMI connection
Video resolution up to Full HD 1080p
Dolby Digital & AC3 support
Multilingual OnScreenDisplay
USB: PVR**, Playback, Software update & Backup function
Media player H.265/HEVC
Accessories: USB cable type-Y, HDMI extension cable, IR cable, SMA to IEC adaptor
How to Connect EDISION NANO T265 PLUS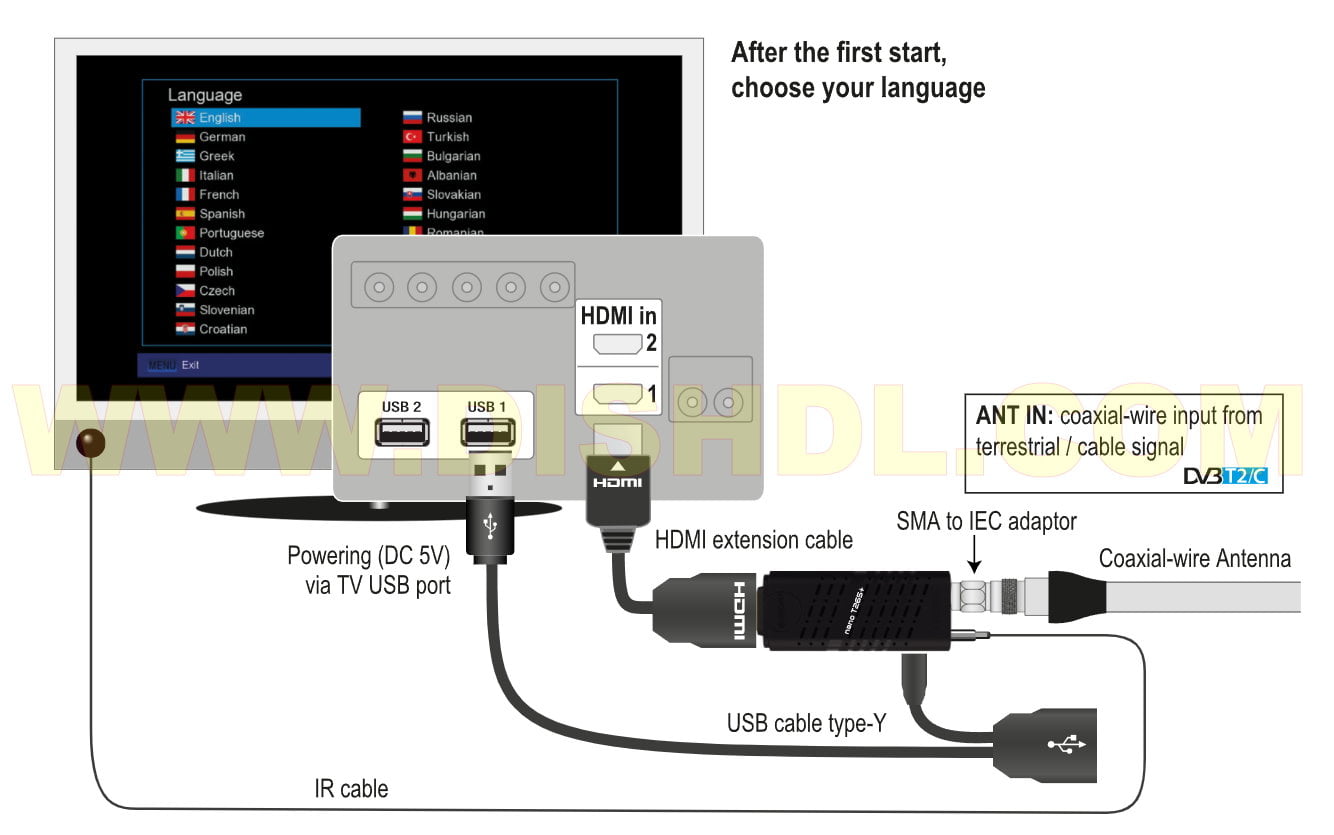 Technical Features:
1- Digital Terrestrial & Cable HDMI dongle Receiver DVB-T2/C H.265/HEVC 10 Bit
2- H.265/HEVC 10 Bit decoding support (covered by patents listed at patentlist.hevcadvance.com)
3- Resolution: 720p/50Hz, 720p/60Hz, 1080i/50Hz, 1080i/60Hz, 1080p/50Hz, 1080p/60Hz
4- Video resolution up to Full HD 1080p
5- Ports: USB, HDMI, IR in (jack), ANT IN, USB
6- USB WiFi Support
7- Apps: Youtube, Weather Forecast
8- Multilingual OnScreenDisplay
9- EDIVISION electronic program guide
10- Supports Picture In Grafik (PIG)
11- Channel Edit and Favourite Lists
12- Auto and Manual channel search
13- PVR** via USB
14- Τime Shift function
15- Subtitle support
16- Teletext support
17- Software upgrade & backup via USB
18- Supports Online Software upgrade HTTP
19- Supports FAT 16/32, NTFS
20- Parental control
21- Powered 5V via TV USB port
22- Media player MP3/AC3/AAC/JPEG/PNG/MP4/MOV/AVI/MKV/MPG/MPEG/Xvid/DviX
File Name
New! EDISION NANO T265 PLUS_ V1121 28022023.rar
9- EDISION NANO T265 PLUS_ V1109 24032022.rar
8- EDISION NANO T265 PLUS_ V1104 11032022.rar
7- EDISION NANO T265 PLUS_ V1100 04032022.rar
6- EDISION NANO T265 PLUS_ V1090 15022022.rar
5- EDISION NANO T265 PLUS_ V1086 12012022.rar
4- EDISION NANO T265 PLUS_ V1084 22122021.rar
3- EDISION NANO T265 PLUS_ V1082 10122021.rar
2- EDISION NANO T265 PLUS_ V1079 01122021.rar
1- MANUAL EDISION nano T265+ EN.pdf
Update EDISION NANO T265 PLUS_ New Software 28/02/2023
Download EDISION NANO T265 PLUS_ RECEIVER NEW SOFTWARE