EDISION PICCO T265+ SATELLITE RECEIVER FIRMWARE UPDATE
EDISION PICCO T265 Plus is the new EDISION receiver for receiving the Digital Terrestrial and Cable signal Full High Definition DVB-T2/C H265 HEVC 10 Bit. Carefully designed, PICCO T265+, the Digital Terrestrial and Cable Receiver H265 HEVC 10 Bit (Bonus TV certified & approved) supports USB WiFi for access to YouTube applications, Weather and Online software upgrades with the optional addition of WiFi EDI-Mega Antenna, while it has Media Player functions and PVR recording.
It is designed with particular emphasis on the ease of use, as it comes with the ergonomic and easy to use. 2in1 remote control for operating the receiver with four LG/SAMSUNG .Default settings which can be also programmable. The easy-to-read 4-digit LED-display and the ON/OFF & channel +/- buttons on the front enhance the overall user and viewing experience. With all these upgraded features from EDISION, it has everything needed to be the next-level version of your best TV friend!
EDISION PICCO T265 Plus Satellite Receiver Software Latest Update. Receiver Update Edision HD Firmware with New Receiver Option.Download edision satellite receiver manual. How to update edision digital satellite receiver. Latest updates for All Edision Satellite Receiver Click Here. New Update and For any Help Contact Us @ Facebook Page or Twitter.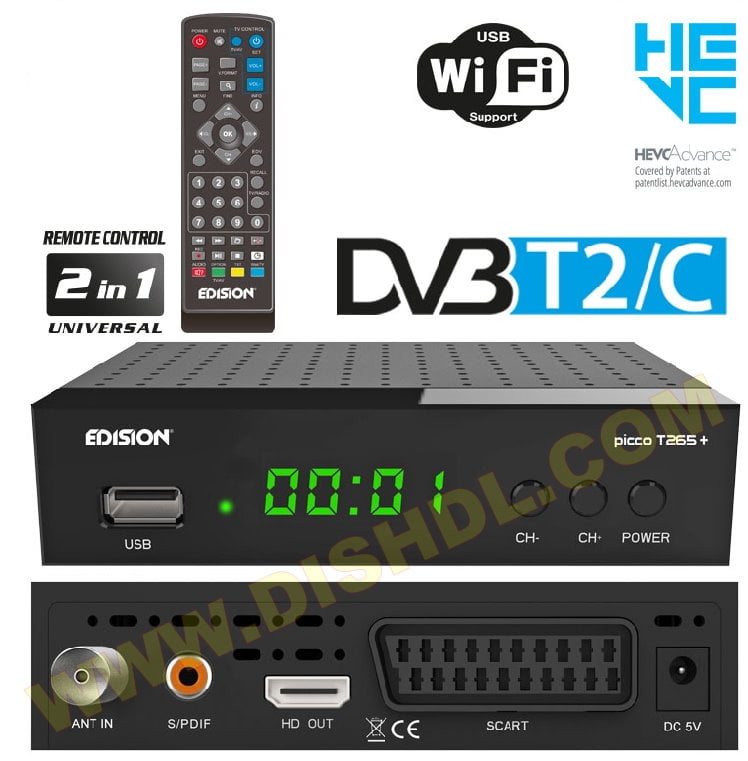 Key Features:
DVB-T2/C Tuner H.265/HEVC 10Bit for Terrestrial & Cable Channels
H.265/HEVC 10 Bit decoding support
USB WiFi Support for Apps: YouΤube, Weather Forecast & Softwareupdate
LED Display
Display Buttons
Universal Remote Control 2in1 for STB & TV
HDMI & SCART connections
Video resolution up to Full HD 1080p
Dolby Digital & AC3 support
Multilingual OnScreenDisplay
USB: PVR, Playback, Software update & Backup function
Media player H.265/HEVC
Technical Features:

Type: Digital Terrestrial & Cable Receiver DVB-T2/C H.265/HEVC 10 Bit
H.265/HEVC 10 Bit decoding support (covered by patents listed at patentlist.hevcadvance.com)
Resolution: 576i, 576p, 720p/50Hz, 720p/60Hz, 1080i/50Hz, 1080i/60Hz, 1080p/50Hz, 1080p/60Hz
Video resolution up to Full HD 1080p
LED Display
Ports: ANT IN, HDMI, SCART, SPDIF, USB, IR, DC 5V
USB WiFi Support
Apps: Youtube, Weather Forecast
Multilingual OnScreenDisplay
EDIVISION electronic program guide
Supports Picture In Grafik (PIG)
Channel Edit and Favourite Lists
Auto and Manual channel search
PVR via USB
Τime Shift function
Subtitle support
Teletext support
Software upgrade & backup via USB
Supports Online Software upgrade HTPP
Supports FAT 16/32, NTFS
Parental control
100 ~ 240V Voltage,50Hz/60Hz
Media player MP3/AC3/AAC/JPEG/PNG/MP4/MOV/AVI/MKV/MPG/MPEG/Xvid/DviX
File Name
New! EDISION PICCO T265 PLUS_ V1121 28022023.rar
11- EDISION PICCO T265 PLUS_ V1109 24032022.rar
10- EDISION PICCO T265 PLUS_ V1104 11032022.rar
9- EDISION PICCO T265 PLUS_ V1100 04032022.rar
8- EDISION PICCO T265 PLUS_ V1090 15022022.rar
7- EDISION PICCO T265 PLUS_ V1086 12012022.rar
6- EDISION PICCO T265 PLUS_ V1082 10122021.rar
5- EDISION PICCO_ T265 PLUS V1078 12112021.rar
4- EDISION PICCO T265 PLUS_ V1064 01102021.rar
3- EDISION PICCO T265 PLUS_ V1061 15092021.rar
2- EDISION PICCO T265 PLUS_ V1059 31082021.rar
1- EDISION PICCO T265 PLUS_ V1051 02082021.rar
Update EDISION PICCO T265+ New Software 28/03/2022
Download EDISION PICCO T265 PLUS RECEIVER NEW SOFTWARE