EDISION PING SATELLITE RECEIVER FIRMWARE UPDATE
EDISION PING is a Full High Definition Linux OTT IPTV receiver supporting the H.265 HEVC standard. With its unique identity and full advantages, having a highly ergonomic appearance and incredibly compact size, PING revolutionizes the category of OTT IPTV receivers. Providing advanced & enhanced multimedia capabilities, which include, among others, Wi-Fi on Board, Free Internet Streaming TV and Radio, as well as your favorite apps like Stalker supporting (Live TV, VOD & Series), WebTv, YouTube and Shoutcast, PING offers you an advanced viewing experience. With an innovative user-friendly design, it also comes with a freely programmable Universal Remote Control 2-in-1 for TV and STB, plus already pre-configured for SAMSUNG* and LG* TVs.
EDISION PING Satellite Receiver Software Latest Update. Receiver Update Edision HD Firmware with New Receiver Option.Download edision satellite receiver manual. How to update edision digital satellite receiver. Latest updates for All Edision Satellite Receiver Click Here. New Update and For any Help Contact Us @ Facebook Page or Twitter.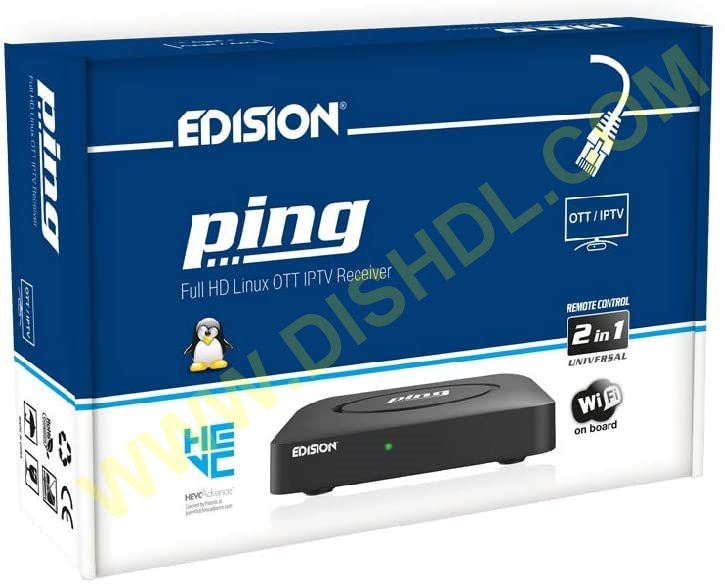 Technical Features:

Type: Full HD OTT IPTV Receiver
H.265 HEVC decoding support (covered by patents listed at patentlist.hevcadvance.com)
Resolution: 576i, 576p, 720p_50, 720p_60, 1080i_50, 1080i_60, 1080p_50, 1080p_60 & Auto
Linux Operating System
600 MHz Processor
1GBit RAM DDR3
16MB NAND Flash Memory
Wi-Fi on Board
Solid 10/100Mbps Ethernet Network Interface
Multimedia Player H.265 HEVC
Subtitle support
EDIVISION Electronic Program Guide
Software Upgrade by USB, HTTP & FTP
Backup Software support
Hotkey direct buttons for all Applications (5 colors)
Parental control for Menu & Apps
Multilingual OnScreenDisplay
Free Internet Streaming TV and Radio
IPTV m3u support
Unlimited IPTV channel memory
Channel switch in less than 1 second
Stalker auto start support
Stalker 8x different MAC addresses support
Ports: HDMI OUT, SPDIF, AV, LAN, USB, IR, DC 5V
Universal Remote Control 2in1 for TV & STB
Power consumption less than 0.5 Watt, in low-power stand-by mode
File Name
New! EDISION PING_ V1135 22092022.rar
5- EDISION PING_ V1131 29122021.rar
4- EDISION PING_ V1112 01082021.rar
3- EDISION PING_ V1104 23022021.rar
2- EDISION PING_ V1103 02022021.rar
1- EDISION PING_ V1098 17112020.rar
Manual: EDISION PING_ Manual.rar
Update EDISION_PING New Software 22/09/2022
Download EDISION_ PING RECEIVER NEW SOFTWARE