FERGUSON ARIVA 150 COMBO TV RECEIVER SOFTWARE DOWNLOAD

FERGUSON ARIVA 150 COMBO Satellite Receiver Firmware Latest Update Download, ferguson electronics, Ferguson 4K, Ferguson pl, Ferguson ariva and all set top box, receiver price. Click here for Ferguson receiver homepage and find Specification, Subscription, Webleaflet, User Manual and PC Software, Ferguson 4K IPTV, Istar TV channel, remote Control apps and Tools. Satellite Receiver New Update and For any Help Contact Us @ Facebook Page or Twitter.
Equipped with two Ariva 150 Combo heads , it is a comprehensive source of digital terrestrial and satellite television. A universal device that offers the highest image quality in high definition HD . Thanks to the built-in USB port with the timeshift function , you can record your favorite programs on an external memory, and play files with music, photos and movies in HD quality. In addition, the card reader located under the cover on the front panel allows you to watch any pay-TV.
The Ferguson Ariva 150 Combo digital TV receiver is a new version of the 120th. for adapter supportWiFi and the ability to use websites ( youtube, youporn, dailimotion, rss, weather, google maps ). Equipped with a faster processor Ariva 150, it also offers a much more advanced support for subtitles, as well as Xvid ( divx ) encoding and a practical multiroom function . The receiver, designed for the greatest possible comfort of use, combines functional values ​​with low energy consumption (power consumption in standby mode does not exceed 1W).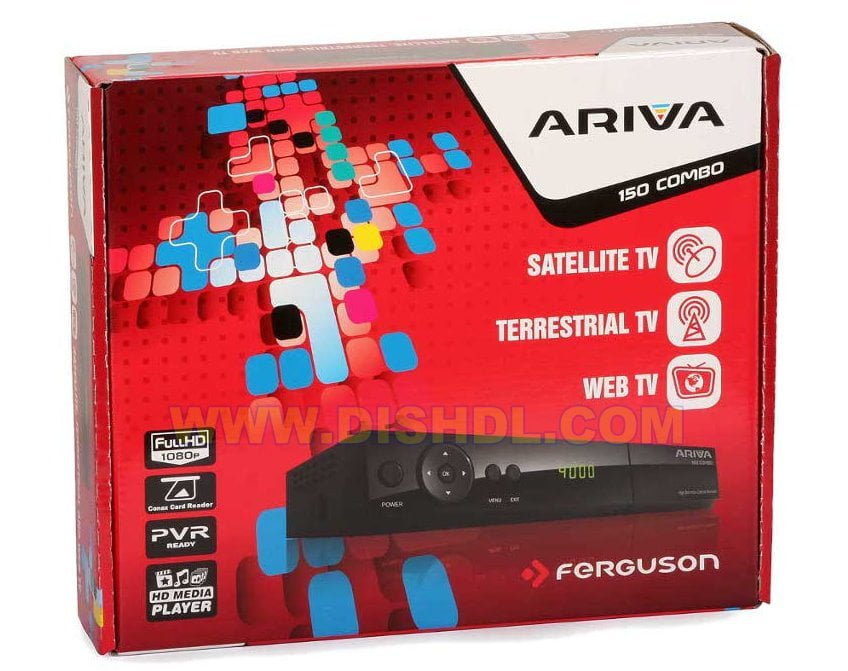 Technical Specifications :
CATALOG NUMBER 5130
MODEL ARIVA 150 COMBO
CODING SYSTEM Multi-system card reader
RECORDING OF DVB-T CHANNELS Yes
NUMBER OF CR SLOTS 1 piece.
TELETEXT Yes
PROGRAM GUIDE Yes
NETWORK FUNCTIONS –
CI SLOTS QUANTITY Not
SUPPORT FOR HD CHANNELS Yes
COMBO FUNCTION Yes
COOPERATION WITH MOBILE DEVICES Not
GUARANTEE 24 months
WARRANTY FOR COMPANIES 12 months
LINK TO THE MANUFACTURER'S WEBSITE no data
PRODUCER FERGUSON

Main Features::
Reception of High Definition channels
PAL signal scaling to 720p or 1080p
Full support for E-AC3 (Dolby Digital Plus) sound
Support for 32 programmable timers
Separate lists of favorite channels, TV and Radio
Function quick channel search (QuickFind)
Teletext and subtitle
support – DiSEqC 1.0, 1.1, Unicable and DiSEqC 1.2
support, USALS – MPEG-2, MPEG-4, MPEG-4 AVC / H.264 support
Compatible with DVB systems- S, DVB-S2
Card reader for pay TV
Inputs / Outputs:

LOOP OUT: Signal output from the converter to another satellite receiver.
LNB IN: Input of the coaxial cable from the converter.
HDMI: Digital image and sound output.
USB: Input for connecting an external USB memory device.
LAN: Ethernet port used for communication over LAN / Internet.
AUDIO (L / R): Analog 2xRCA stereo audio output.
SPDIF: Digital optical audio output.
TV: SCART output for connecting a TV.
RS232: RS232 port for communication with a PC.
File Name
New! FERGUSON Ariva 150 Combo_ V1.31B2 12082016.rar
3- FERGUSON Ariva 150 Combo_ Manual.rar
2- FERGUSON Ariva 150 Combo_ 3606 EromUpgrade.rar
1- FERGUSON Ariva 150 Combo_ 3606 Editor.rar
Update FERGUSON ARIVA 150 COMBO_ Receiver New Software 18/08/2016
Download FERGUSON ARIVA 150 COMBO Receiver New Firmware