GEANT GN-M5 DIGITAL SATELLITE RECEIVER LATEST SOFTWARE
GEANT GN-M5 Satellite Receiver Software Latest Update. Receiver Update Geant HD Firmware with New Receiver Option. For All Model Geant HD Receiver, Latest Software Update Click Here. New Update and For any Help Contact Us @ Facebook Page or Twitter.
Subscription :
1- GN – M5 is available on three months of IPTV RED 3mois
2 – GN – M5 is available on 12 months of Server Redshard.
Description :
Geant launches the "Digital Satellite Receiver", a new digital TV receiver in the market. The new device, which the company called the GN-M5, promises users of this type of device with strong specifications and a very acceptable price. In this article, we review with you the specifications of the receiver. The new GN-M5.
The new GN – M5 receiver, which was announced recently, comes within the small devices of the category: GN – G 50 and GN – G 60. These devices carry "Serveur Redshard", which is a very modest server compared to other competing servers.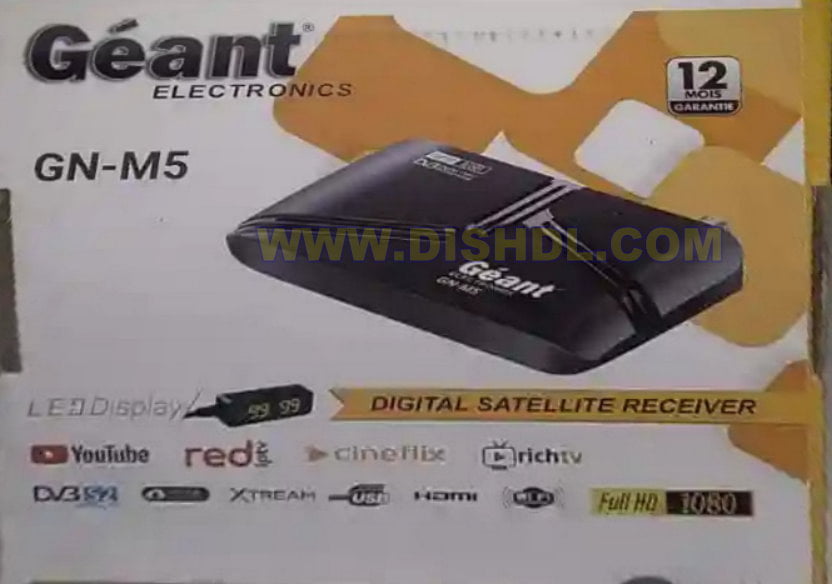 GN – M5 Receiver Specifications :
The device supports Full HD "1080" resolution.
-The device supports the third generation connection, 3G +
Supports a USB 2.0 port and an HDMI port
It supports the TimeShift feature
It supports the installation of various applications such as cineflix, Xtream and rich tv. Supports Youtube platform with up to Full HD resolution depending on your internet connection speed.
The receiver supports H technology. 265 called HEVC
Multimedia Player
has very little information available about the device, and we will provide you with more details the moment we get it, especially with regard to the price of the device, the processor, and other necessary specifications.
File Name
New! Geant GN-M5_ V1414 19122022.rar
Update GEANT GN-M5_ New Software 19/12/2022
Download GEANT GN-M5 RECEIVER NEW SOFTWARE