FREESAT GTMEDIA V8 SATELLITE FINDER METER SOFTWARE UPDATE DOWNLOAD
GTMEDIA V8 FINDER METER Software Latest Update. Download GTMedia Satellite Receiver Manual, and Software with New Option. For All Model GTMedia Receiver Update Click Here. Icone Receiver Software, For any Help Contact Us @ Facebook Page or Twitter.
FREESAT V8 SATELLITE FINDER
3.5-inch LCD screen: The newly upgraded golden version of the V8 satellite finder supports DVB-S / S2 / S2X signal measurement, H.264 multi-standard demodulation and decoding. The V8 satellite finder has a 3.5-inch LCD color screen and a 16-bit OSD with anti-flicker function. It can watch satellite channels in real time and view the channel list list. It is easier and more intuitive to view satellite signals and quickly configure satellite antennas.
Search all satellites: SAT digital locator. Supports complete satellite selection and fast blind scan. Built-in part of the European satellite list, you can directly select search. Supports users to manually add satellite lists to quickly search for satellites that users want to locate. Supports DiSEqC1.0 / 1.1 / 1.2 / USALS and 22 kHz tones.
High performance:  Lithium-ion 3000mA battery can work normally for up to 4 hours. Support battery power display. Blinking red means charging, and steady green means it is fully charged. Support LNB short-circuit protection, safe and secure to use.
Beginners are also suitable: V8 FINDER METER is a useful outdoor signal detector for TV satellite antennas, suitable for the adjustment and installation of satellite parabolic pans. Searching for satellites, a beep sounds for signal prompts. The stronger the signal, the quicker the sound.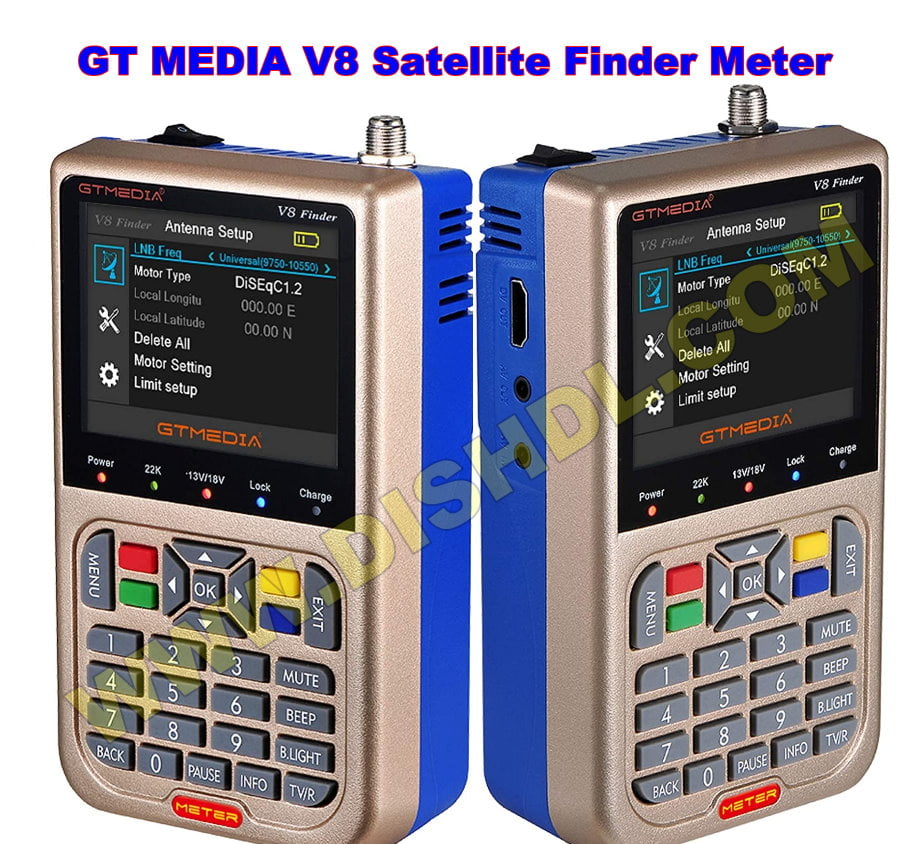 GT MEDIA TT PRO Cable Receiver for Digital Cable TV DVB-T DVB-T, T2 TV HD Receiver with Antenna WiFi USB HEVC H.265 Full HD 1080P Support PVR, CCcam and YouTube 
Buy Now Price $89.99
Product description :
Highlight:
1. Measurements of DVB-S/S2/S2X signals, H.264 Hardware decoding;
2. Digital satellite finder meter for quick setup of satellite dishes,
3. 3.5 Inch High Definition LCD Screen,
4. Li-Ion battery (7.4 V /3000 mAh) for up to 4-hour operating time.
5. Support AV in and AV/HDMI out function,
6. Support 13V / 18V / LOCK status panel LED display directly,
7. Support for DiSEqC1.0/1.1/1.2/USALSand 22 kHz Tone
8. LNB short circuit protection
9. Support battery power display
Accessories:
1- 1 × Digital satellite meter,
2- 1 × Adapter,
3- 1 × AV cable,
4- 1 × Car charger cable,
5- 1 × Carrying bag
8.strap of carrying bag,
6- 1 × User Manual
Standard: System capabilities: DVB-S/S2/S2X system standard:ETS 302 307
LNB Input: Connector: F type, male Frequency range: 950MHZ-2150MHZ Input Impedance: 75Ω Input Signal level: -65dBm~-25dBm(average power)
Active Ant Power: 13/18V DC @ 400mA MAX,Overload Protection
DiSEqC: DiSEqC1.0/1.1/1.2/USALS Motor fully support LNB switch control: 22K
Demodulator: Front end: QPSK, 8PSK Symbol rate: 2Mbps~45Mbps SCPC and MCPC Capable: Yes Spectral inversion: Auto conversion
Sortware Features:
OSD Language: OSD Multi-language for options (English\ German\ French\ Portuguese\ Spanish\ Italian\ Russian\ Turkish\ Polish\ Arabic \ Farsi\ Espanol\ Deutsch) Channel Search: Channel search in automatic, manual and network search Easy Menu: Plug and Play installation, with an easy to use Menu System PAL/NTSC: Automatic PAL/NTSC conversion, and 4:3 or 16:9 display form SoftUpgrade: Software upgrade through USB
Important Note: 1- backup the channel list.                                        Backup Channel List 2- export the softcam.key to usb device                         Backup softcam.key 3- update the firmware to box by allcode mode 4- update channel list then import softcam.key
File Name
New! GTMEDIA V8 Finder Meter_V163 04062021.rar
change log: 1. Fix S2X signal problem
FREESAT GTMEDIA V8 Software 04/06/2021
DOWNLOAD GTMEDIA V8 FINDER METER SOFTWARE NEW UPDATE