GTMEDIA V8 FINDER PRO SATELLITE SIGNAL FINDER SOFTWARE UPDATE DOWNLOAD
GTMEDIA V8 FINDER PRO Software Latest Update. GTMEDIA-Satellite signal Localizer V8 Finder Pro, DVB-S2X / S2 / S / T2 / T / C / ATSC-C H.265, automatic calculation angle of AZ, compatibl. Download GTMedia Satellite Receiver Manual, and Software with New Option. For All Model GTMedia Receiver Update Click Here. Icone Receiver Software, For any Help Contact Us @ Facebook Page or Twitter.
About this item
GTMEDIA V8 Finder Pro is a DVB-S2X / S2 / S / T2 / T / C / ATSC-C and MPEG-2 / 4 H combined hand meter compatible with 264 / H.265 (10 bits), with its compact size, light weight, user interface, long battery operating hours and rich set of features, the meter provides all the necessary functions for the installation and verification of digital satellite TV service, antenna signal and cable signal to residential houses or multi-housing units.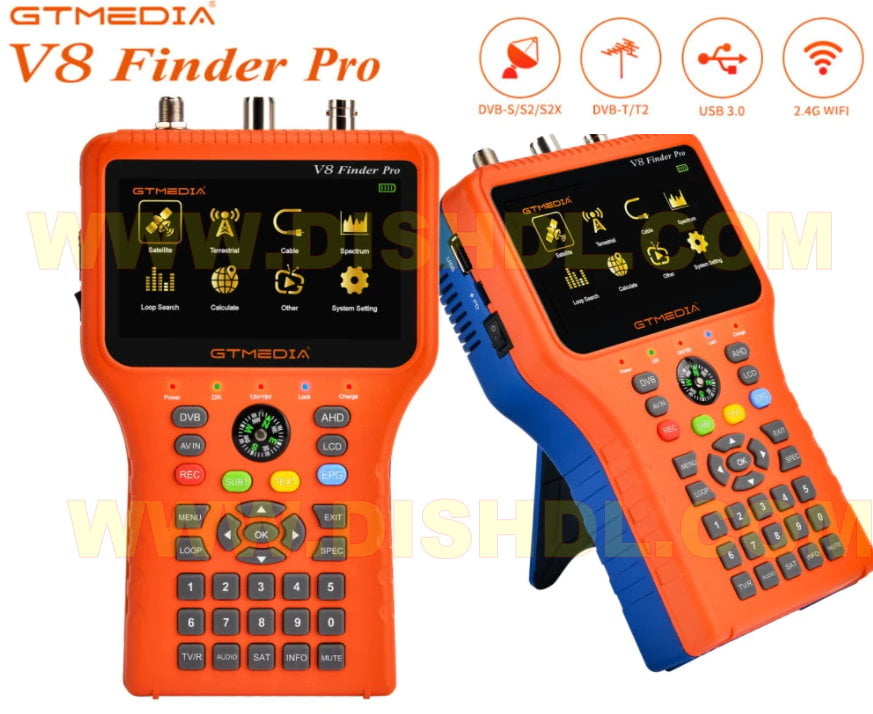 Specification :
4.3 inch high definition TFT LCD screen.
Totally DVB-S2X / S2 / S / T2 / T / C / ATSC-C, compatible with MPEG-2 / MPEG-4.
Supports hardware decoding H.264 / H.265 (10 bits).
Digital measuring device for signal strength and quality. Admit the preset of all satellite information.
Search support link.
Analyser constellation.
Spectrum analyser.
Admit automatic scan, blind, manual or NIT.
Sound for lock signal.
AZ automatic calculation angle, El.
Compatible with DISEQC 1.0 / 1.1 / 1.2, unbeatable, 0 / 22kHz tone.
Integrated speaker.
Supports AV output and AV entry.
HDMI output support.
Admit camera entry AHD.
Support compass function.
Supports real-time power screen, with low power reminder.
Supports YouTube for USB 2.4G WiFi.
Short LNB protect.
7,4 V / 400mAh lithium ion battery including.
Software update via USB port.
Easy to carry

Important Note: 1- backup the channel list.                                        Backup Channel List 2- export the softcam.key to usb device                         Backup softcam.key 3- update the firmware to box by allcode mode 4- update channel list then import softcam.key
File Name
New! GTMEDIA V8 Finder Pro_ V330 09032023.rar
change log:
1. Version information update
2. Under the full screen, press the INFO key twice to display the S and Q enlarged signal bars
3. Add Code Rate and Roll Off to INFO interface
4. S and T, the value of PWR CN MER is updated
4- GTMEDIA V8 Finder Pro_ V321 28092022.rar
change log:
1: T2 signal BER parameter update
2: S2/T2 screen spectrum optimization
3- GTMEDIA V8 Finder Pro_ V307 18012022.rar
change log:
1. Optimize BER display status
2. Polish T2 signal channel NO modification
3. Repair satellite without tp, select loop search function crashes
4. Optimize the display of signal quality and strength
2- GTMEDIA V8 Finder Pro_ V305 24122021.rar
change log:
1. Under Spectrum, add ATSC-C (J.83B)
2. Under Loop Search, add ATSC-C (J.83B)
3. Under System Setting, add LNB Power switch function
4. Countries under DVB-T, update Greece
1- GTMEDIA V8 Finder Pro_ V297 17112021.rar
change log:
1. SNR menu, add signal buzzer sound
2. Increase C/N MER
3. In the INFO interface, add a YouTube QR code
4. Add ATSC-C (J.83B) menu
5. Add USB backup function
6. Update Polish
7. Add DVB-S2 adjustment method
8. Add NIT search menu option under DVB-C
9 Add radio channel list menu
10. Increase the system reset password 0000
11. Repair wifi connection, reset stuck problem
Update GTMEDIA V8 FINDER PRO New Software 09/03/2023
DOWNLOAD GTMEDIA V8 FINDER PRO_ Satellite Signal Finder SOFTWARE NEW UPDATE