GTMEDIA V8 HONOR NEW FIRMWARE DOWNLOAD
New Software GTMEDIA V8 HONOR Receiver. GTMedia V8_Honor Satellite Receiver Bult-in WiFi Full HD DVB-S2/S Freesat V8 NOVA Receptor. Download GTMedia Satellite Receiver Manual, and Software with New Option. For All Model GTMedia Receiver Update Click Here. Icone Receiver Software, For any Help Contact Us @ Facebook Page or Twitter.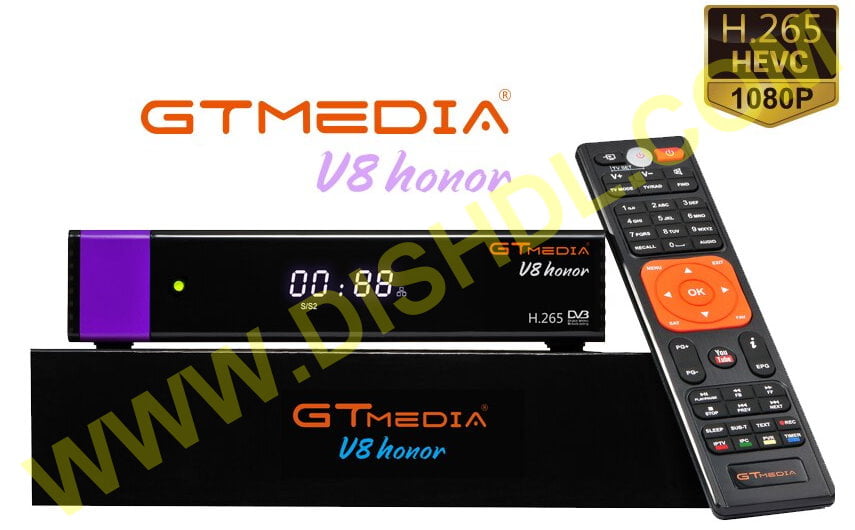 Short function:
1, DVB-S2 (Full HD 1080P).
2. PowerVu, DRE and Biss supported buttons.
3. Supports DLNA, SAT to IP.
Uniform support.
Satellite EPG support.
6. Built-in WiFi module, Ethernet, 3G USB dongle, PVR ready.
7. Supports WEB TV, IPTV, Youtube, Youporn, Redtube.
8. Support weather forecast, Jamendo, Yahoo news, picture etc.
9. Support network.
10, website technical support: www.freesat.cn
Main features
Power supply: Input DC 12V/1.5A
PAL/NTSC: automatic conversion of PAL/NTSC.
Number of channels: 10000 programmable TV channels
Language: English, French, Portuguese, Spanish…
EPG: fully compatible with 7 days electronic program guide (EPG)
Channel search: automatic station search, manual and network search.
Channel editing: multi-channel editing function (preferred, move, lock, jump, delete, repute, search, worry)
SoftUpgrade: software upgrade via USB and FTP
Timer: 5 event timers, off/once/daily/weekly.
Ethernet: support RMII interface, internet sharing
Channel memory: automatic storage for the last channel
Important Note:
1- backup the channel list.                                        Backup Channel List
2- export the softcam.key to usb device                         Backup softcam.key
3- update the firmware to box by allcode mode
4- update channel list then import softcam.key
File Name
New! GTMEDIA V8 HONOR_V519 05082021.rar
Change log:
1.Add V7 remote control
3- GTMEDIA V8 HONOR_V518 27042021.bin
Change log:
1. Update youtube.
2. Update emm key
3. Program editing, add infor button to delete all.
2- GTMEDIA V8 HONOR_04122020.rar
Change log:
1. Solve the problem of LNB power failure when Diseqc is switched
2. Solve the problem that Youtube cannot be played
1- GTMEDIA V8 HONOR_17112020.rar
What is New?
Update version information INFO interface.
Add service email, official forum, user manual QR code.
GTMEDIA V8_HONOR Receiver Software 05/08/2021.
Download GTMEDIA V8_HONOR Receiver Firmware New Update.