GTMEDIA V8 NOVA Blue Full HD 1080P DVB-S2 FTA Digital Satellite Receiver Support H.265, PowerVu, Biss Key, Built-in WiFi NEW FIRMWARE UPDATE DOWNLOAD
GTMEDIA V8 NOVA BLUE Satellite Receiver Software Latest Update. Download GTMedia Satellite Receiver Manual, and Software with New Option. For All Model GTMedia Receiver Update Click Here. Icone Receiver Software, For any Help Contact Us @ Facebook Page or Twitter.
About this item

1- DVB-S2 (FULL HD 1080P), Support PowerVu, DRE & Biss key
2- Support DLNA, SAT To IP, Support Unicable, Support XML EPG
3- Support Built-in WIFI module, Ethernet,Full speed 3G usb dongle,PVR Ready
4- Support WEB TV,IPTV,Youtube,Youporn,Redtube
5- Support Weather forecast,Jamendo,Yahoo news, Picture etc. Support Network Sharing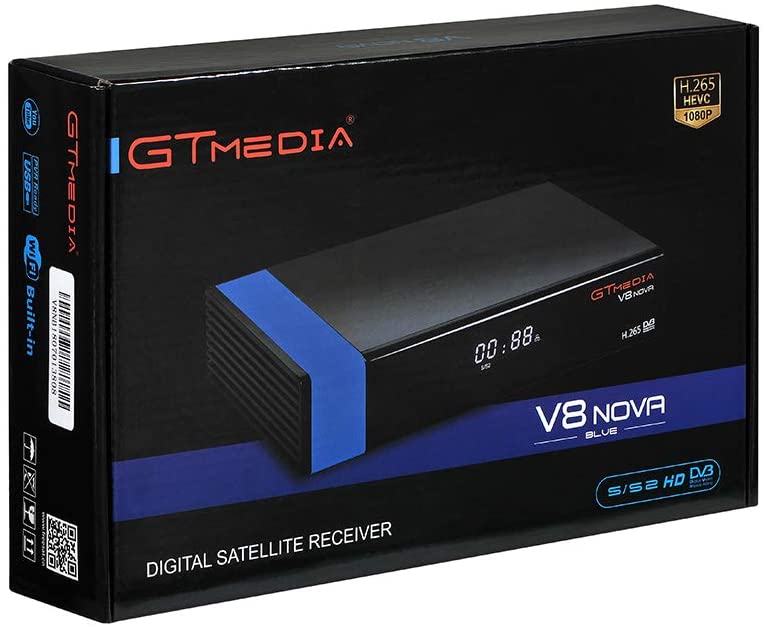 GT MEDIA TT PRO Cable Receiver for Digital Cable TV DVB-T DVB-T, T2 TV HD Receiver with Antenna WiFi USB HEVC H.265 Full HD 1080P Support PVR, CCcam and YouTube
GTMEDIA V7S HD Price   
Buy Now
Specifications:
Standard: HD DVB-S2 Complian
Encrypt: yes
Power Supply: Input DC12V/1.5A
Video Decode: AC-3,MPEG-2 MP@HL; BP MP&[email protected];H.265
PAL/NTSC: Automatic PAL/NTSC conversion
Channels Number: 10000 channels TV and Radio programmable
Favorites: 31 different favorite groups selection
OSD Language: English German French Portuguese Spanish Italian Russian Turkish Polish Arabic Farsi…
EPG: Fully support to 7 days Electronic Program Guide(EPG)
Picture: JPEG,BMP,PNG,GIF Supported
OSD Color: 32-bit OSD with anti-flickering
Channel Search: Channel search in automatic, manual and network search

Channel Edit: Various channel editing function(favorite,move,lock,skip,delete,rename,find,sort)
Parental Ctrl: Parental control for channels
Easy Menu: Plug and Play installation, with an easy to use Menu System
SoftUpgrade: Software upgrade through USB and FTP
Timer: 5 event timers,off/Once/Daily/Weekly Mode
Ethernet: Support RMII interface, Internet Sharing
Subtitle: Subtitle support
Teletext: VBI insertion for Teletext,CC and WSS
Save Channel: Automatic save for last channel
Product Size (MM): 193*125*40(L*W*H
) WIFI: Built-in WIFI (MT7601U)
USB: 1x USB 2.0 High Speed Host
IR: Exit IR for 38KHz
LNB IN*1, HD OUT, RCA*3, COAXIAL, ETHERNET, RS232, USB*1, Power supply
Important Note:
1- backup the channel list.                                        Backup Channel List
2- export the softcam.key to usb device                         Backup softcam.key
3- update the firmware to box by allcode mode 4-
update channel list then import softcam.key
File Name
New! GTMEDIA V8 NOVA_BLUE V519 05082021.rar
change log:
1.Add V7 remote control
1- GTMEDIA V8 NOVA BLUE_V518 27042021.bin
change log:
1. Update youtube.
2. Update emm key
3. Program editing, add infor button to delete all.
GTMEDIA V8 NOVA BLUE Receiver Software 05/08/2021
Download GTMEDIA V8 NOVA BLUE Receiver Firmware New Update