GTMEDIA V8 PRO2 NEW FIRMWARE DOWNLOAD
Download GTMEDIA V8 PRO2 Satellite Receiver Software Latest Update. GTMedia V8 pro2 H.265 Full HD 1080P DVB-S2 DVB-T2 DVB-C Satellite Receiver Support PowerVu, Biss Key Built-in WiFi. Download GTMedia Satellite Receiver Manual, and Software with New Option. For All Model GTMedia Receiver Update Click Here. Icone Receiver Software, For any Help Contact Us @ Facebook Page or Twitter.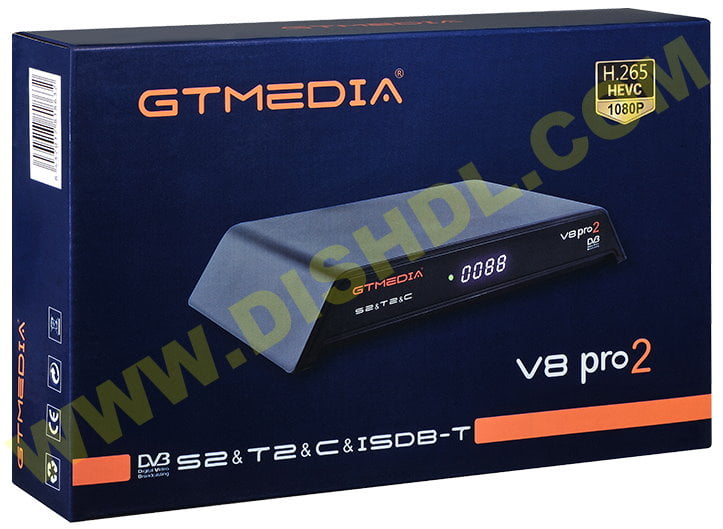 GT MEDIA V8 PRO2 DVB-T/T2 ISDB-T S/S2/S2X Cable HD 1080P TV Digital Terrestrial Receiver Satellite Decoder Wi-Fi Built-in, H.264 / H.265 HEVC / MPEG2 / MPEG4 Support New cam IP TV
Price 59.99$    BUY NOW
This box's DVB-T2 function can't work in North America which Terrestrial is ATSC format. North America buyer only can use DVB-S2 functions. Also it do not support 8psk turbo satellite channels in North America. North America please do not purchase it if you want to use Terrestrial function or want to watch turbo 8psk satellite channels.
Specifications:
Video Decode:MPEG-2 MP@HL; MPEG4/H.264, H.265, BP MP&HP @ L4.1;AVS [email protected]/4.0/2.0
Audio Decode: MPEG1 layer I, MPEG1 layer II, MPEG1 layer III, MPEG2 AAC, MPEG4 HE-AAC,Dolby
Panel display: 4-digit white LED display
LED Indicator: Power ON:Green; Standby:Red
Button: NOT
Wifi: Built in 2.4G WiFi,IEEE 802.1.1b/g/n
IR: Exit IR for 38KHz,Infra Remote control Standard: Fully comply with DVB-S/S2 (SCPC and MCPC receivable from C/Ku band satellite), DVB-T/T2/Cable(J83.A/B/C)/ISDBT, MPEG-2/4 H.265 Standard
Switch protocol: DiSEqC1.0/1.1/1.2/USALS Motor fully support, 13/18V DC @ 450mA MAX,
Overload Protection, 0/22K
Channels Number: 10000 channels TV and Radio programmable
Favorites: 31 different favorite groups selection
OSD Language: OSD Multi-language for options
Picture: JPEG, BMP, PNG, GIF Supported

Channel Search:Supports NIT Search ,Automatic network search for newly added transponders
PAL/NTSC: Automatic PAL/NTSC conversion
SoftUpgrade: Software upgrades through USB port, or RS232 for PC upgrade.
Channel: Recording one channel, can view another channel under the same TP,Various channel editing function(favorite, move, lock, skip, delete, rename, find, sort) USB 2.0: Support FAT/FAT32 big capacity hard disk
PVR Option: USB 2.0 for PVR, TIMESHIFT, media files playback
Audio Codec:WMA,MP3
Photo Codec: JPG, BMP, PNG,GIF
Power Supply: AC IN 110-240V,DC 12V/1500mAh
Dimension:185*100*35MM
Size and Weight: 42*157*59MM;0.65kg
Accessories: Gift Box, Adapter (US/EU/UK/AU Plug), IR remote control, HDMI Cable, User Manual
Important Note:
1- backup the channel list.                                        Backup Channel List
2- export the softcam.key to usb device                         Backup softcam.key
3- update the firmware to box by allcode mode 4-
update channel list then import softcam.key
File Name
New! GTMEDIA_V8_PRO2_V519_05082021.rar
Change log:
1.Add V7 remote control
3- GTMEDIA V8 PRO2_V518 27042021.bin
Change log:
1. Update youtube.
2. Update emm key
3. Program editing, add infor button to delete all.
2- GTMEDIA V8 PRO2_08122020.rar
Change log:
1. Fix the problem that Youtube cannot be played
1- GTMEDIA V8 PRO2_11092020.rar
change log:
1. Update powerUV
2. Support Gtshare APP function
3. Support 27.5 BBC program
4. Support 30W_Abertis DTT program
Update GTMEDIA V8 PRO 2 Receiver Software 05/08/2021
Download GTMEDIA V8 PRO 2 Receiver Firmware New Update