GTMEDIA V8 TURBO NEW FIRMWARE DOWNLOAD
Download GTMEDIA V8 TURBO Satellite Receiver Software Latest Update. GTMEDIA V8 Turbo Combo DVB-S/S2/S2X+T/T2/Cable/J.83B Sat Receiver Auto Biss Key, 2.4G Wifi, Ethernet, 10Bit Satellite Firmware. Download GTMedia Satellite Receiver Manual, and Software with New Option. For All Model GTMedia Receiver Update Click Here. Icone Receiver Software, For any Help Contact Us @ Facebook Page or Twitter.
Specifications:
1. DVB-S/S2/S2X T/T2/Cable/J.83B, AVS, VCM/ACM/multi-stream/T2MI, Multi-PLP, HEVC main 10 profile(10bit)
2. BISS auto roll, Full PowerVu, DRE &Biss key
3. CA card slot and multi-room
4. Albertis, Tivusat, BBC Satback
5. Unicable, DiSEqC1.0/1.1/1.2/USALS Motor fully support
6. Built-in 2.4G WIFI module, Ethernet, and support 3G usb dongle
7. Online Movie (Youtube, Youporn, Hotstar)
8. IPTV (Customize, xtream, stalker)
9. SAT streamed to Gtplayer, DLNA
10. CCCAM, NEWCAM, MGCAM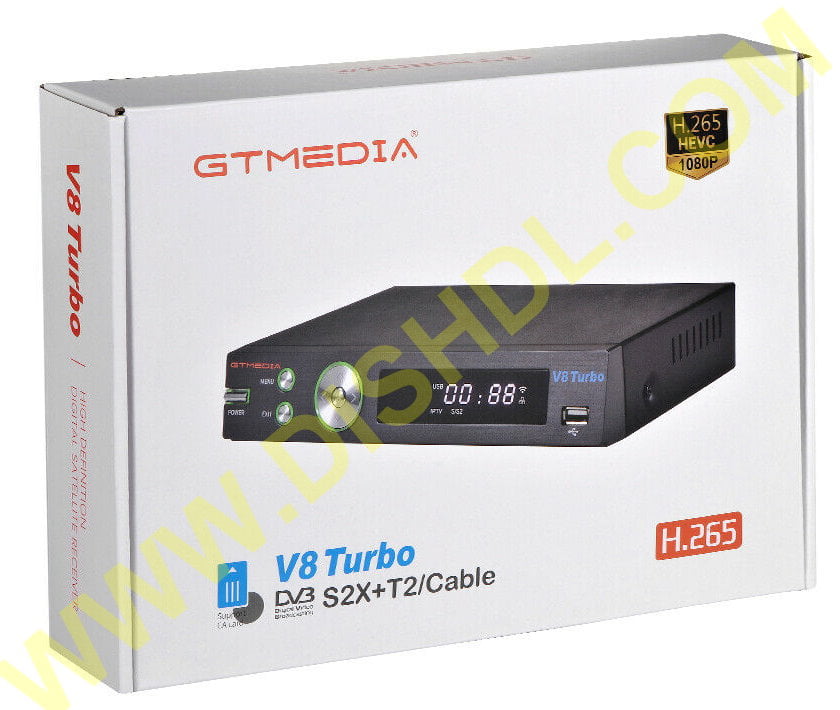 GT MEDIA V8 Turbo Digital Satellite Receiver Terrestrial Decoder with CA Card Slot for TIVASAT, DVB-S2X +T2 + Cable T2-MI, FTA Full HD 1080P/ H.265 10bit/ YouTube/ CCcam/ HDMI/ SCART/ PVR
Price  65.99$     BUY NOW
Video Decode

HEVC main profile@level 4.1 and main10 [email protected], High tier
MPEG-2 MP@ML
H.264 BP, MP&HP@L3/L4.1/L4.2
AVS Jizhun profile and broadcast profile
MPEG-4 SP profile, advanced simple profile@L5
VC1 SP@ML, MP@HL, AP@L0-3
H263 baseline profile
JPEG decoder
Audio Decode

MPEG-1/2 Layer 1/2/3, MPEG-2/4 LC-AAC, MPEG-4 HE-AAC, Dolby AC3/AC3+, DRA CH/5.1CH
Sortware Features
Standard: Fully comply with DVB-S/S2/S2X (SCPC and MCPC receivable from C/Ku band satellite), DVB-T/T2,/Cable/J.83B MPEG-2/4 H.265 Standard
Channels Number: 6000+ channels TV and Radio programmable
Favorites: 32 different favorite groups selection
OSD Language: OSD Multi-language for options (English, Spanish, French, Russian, Portuguese, Polish, Indonesian, Arabic, Turkish, German, Italian, Persian, Thai)
EPG: Fully support to 7 days Electronic Program Guide (EPG)
OSD Color: 16-bit OSD with anti-flickering

Channel Search: NIT Search, Automatic network search for newly added transponders
Channel Edit: Various channel editing function (favorite, move, lock, skip, delete, rename, find, sort)
Parental Ctrl: Parental control for channels
Easy Menu: Plug and Play installation, with an easy to use Menu System
SoftUpgrade: Software upgrades through USB port and RS232 upgrade
Channel: Recording one channel, can view another channel under the same TP, Various channel editing function (favorite, move, lock, skip, delete, rename, find, sort)
Subtitle: DVB EN300743 and EBU
Teletext: DVB ETS300472 by VBI and OSD
Time Set: Time set by GMT offset automatic and manual, Summer Time support
Timer: 5 event timers, off/Once/Daily/Weekly Mode
USB 2.0: FAT/FAT32/NTFS big capacity hard disk
PVR Option: USB 2.0 for PVR, TIMESHIFT, media files playback
Media Codec: TS, mkv, mp4, avi, flv, f4v, ts, m2ts, mov, 3gp files
Audio Codec: WMA, MP3
Photo Codec: JPG, BMP, PNG, GIF
Important Note:
1- backup the channel list.                                        Backup Channel List
2- export the softcam.key to usb device                         Backup softcam.key
3- update the firmware to box by allcode mode
4- update channel list then import softcam.key
File Name
New! GTMEDIA_V8_TURBO_V345_21092023.rar
Change log:
1. Version information update
GTMedia_V8TURBO_Release_V345_20230921.zip
9- GTMEDIA V8 TURBO_ V319 26052022.rar
Change log:
1. support tivusat merlin card
2. support TNTSAT card
8- GTMEDIA V8 TURBO_ V303 15122021.bin
Change log:
1. Update 30W frequency table
2. AV settings, switch resolution, add prompt box
7- GTMEDIA V8 TURBO_ V299 25112021.bin
Change log:
1. Solve the problem of missing programs at 30W
2. Update IPTV function
3. Add LNB switch
4. Update Polish frequency information
5. Update the Indonesian channel number
6- GTMEDIA V8 TURBO_V270 28042021.bin
Change log:
1. Solve the display problem of satellite list T/C/J83b
5- GTMEDIA V8 TURBO_V268 20042021.rar
Change log:
1.Update youtube
4- GTMEDIA V8 TURBO_V264 25032021.rar
Change log:
1. DVB-S streamlined only keeps Antena setup
2. Fix MP4 video playback problem
3. Fix EPG display problem
4. Add User Guide
5.sat2ip supports T2
6. The Tuesday translation in Epg is wrong.
3- GTMEDIA V8 TURBO_V257 03022021.rar
Change log:
1. Solve the problem that youtube music cannot be played
2. IPTV shortcut keys, priority judgment
2- GTMEDIA V8 TURBO_V246 05012021.rar
Change log:
1. Move the LCN switch under the satellite settings to the DVB-T menu
2. Add Italian LCN scanning function
3. Fix the XML_DB export problem
1- GTMedia V8TURBO Release 20201203.zip
change log:
1. Update some youtube keys.
2. Solve the problem that youtube cannot be played
3. Solve the problem of diseqc switching and lnb power failure.
Update GTMEDIA V8 TURBO Receiver Software 21/09/2021
Download GTMEDIA V8 TURBO Receiver Firmware New Update