iSTAR A8000 PLUS SATELLITE TV RECEIVER SOFTWARE NEW UPDATE
iSTAR A8000 Online TV Digital Satellite Receiver Software Latest Update Download. All istar receiver prices, Specifications, Subscription, Webleaflet, User Manual and PC Software, istar Receiver IPTV, istar TV channel, remote Control apps, and Tools. Satellite Receiver New Update and For any Help Contact Us @ Facebook Page or Twitter.
iStar A8000 Plus + 30 months online TV
Nice view, Best in Design working with one dish and without dish by online TV and Internet ICAM, WIFI, have a LAN, 30 Months FREE Online TV.
Specifications :

HD 1080p Resolution support
HD Video output
CA Card Reader
Sensitive Blind search
5000 Channel Storage
64 Satellite storage
Multi-Language Support
DiseqC 1.0-1.1-1.2
Usals Motor Support
Record with USB PRV&Time Shift
Upgrade with OTA-HTTP-USB-FTP
USB 2.0 Support
Multimedia support
Ethernet connection Support
Internet with WIFI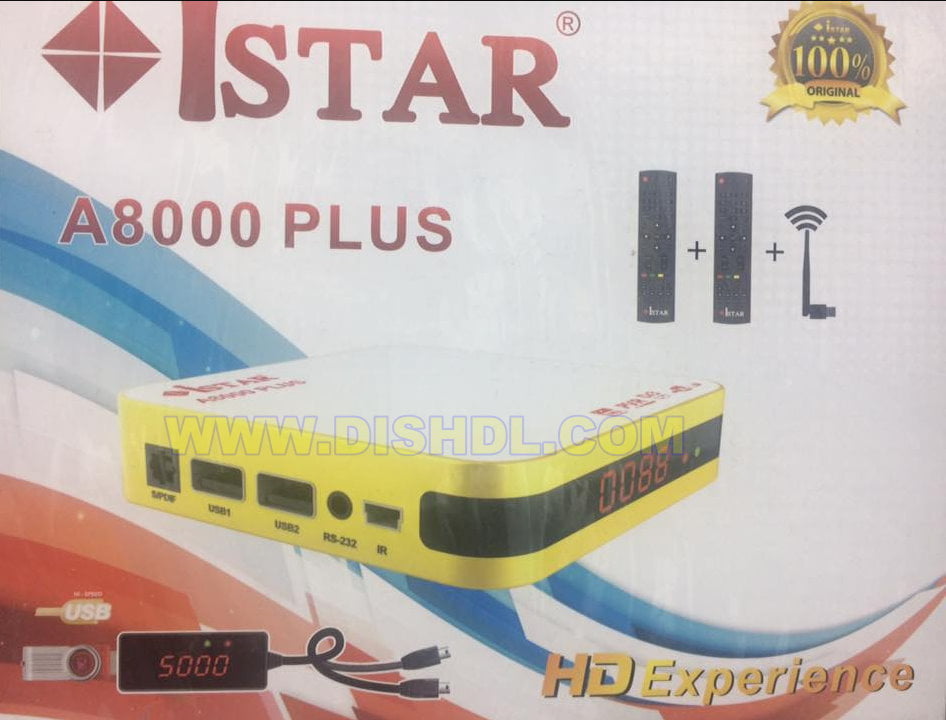 Online TV/ IPTV channels information:
47 Special Online TV channels
765 Arabic channels
165 Kurdish channels
146 Persian channels
190 Turkish channels
144 UK channels
91 USA & Canada channels
101 German channels
84 Netherlands channels
131 France channels
67 Sweden channels
33 Denmark channels
24 Belgium channels
98 Italian channels
67 Portugal channels
104 Albania & Kosovo channels
19 Bosnia- Herzegovina channels
60 Russia & Ukraine channels
20 Greece channels
25 Norway channels
7 Finland channels
61 Romania channels
79 Poland channels
60 Bulgarian channels
35 Hungary channels
8 Estonia channels
11 Kazakhstan-Uzbekistan channels
45 Spanish channels
35 Czech Republic channels
25 Azerbaijan-Georgia channels
6 Armenia channels
70 Pakistan channels
31 Afghanistan channels
151 Africans channels
166 India channels
18 India UK channels
10 Israel channels
9 Philippines channels
29 Bangladesh channels
19 Brazil channels
15 Macedonia channels
20 Yugoslavia channels
8 Switzerland channels
File Name
New! iSTAR A8000_ V1.32 13122022.rar
iSTAR A8000_ Receiver New Software 13/12/2022
Download iSTAR A8000 RECEIVER NEW SOFTWARE