MEDIASTAR MS-DIAMOND Z2 4K DIGITAL TV RECEIVER SOFTWARE DOWNLOAD
Download Mediastar Diamond Z1 UHD 4K ANDROID FOREVER – Satellite Receiver DVB-S2 wifi LNB (MediaStar Diamond Z1 4K Software, Firmware Latest Update. Update Mediastar HD Receiver Firmware with Many New Options. For All Model Mediastar HD Receiver, Latest Software Update Click Here. New Updates and For any Help Contact Us on our Facebook Page or Twitter.
MEDIASTAR MS-DIAMOND Z2 Subscription:
Great design, fast and built-in Forever IKS 15M ** APOLO IP 1M ** Foever TV 15M ** Dragon 15M ** MYHD 15M ** ECHOO 15M ** DOCTOR 15M ** SKY 15M ** Dream 15M ** Royal 15M. Mediastar MS-Diamond Z2 4K UHD is a hybrid set-top box that combines both android OS and satellite modulator. It is one of the best digital satellite receiver built-in with dual tuner, fast, and smooth running performance. Mediastar MS-Diamond Z2 4K UHD receiver hardware components are of quality with metal body. It is the first receiver to features, an external mouse, and keybaord, DVB-S2X tuner but not come with T2MI. It is the best hybrid STB before the advent of Starsat SR-X7 Extreme 4K. Let's take tour to do reviews.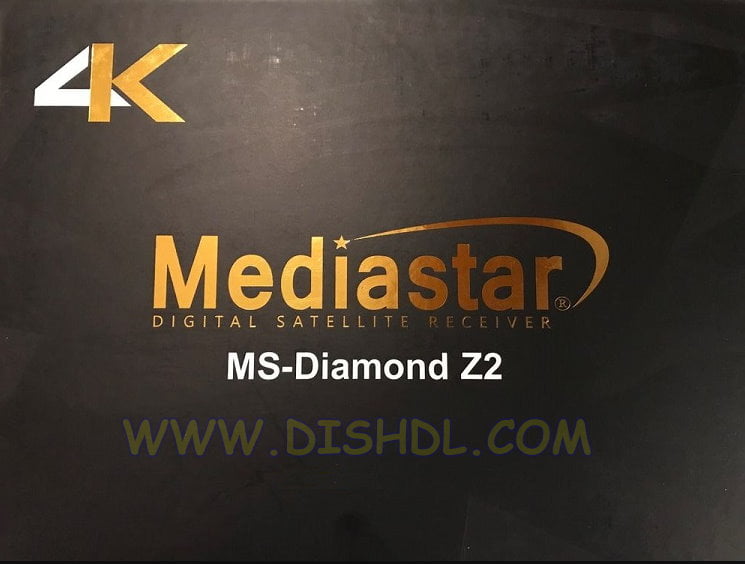 MEDIA STAR MS-DIAMOND Z2 specifications:
Support DVB-S/DVB-S2/DVB-S2X Modulator
Android 7.0 (Noughat) OS
Hisi3798 4K AMR Cortex-A9 Processor, Octa-core
3D Graphics Processor A52
2GB RAM and 8GB Internal Storage
HEVC H.264, HEVC H.265 and 4K Ultra Resolution
Built-in Bluetooth and External Wi-Fi
15-Month Forever IKS
12-month Forever Apollo IPTV
It has a external mouse and keyboard hardware
Main Features:
Hi3798MV200 HiSilicon Powerful CPU
Support for 4K 60fps 2160 × 3840
Impressive image processor
Hardware and software support for HDR-HLG-WCG
Supports VP9 and H265 codecs with 10-bit color depth
Image capability in the simultaneous image of the 4K channels
Hardware feature for noise reduction and image jump
2GB RAM DDR4
8GB Internal Memory
Android 7 (Nougat)
A powerful dual tuner with the ability to amplify weak signals
Supports DVB-S-S2 and 3D channels, H.265 and 4K 60fsp.
Support Various Resolutions 576i 50Hz, 576P 50Hz, 720P 50Hz, 1080P 24Hz, 1080P 25Hz, 1080i 50Hz, 1080P 50Hz, 2160 30Hz, 2160 60Hz
Has a 3G Modem, internal Wi-Fi and Bluetooth connectivity
One Standard remote and Extra Remote with air mouse plus keyboard.
Has a 15 months of powerful global server access for Forever lKS
Has a 12 months of IPTV with so Many great channels to choose from.
BISS Key and PowerVu Channels Auto Opening
With the unique HomeShare feature to share free device tweaks
Support for DiSEqC 1.0 / 1.1 / 1.2 / 1.3 usals
Supports Sat2IPTV
Google Playstore, Youtube, Chrome, Gmail and other Apps built-in
Online Softcam Key update
Software Support both Manual And Online.
File Name
New! MediaStar MS-Diamond Z2_ PS4-Menu V4.8.9 24102023.rar
3- MediaStar MS-Diamond Z2_ PS4-Menu V4.8.7 28072023.rar
2- MediaStar MS-Diamond Z2_ V4.8.5 21032023.rar
1- MediaStar MS-Diamond Z2_ V4.7.8 22112022.bin
MEDIA STAR MS-DIAMOND Z2_ Receiver Software New Update 24/10/2023
Download MEDIASTAR MS-DIAMOND Z2 NEW SOFTWARE, FIRMWARE