MEDIASTAR MS-H265 SUPER DIGITAL SATELLITE TV RECEIVER SOFTWARE NEW UPDATE
Download MEDIASTAR MS-H265 SUPER Receiver Software, Firmware Latest Update. Update Mediastar HD Receiver Firmware with Many New Option. For All Model Mediastar HD Receiver, Latest Software Update Click Here. New Update and For any Help Contact Us @ Facebook Page or Twitter.
Subscription :
1- 36 MONTH DRAGON SERVER
2- 15 MONTH SERVER
3- 15 MONTH SKY SERVER
4- 15 MONTH DREAM
5- 15 MONTH SERVRE
6- 15 MONTH FOREVER SERVER
7- 12 MONTH DOCTOR IPTV
8- 3 MONTH GOLDEN SERVER
9- 10 YEARS MOVIES & SERIES LIBRARY
YOUTUBE
EVERY SERVER HAVE (LIVE TV CHANNEL AROUND THE WORLD+SPORT CHANNEL +KIDS+MOVIES LIBRARY)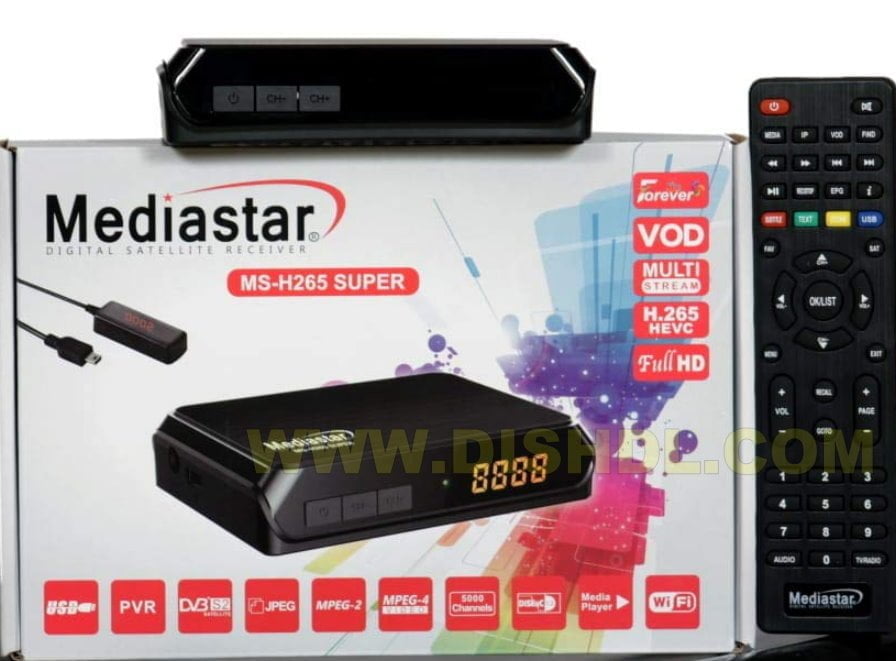 Main Specifications :
Supports 1080P60 video * Supports Ethernet, WiFi and 3G
Supports phone work as a remote for the receiver
Online update
Supports DLNA
Supports DiSEqC options
Blind Scan, DVB Digital Video Broadcasting
Media Player, Weather update
MULTI STREAM, PVR Ready, EPG
DVB-S/DVB-S2 Satellite Compliant (MPEG-II/MPEG-IV/H.264/H.265)
SCPC & MCPC receivable from Ku and C band satellites
Universal, Single, Single S & C Band Wideband LNB
Compatible Code Rates: 1/2, 3/5, 2/3, 3/4, 4/5, 5/6, 7/8, 8/9 and 9/10
Sensitive Tuner with Loop-Through
DiSEqC C 1.0/1.1/1.2/1.3(USALS)
Unicable Supported
TIGER M1 PLUS SOFTWARE UPDATE
Blind Search supported.
Multi-satellite search, network search, Multi tp search
Auto DiSEqC Search
PAL/NTSC
File Name
New! MediaStar MS-H265 Super_ V295 05052022.rar
New MEDIASTAR MS-H265 SUPER_ Receiver Software New Update 05/05/2022
Download MEDIASTAR MS-H265 SUPER_ NEW SOFTWARE, FIRMWARE.