MEDIASTAR ZENON 4K UHD TV RECEIVER LATEST FIRMWARE
MEDIASTAR ZENON 4K UHD Satellite Receiver Firmware Latest Update. Download Media star company Firmware and Tools. Download Mediastar technologies Satellite and Set-top Box Firmware Download. Amiko Webleaflet, User Manual and PC Software. Satellite Receiver New Update and For any Help Contact Us @ Facebook Page or Twitter.
There's no difference in structures or design when compare to Icone Iron Pro and Icone Irone plus. However, Mediastar Zenon 4K receiver comes with 12 month M-share server for powering most of the European Satellite package for free.
With Forever server pro, you can watch thousands of satellite package from Europe, Asia, Pacific and Africa for free. There's preloaded 12month and Apollo IPTV account to watch tv online.
Mediastar Zenon 4K comes with Android 7.0 (Noughat), Quad Core Processor 3798 Hisilicon. The system memory is 1GB RAM DDR4 and 16GB internal memory. There's VP9 10bit hardware enhanced high quality picture of 4K UHD for the best viewing and gaming experience.
The Signal tuner is very sensitive and integrated with DVB-S2X known as Multi-stream. With this option, Mediastar Zenon 4K receiver can scan hide channels and opening any HEVC H.265 encode channels. There's fast blind scan features and support diseqc switch.
Furthermore, All Google apps were pre-installed, therefore it is Google certify receiver because of the integrated android operating system. Open GL 2.0 controls the 3D video and display processing for gaming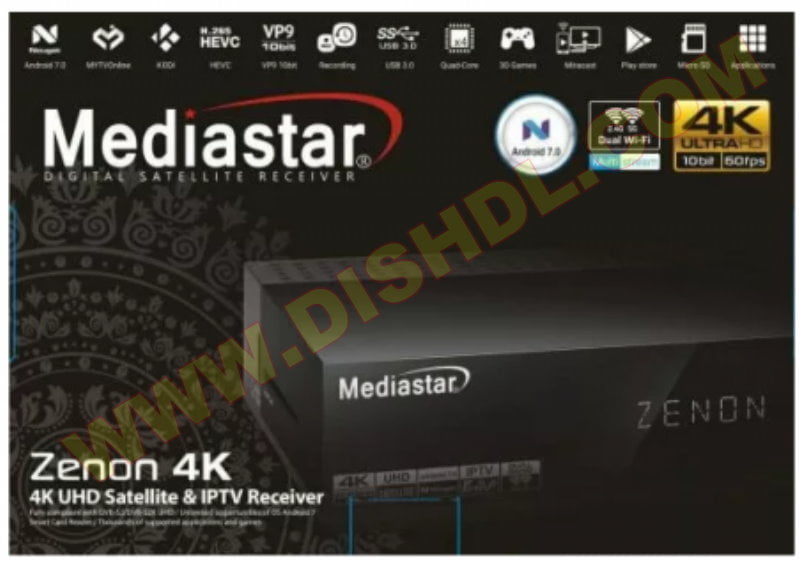 Mediastar Zenon 4K Receiver Full Specification
Powerful Hisilicon 3798MV200, Quad Core 1.6GHz
1GB of DDR4 RAM high speed memory.
8GB Internal Memory
High powered, tuner with weak signal amplification capability
Features Android OS 7.0 (Noughat)
Optimized software with easy, smooth, bug-free and full of pure Media Star ideas, with great support
Support 4K 60fps
Supports all kinds of resolutions: 576i 50Hz, 576P 50Hz, 720P 50Hz, 1080P 24Hz, 1080P 25Hz, 1080i 50Hz, 1080P 50Hz, 2160 25Hz, 2160 50Hz
Hardware image processing engine for noise reduction and image skippingPQ Impact Engine 2.0
Professional color settings and display of images



Capable of image-to-image and two-channel 4K simultaneous playback

Ability to record and record three channels simultaneously
Hardware and software support for BT.2020, BT709 and HDR / HLG / WCG color spectrum
Support for VP9 codec with 10 bit color depth
Support for 3D, Multi Stream and DVB-S2, DVB-S2X, H265, 4K 60fs channels
Dolby Dolby, Dollby +, AAC, DTS-HD audio support
12-month free online M-Share server
Ability to insert active codec cards available in the market and use M-Share Shearing
12 months free account for all Forever-IPTV packages
Storage capacity of 20,000 TV and radio channels
New RCU Learning Remote Control Adjustable with other RCU Learning controls and devices
Built-in Bluetooth and WiFi with dual band support, 2.4GHz, 5GHZ Combo Dual Band
Support a USB 2.0 port, 3.0 port, SD-Card port
Network Drive, Samba, DLNA capabilities
Supports mouse types, game categories as well as external digital receiver
SPDF Optical Sound Output



CA card reader port

Support for all types of cband / kuband LNBs
Supports DiSEqC 1.0 / 1.1 / 1.2 / 1.3 usals
Excellent support for all types of CCM, NiCM and Thunderbird and PowerView protocols and the ability to manually and easily insert base codes and more …
Advanced Search, Network Search, PDF Editing, Multi-Satellite Search and Frequency Blind Search, Network Serch, Edit PID, Multi-TP, Multi-Sat
Luxury white panel with beautiful VFD display with new material and high quality
LAN LAN port, HDM version 2.0 output, External power and AV output

Full support of Farsi, Arabic and other languages
Ability to translate satellite movies and programs online into Farsi, Arabic and other languages
USB software bug fixes at boot time without cable and loader
Support for Code, My-TvOnline, Forever-IPTV, m3u, m3u8
3G modem support SIM card modem
Adjustable manual and automatic timer, recording timer and sleep timer
Streaming control with Android mobile and tablet and ios
File Name
New! MediaStar Zenon 4K UHD_ ForeverTV.rar
2- MediaStar Zenon 4K UHD_ AudioOptimizer.rar
1- MediaStar Zenon 4K UHD_ V1.7.19 R26004 28032021.rar

Update MEDIASTAR ZENON 4K UHD Receiver New Software 11/12/2022
Download MEDIASTAR ZENON 4K UHD DIGITAL RECEIVER NEW SOFTWARE