NEXT YE-17500 HDMI CX SOFTWARE NEW UPDATE
Download NEXT YE-17500 HDMI CX Satellite Receiver Software 2020. English and Turkish User manual Download. How to Upgrade Next Receiver Software and Chennal Editor? Download Next Receiver RS232 Upgrade Tools. Upload Program, Upload Editor, Channel Key Editor and  Recovery Editor. All Next  Receiver Current Software Download 2020. Next Receiver Current EMU Key File Current Channel List File Download. How to Install Image Software In Receiver. Next Receiver User Guide Download in PDF Format. Next and Next Star Receiver Factory Reset Code is (1004). To Download Latest Receiver Firmware and Help Desk All about Satellite TV Like Our Facebook Page.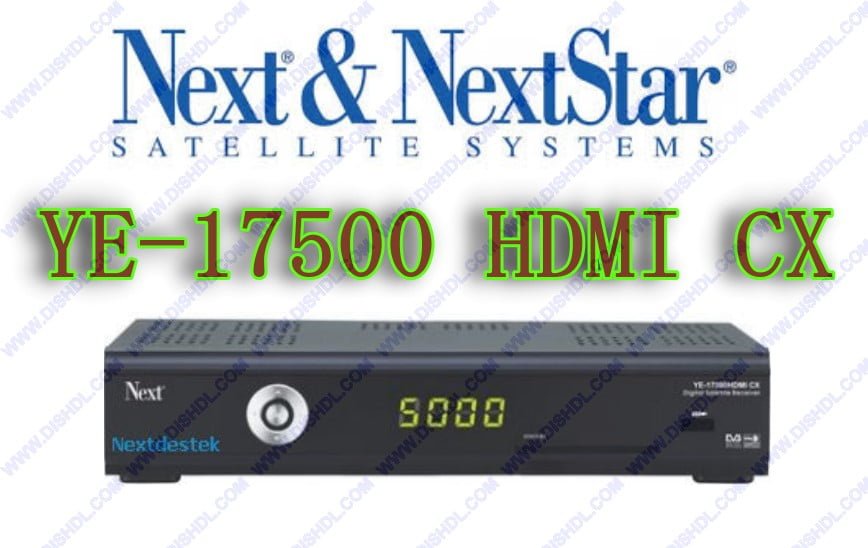 Main Features! Easy-to-use graphical interface (Display menu). RS232C Port for software updates and other services. PVR and TimeShifting Features with USB Port. Slide show for MP3 music playback and JPG pictures with USB Port. Ethernet input (Interactive). Software and channel list transfer via USB Port. DiSEqC1.0 / 1.2, 13 / 18V, 22Khz Tone support. 1-SCART (TV) connector & 3-RCA (CVBS VIDEO, AUDIO R / L) Connector. Digital video and audio transfer with HDMI connector. Multiple language support (Menu, Voice). Last Channel memory. OSD: Transparency & Blending ratio adjustment and 256 Color support. Operation with Front Panel Keys & IR Remote Control. Channel Editing Functions (TV or Radio Channels, Channel Name, Favorite Channel, Satellite Name).
EPG (Electronic Program Guide). Support 64 satellites. 3 Operating Modes (Digital TV, Digital Radio, Favorite). PLL RF Modulator UHF21-69, PALB / G, D / K, I. Digital Audio Output (S / PDIF-Coaxial). QPSK Satellite reception. Digital Tuner and Loop-through output. SCPC / MCPC reception from C / KU-band satellites. MPEG-2 Main Profile at Main Level. Teletext support via VBI & OSD. 4800 Channel Memory. 1 Smart Card Slot.
File Name


Update YE-17500 HDMI CX SOFTWARE 18-03-2020
DOWNLOAD NEXT RECEIVER LATEST SOFTWARE