OPENBOX AS4K LITE ANDROID SATELLITE RECEIVER LATEST SOFTWARE
OpenBox AS4K LITE Android Receiver New Firmware and Tools. Особенности Openbox® AS4K Lite Android; Меню и прием Спутникового ТВ; Раздел "Менеджер" и установка приложений For All Model Openbox HD Receiver, Latest Software Update Click Here. New Update and For any Help Contact Us @ Facebook Page or Twitter.
Description:
Satellite Android receiver Openbox AS4K Lite is based on a high-speed 4-core HiSilicon processor and runs on Android 7.0 (Nougat) operating system. The model is equipped with a DVB-S2X satellite tuner with Multistream and T2MI support, a card reader, an Ethernet controller, and USB 2.0 ports. The RAM is 1GB and the flash memory is 8GB.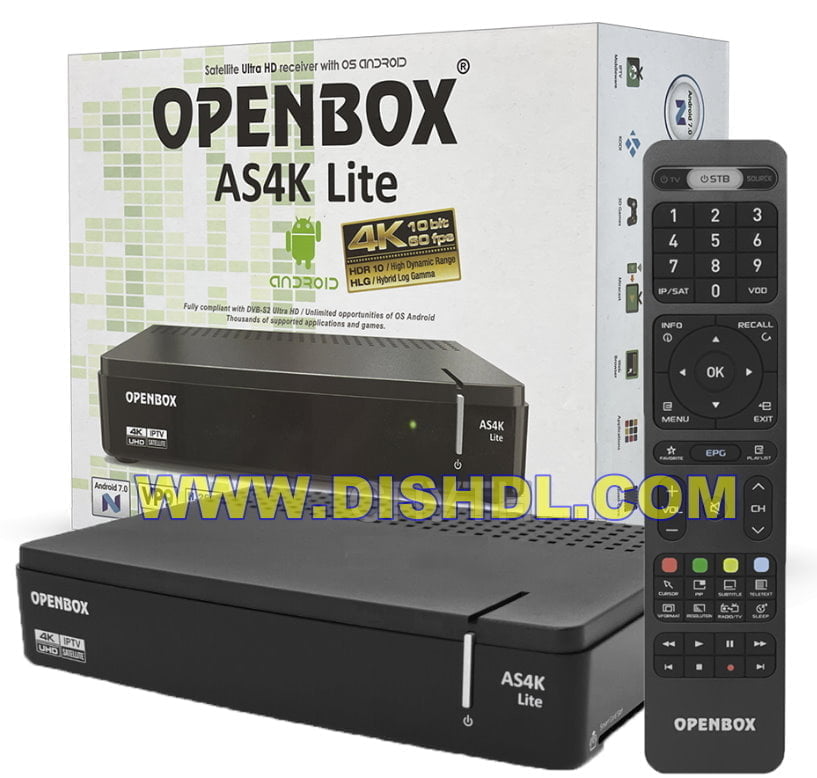 Main features:
Operating system Android 7.0 Nougat
Modern and powerful processor Hisilicon Hi3798Mv200 from Huawei
HDMI 2.0 output up to 3840x2160p (4K Ultra HD) 60fps
Unsurpassed image quality and good satellite signal sensitivity
Compatible with High Dynamic Range (HDR) 10bit and Hybrid Log Gamma (HLG)
New H.265 (HEVC) Video Compression Format
Satellite TV reception interface repeats Openbox® set-top boxes of the SX, AS1, AS2, AS4K series
Optimized software for comfortable work with 1GB RAM
Includes Wi-Fi module for connecting to wireless networks
Ability to simultaneously record three channels, as well as a whole TS transponder
Built-in Bluetooth module for keyboards, mice and headphones
Over a million Google Play Market apps
Working with Excel, Word, Email, Skype and more
Thousands of different games with game controller support (FlyMouse, Game Pad)
Fast and stable operation of the Kodi entertainment center (XBMC)
Unlimited VoD and OTT services
Full reception of terrestrial TV broadcasts in DVB-T / T2 formats
Learning remote control (one remote for TV and set-top box)
AS4K CI PRO+ Specifications:
Producer: Openbox
Developer: Aloys Co. Ltd. (Korea)
Processor: Hisilicon Hi3798Mv200
RAM, MB: 1024
Flash memory, MB: 8192
Operating System: Android
Card acceptor: 1
Common Interface: No
Number of tuners: 1
TV resolution: SD, HD, 4K UHDTV
DVB standard: DVB-S, DVB-S2
DVB tuner variables: No
Compression standard: MPEG2, MPEG4 , H.265 (HEVC)
Loop output: No
Display: No
Control buttons: No
Wi-Fi support: USB Wi-Fi adapter
3G: No
Ethernet: In stock
Hard drive: No
USB: 2
USB-Hub support: n.d.
eSATA: No
Timeshift: In stock
Recording (PVR): USB / LAN
Media player: Good
Playback: USB / LAN
Multistream support, t2-mi, PLP0: No
AC3 audio support: In stock
HDMI: ver 2.0
RCA composite: In stock
YPbPr component: No
SCART: No
RF-Out: No
S / PDIF: No, Optical
RS-232: No
Additional connectors: remote IR, Micro SD-Card
DiSEqC: 1.0 / 1.1 / 1.2 / USALS
PIP ("picture in picture"): No
Installation of plugins / addons: In stock
YouTube: In stock
InternetTV (IPTV, WebTV, etc.): In stock
Receiver cooling: Passive
Power Supply: External 12V / 2A
Remote control: Standard
Receiver type: Satellite
Color: Black
USB Wi-Fi adapter chipset: MT7601
Housing size: Standard
File Name
New! OPENBOX AS4K LITE_ V1.8.13 R26886 15062022.rar
Update OpenBox AS4K LITE_ Receiver New Software 15/06/2022
Download OpenBox AS4K LITE Android TV Receiver New Software.