OPENBOX S3 CI RECEIVER LATEST SOFTWARE
OPENBOX S3 CI TV Receiver New Firmware and Tools. For All Model Openbox HD Receiver, Latest Software Update Click Here. New Update and For any Help Contact Us @ Facebook Page or Twitter.
The digital satellite HDTV receiver OPENBOX S3 CI HD is a continuation and expansion of the capabilities of the OPENBOX S3 mini HD receiver according to technical characteristics and parameters. The receiver is delivered in an elegant cardboard box with a plastic handle.
The new device received a full-size chassis that allowed adding a slot for it to work with the CI module.
Thanks to the balanced software, which is constantly improved, Openbox S3 CI HD easily copes with the work of modules using CI + technology.
Openbox S3 CI HD is assembled on the ALI 3516 processor. It is a modern chip with dual architecture of 32-bit (Dual-Core), DDR2 / DDR3 memory support, many integrated modules including DVB-S2 demodulator and so on.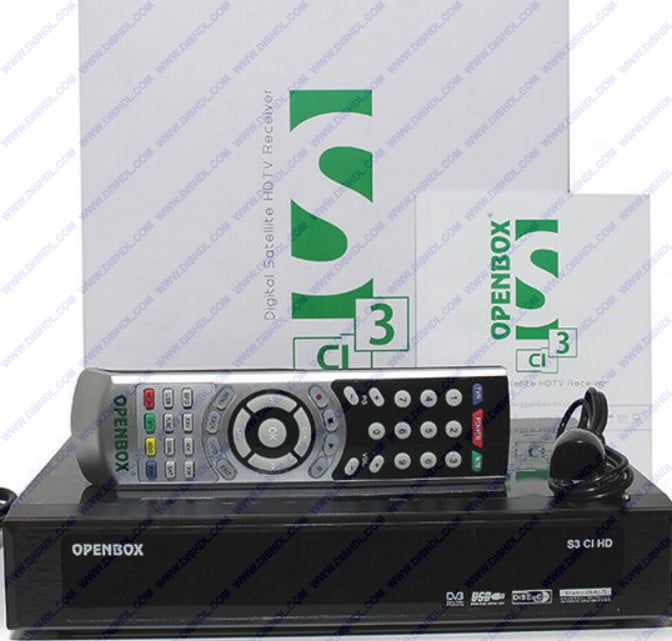 Features :

MPEG4/MPEG2 HD/SD, DVB-S/DVB-S2 standards compatibility
Full HDTV receiver with Time Shift function
Recording and playback in external USB-disc or Flash-drive (USB 2.0)
Multi-satellite rapid search
Input frequency range 950-2150 MHz
Bit rate range 1 – 90 Msps
Demodulation QPSK, 8 PSK
Multipurpose input SCPC and MCPC in C/Ku band
Rapid channel switch
DiSEqC 1.0, 1.1, 1.2 and USALS protocols support
Possibility to separate Time Shift and Recording functions using different USB storage devices.
Complete TV Guide (EPG)
Full channel viewing system (broadcasting standart, exact symbol rate, video and audio bitrates, presence and description of CAS)
2*USB 2.0 Host port (up to 4 devices per USB Hub)
Multimedia files playback XViD, DivX, MKV etc
MP3-player and JPEG-viewer
Full-colour graphical user menu (interface) in 720P resolution
Built-in file manager which allows to manage multimedia files in connected USB storage devices with possibility to rename / copy / delete files and create new folders (sections)
The most handy channel editor (move / delete / rename / sorting)
12 favourite channels lists (favourites) with 500 channels per list
Channel Blocker Parental Control Tool
1 smart-card slot
One CI interface for CAM Modules installation
Optical DV output S/PDIF
Dual video output with different screen resolutions (1080P + 576 l) which allows you to display two video signal (analog and digital) at the same time with different screen resolutions
PbBrY (component) and CSVBS (composite) video and RCA audio
Possibility to change the color palette of the DV output (RGB / YCBCR modes)
Possibility to update software and edit / update / save the channel list using USB and RS-232 ports
Different USB storage devices and multiplexers compatibility
Multiuser interface OSD for (11 languages)
"Hidden" subtitles system support via predetermined teletext page number
Support USB Wi-Fi dongles
USB 3G Modems support
File Name

New! OPENBOX S3 CI_ V235 08012023.rar
6- OPENBOX S3 CI_ V230 15092022.rar
5- OPENBOX S3 CI_ V226 10022022.rar
4- OPENBOX S3 CI V220 18052021.rar
3- OPENBOX S3 CI_V219 13052021.rar
2- OPENBOX S3 CI_V200 08072020.rar
1- OPENBOX S3 CI_V197 02072020.rar


Update OPENBOX S3 CI Receiver New Software 08/01/2023
Download OPENBOX S3 CI DIGITAL SATELLITE RECEIVER NEW FIRMWARE.