VISION PINACLE IP 9200 NEW SOFTWARE AND VISION 2021 UPDATE FREE DOWNLOAD
Download PINACLE IP9200 HD AVEC ABONNEMENT SATELLITE Receiver Latest Software Update and Android Apps. VISION Activation, Smart Vision Youtube, Smart TV, Vision Smart Pro IPTV. Update VISION Software PC GX_Rom Update, And PC Loader. Vision Help Desk  How to Update Vision, Vision Software For Soloution. User Manual in PDf Format, Download Channel List For Vision Satellite Receiver. For Latest Satellite TV Receiver Software and every Update about Satellite TV Contact us, Like our Facebook page. And also follow us on Twitter.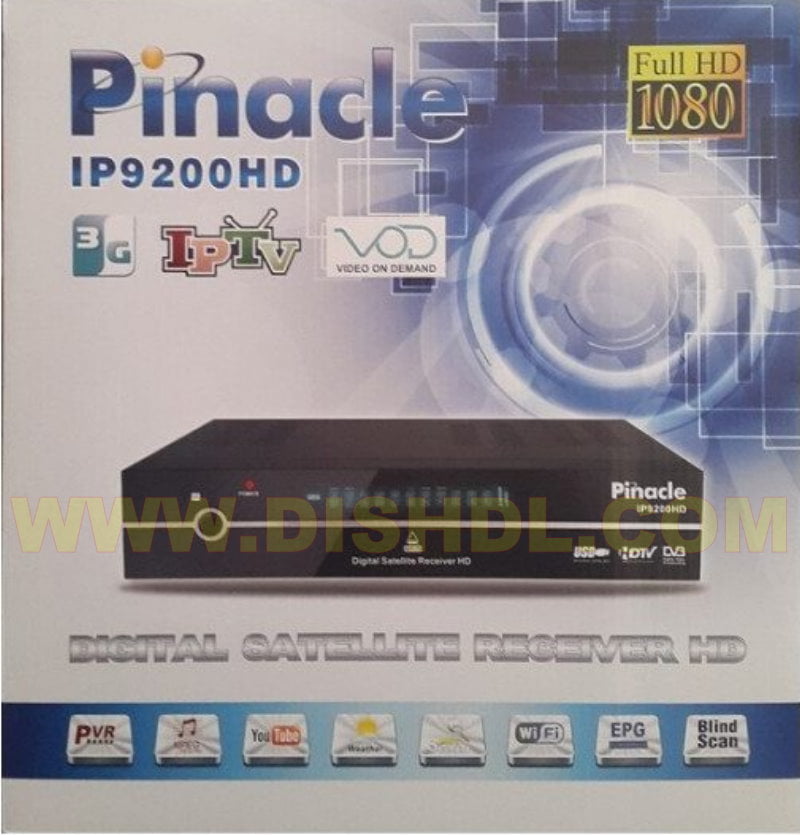 Characteristics :
Double Tunner
DVB-S / DVB-S2 (MPEG -II / MPEG IV / H.264)
SCPC and MCPC receivable via Ku and C satellite bands
Compatible with correction rates: 1/2, 2/3, 3/4, 4/5, 5/6
DiSEq C 1.0 / 1.1 / 1.2 / 1.3 (USALS)
Compatible with searches: Multi Satellites / Network / Handles and by Transponder
Color fidelity (32 bits) on OSD display.
Storage capacity for up to 100 satellites, 4000 Transponders and 8000 Channels.
Possibility of managing channel favorites, naming… .etc
Possibility of adding 8 groups of favorites and parental controls.
Support multi-language audio as well as EPG channels
Compatible with Resolutions: 480i / p, 576i / p, 720p and 1080i / p.
Allows the ability to update the system from USB
Availability of an Ethemet port
Compatibility with 36 Dongles via USB
Come with a PVR ready
"NIT Search" and "Blind Scan" option
Two USB 2.0 Ports
Support WiFi adapters connected by USB.
Quick access to classic IPTV channels.
An experience rich in Videos on Demand provided by the manufacturer.
Electronic guide of supported programs
1- Support Google Map
Support YouTube
Support weather info
File Name

New! PINACLE IP9200_ SP1512 V4.21 04012022.rar
1- PINACLE IP9200_ SP1512 V4.19 21062019.rar
VISION PINACLE IP 9200 Receiver New Software Update 04/01/2022
Download VISION PINACLE IP9200 RECEIVER NEW FIRMWARE AND SOFTWARE.