PREMIUM HD 1710 SATELLITE RECEIVER SOFTWARE UPDATE
Download Firmware for PREMIUM HD 1710 Satellite Receiver. Latest Download Premium hd satellite receiver update Software 2020. Help Desk! How to Upgrade receiver premium hd With USB and PC loader. Now Download All Model of PREMIUM satellite receiver firmware Click Here. Download All FTA Satellite Receiver Software Latest Software and Information Visit and Like Our Facebook Page.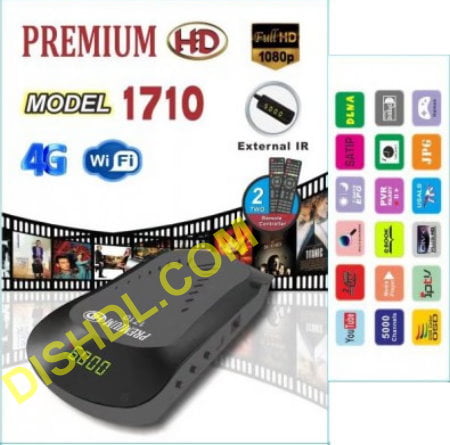 Description :
Quick Blindscan
USB WiFi Support
Channel Recording DVR to External USB 2.0 Storage Device
Media Player Supports Most MPEG2/MPEG4 files (MKV, AVI, MPEG2, VOB, etc)
Watch 1 Channel and Record a Different Channel on the Same Transponder
9000 Channel Memory
Channel Switching Less Than 1 Second
Automatic or Manual PID Entry
Manual DiSEqC 1.2 Motor Position Assignment
Simultaneous HDMI and Composite Video Output
Full 1080p/60hz High Definition
Front Panel LED Display
Icon Based GUI
2 USB 2.0 Ports for DVR HDD Storage, Firmware Updates, Optional USB WiFi Dongle
Includes HDMI, RS232 and AV Cables
Metal Case
Simple Firmware Updates
Satellite List
Specifications :
Turner & Demodulation
Tuner Type: DVB-S / DVB-S2
Input Connector: F-type, Connector, Female
Signal Level: 65 to -25 dBm
LNB Power & Polarization Vertical: +13V/+14V Horizontal: +18V/+19V
LNB Current
Max. 400mA with Overload Protection
22KHz Tone Frequency: 22 +/-1KHz
DiSEqC Control: Versions 1.0, 1.1, 1.2, USALS
Demodulation: QPSK, 8PSK
Input Symbol Rate: 2 – 45 Mbps,
FEC: 1/2, 2/3, 3/4, 5/6, 7/8 and Auto
MPEG TS A/V Decoding:
Transport Stream: MPEG-2/4, H.265
Input Rate: Max.120Mbit/s
Aspect Radio: 4:3, 16:9, Letterbox
Video Decoding: MPEG-2, MP@ML, MPEG-4 part 10/H264
Video Resolution: 720*480P/I, 720*576P/I, 1280*720p, 1920*1080i, 1920*1080p
Audio Decoding: MPEG-1 layer I/II, MPEG-2 layer II, Dolby digital
Audio Mode: Left / Right / Stereo/ Mono
Sampling Rate: 32, 44.1 and 48KHz
Power Supply
Input Voltage: 120-240V AC
Power Consumption: 18W Max
Stand-By Power Consumption: <0.5W
A/V & Data Input/Output:
RCA A/V: Video CVBS output, Audio L/R output
RS-232C: Transfer rate 115.2Kbps, 9 pin D-sub Type
USB: Two USB 2.0 slots: Side / Rear
S/PDIF: Optical
HDMI: VER1.3, Type A
File Name
New! PREMIUMHD 1700_ 1710_ 1800 V22.3045 12052022.rar
2- PHD1700 1710_ 1800 V22.2807 11122020.rar
1- PREMIUM-HD 1700 1710_ 1800 V22.2707.rar
PREMIUM HD 1710 Receiver Software Update 12/05/2022
Download PREMIUM HD 1710 RECEIVER NEW FIRMWARE, SOFTWARE.