SENATOR 111 BLUETOOTH SATELLITE TV RECEIVER NEW SOFTWARE UPDATE
Download latest software and Manual for سيناتور Senator 111 Full HD Satellite Receiver With Bluetooth. SENATOR TV Receiver Specification. Now Download All Model of SENATOR satellite receiver firmware Click Here. Download Other digital satellite tv receiver software latest software and information Visit and Like Our Facebook Page.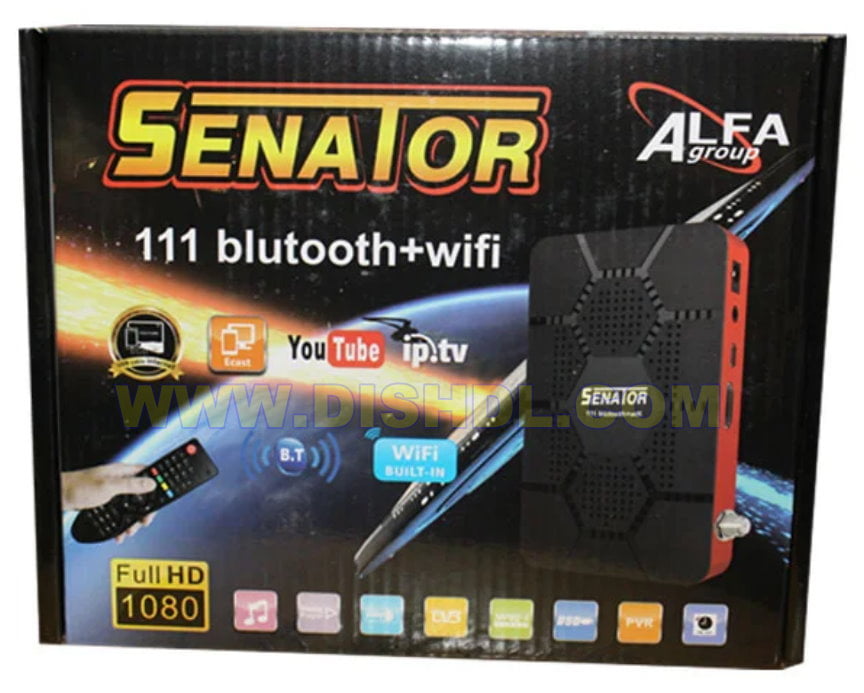 Features and Subscription:
Year of Alpha ALFA IPTV
The year of Sharing Alpha Pro ALFA PRO
A year of Sharing My Share MI Share
Alpha audio sources
Basic Specifications:
SunPlus 1506TV processor
RAM 512 MB.
4MB internal memory.
HDMI 1080p input
AV input.
8000 channels capacity.
2 USB ports.
Internal Wi-Fi.
Support Convert Lan 9700
Features:
Full HD 1080P
Fully DVB-S2/MPEG-44
8000 Channels memory space (TV+Radio)
32bit colors on screen display supported
Frequency Range 950-2150 MHz
Demodulation DVB-S (QPSK);DVB-S2(8PSK,QPSK)
Supports DiSEwC1.0/1.1/1.2 and USALS
Multimedia playback
Video Comperssion MPEG-2 and MPEG-1 compatible MPEG-4, H.264
Videotext Decoder
Letterbox for 4:3 TV-Device
Audio compression MPEG-1 & MPEG-2 Layer i and ii, MP3
Audio Mode Dual (main/sub), stereo
Movie format:MPEG-2 ,MPEG, TS steam, QuickTime.MKV,ASF Microsoft ISO MPEG-4 Video code v1
Support Music format:WAVE MP3, ASF, AAC
Support Photo format: JPEG BMP PNG GIF TIFF
LNB Power: Auto 14/18v
Built-In WIFI
2 Remote ( Timer + Bluetooth
File Name
New! SENATOR 111 BLUTOOTH_ 26112022.rar
Senator 111 Bluetooth_ Satellite Receiver Software Update
Download Senator 111 Bluetooth TV RECEIVER NEW FIRMWARE, SOFTWARE.