SENATOR TIKTOK FOREVER SATELLITE TV RECEIVER NEW SOFTWARE UPDATE
Download latest software and Manual for سيناتور Senator TIK TOK Forever Set Top Box, Plastic, 1080 digital satellite Receiver and SENATOR TV Receiver Specification. Now Download All Model of SENATOR satellite receiver firmware Click Here. Download Other digital satellite tv receiver software latest software and information Visit and Like Our Facebook Page.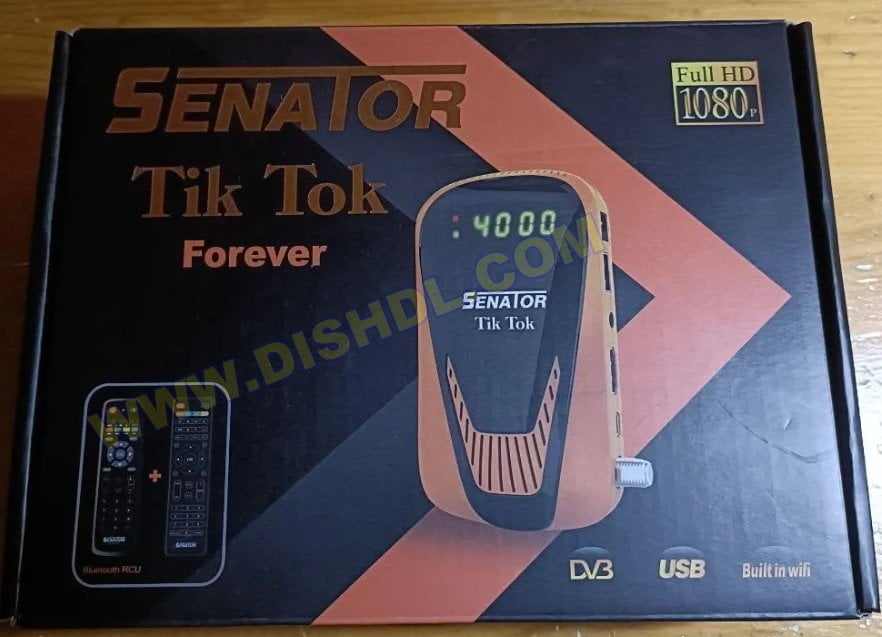 Features and Subscription:
Basic Specifications:
Brand Senator
Part Number Forever
Type HD
Power through adopter
Connectivity Type Hdmi
Display Resolution 1080
Material Plastic
Color Orange/Black
Model Name/Number Tik Tok
Features:
DVB-S2 Satellite Receiver, H.265 decoding
Supports DiSEqCTM, USALS and UNICABLE
Resolution: 480p, 576p, 720p, 1080i, 1080p,
Flash 8MB
128MB DDR3 Memory
Support Blind Search, Multi Satellite Search, Multi TP Search, Auto
Ability to support old and new USB WiFi types
Compatibility with 3D channels and frequencies of DVB-S, DVB-S2, H265
Hardware ability to remove noise and image skip
Powerful tuner with the possibility of amplifying weak signals
Support 3G modem, SIM card modem
15 months of powerful global Internet exchange, Forever's new server
Storage capacity of 8,000 TV and radio channels
Support all kinds of resolution 576i 50Hz, 576P 50Hz, 720P 50Hz, 1080P 24Hz, 1080P 25Hz, 1080i 50Hz, 1080P 50Hz etc…
Ability to search for multiple transponders or frequencies together and the ability to scan multiple satellites simultaneously
IPTV, G-VOD, G-IPTV, G-TV, G-Mytube, YouTube capability and support for m3u and m3u8 files
Compatibility with DiSEqC1.0 / 1.1 / 1.2 / 1.3
File Name
New! SENATOR TIKTOK_ V116 13042023.rar
1- SENATOR TIKTOK_ 28092022.rar
SENATOR TIKTOK_ Satellite Receiver Software Update
Download SENATOR TIKTOK_ TV RECEIVER NEW FIRMWARE, SOFTWARE.