STARSAT SR-X4 EXTREME 4K ULTRA HD RECEIVER LATEST FIRMWARE
Download STARSAT SR-X4 EXTREME TV Receiver Software Latest Update. Update Starsat HD Receiver Firmware with New Option. For All Model Starsat HD Receiver, Latest Software Update Click Here. New Update and For any Help Contact Us @ Facebook Page or Twitter.
Subscription:
Forever server for 15 months
Apollo iptv for 12 months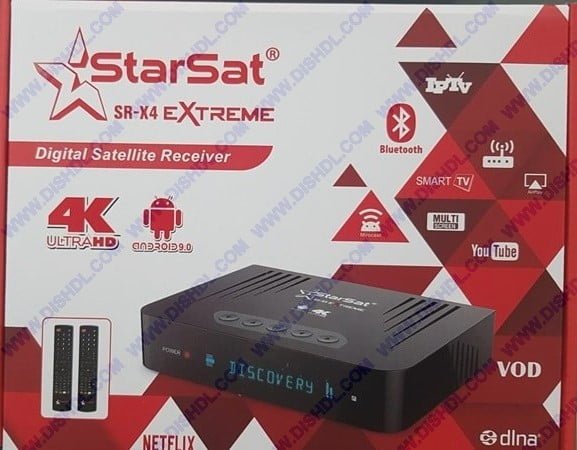 Specifications:

Support 4K 60fps plus and HEVC H.264 ad H.265 compliant
Powered by Android 9.0 (Pie) O.S
Quad-core Processor 3798 Hisilicon Version
2GB RAM, 16GB ROMDVB-S/DVB-S2 compliant
12month Forever Server
1year Apollo IPTV
Support built-in Wi-Fi and Bluetooth
Autorole PowerVU and Biss Key
Support Google Playstore
USB Port for connecting hardware or external drive
Lan Port
AV Output
MicroSD card Slot support
2.0 HDMI Output
3G Modem Support
15month Forever server
1year Apollo IPTV, m3u and m3u8 files
Twin Protocol, SSSP and other protocol
Support Disequc 1.0/1.1/1.2 USALS
Online Software upgrade, USB and Fastboot Mode
Multi search and blind scan
Ability to edit satellite
Multi-image and recording capability
Sat2IPTV
Support SAT2IP
SSSP and Twin Protocol
Online Software Upgrade via company FTP server
File Name
New! sr-x4 extreme_v3.4.2 21112023.zip
11- sr-x4 extreme_ v3.4.1 17112023.zip
10- sr-x4 extreme_ v3.3.8 20102023.zip
9- sr-x4 extreme_ v3.3.5 10102023.zip
8- StarSat SR-X4 EXTREME_ V3.3.4 13062023.zip
7- SR-X4 EXTREME_ V3.3.2 09112022.zip
6- SR-X4 EXTREME_ V3.3.1 31102022.zip
5- SR-X4 EXTREME_ V3.3.0 31032022.zip
4- SR-X4 EXTREME V3.2.9 04032022.zip
3- SR-X4 EXTREME_ V3.2.8 27122021.zip
2- SR-X4 Extreme_ V3.2.6 03112021
1- StarSat SR-X4 EXTREME_ V3.2.5 27102021.rar


SR-X4 EXTREME Receiver New Software Upload 21/11/2023
Download STARSAT_SR-X4 EXTREME RECEIVER NEW FIRMWARE AND SOFTWARE.