TIGER T3000 EXTRA SATELLITE RECEIVER SOFTWARE NEW UPDATE
Download TIGER T3000 EXTRA TV Receiver Software, Firmware Latest Update. Update Tiger HD Receiver Firmware with Many New Option. For All Model Tiger HD Receiver, Latest Software Update Click Here. New Update and For any Help Contact Us @ Facebook Page or Twitter.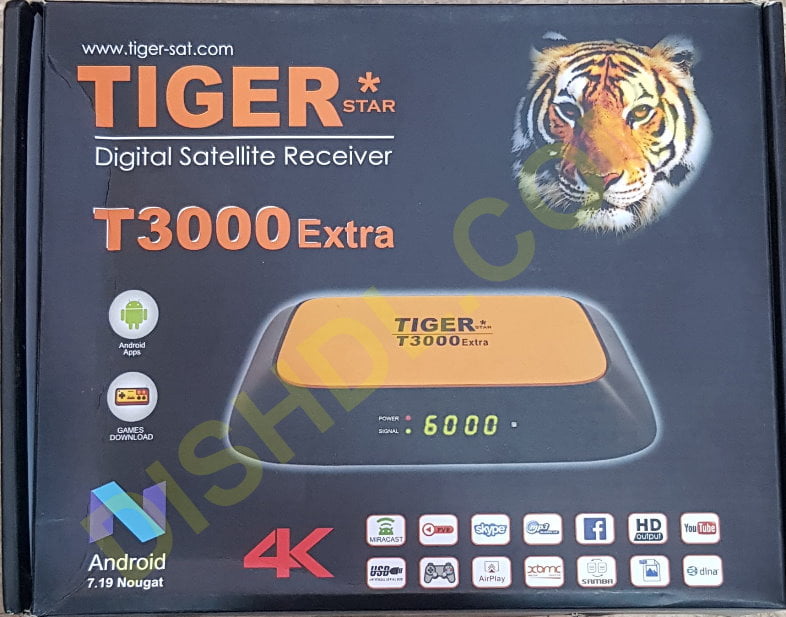 Tiger T3000 Extra DVB-S2 4K Receiver Full Specifications:
ARM Cortex-A9 CPU up to 1GHz frequency and 5000DMIPS
15 Month IKS/SKS Forever Server
12month Apollo IPTV
Contains the subscription of the film library top ten for a year
3GB DDR4, 8GB Internal Storage
Octa Core, Snapdragon
Support 4K Picture
Bluetooth
3D Graphics Processor A52
Advanced NEON which includes ARM NEON SIMD extentions.
Android 7.19 OS Version
Support both SD and HD video output format: 480i/p, 576i/p, 720p and 1080i
Broad Format HD Content Decoding: Online video on demand (VOD) and Over-the-top (OTT) services, including native support for VP8 codec
Support JPEG, gif, bmp format
Access to App Stores
3D Games, Android boot animation, screenshot, DLNA supported
S/PDIF Interface for Digital bit stream out (AC-3 or DTS)
3G, WIFI, LAN.
IPTV
Access to app store
Mp3, AAC,WMA,RM,MP4,AVI,MKV, MOV,3GP,MPG
Mouse and Keyboard supported as external devices
Software Upgrade through USB or INTERNET
File Name
New! TIGER T3000 Extra_ V3.9.2 09112022.rar
9- TIGER T3000 Extra_ V3.9.1 07032022.rar
8- TIGER T3000 Extra_ V3.8.9 15122021.rar
7- TIGER T3000 Extra_ V3.8.8 22112021.rar
6- TIGER T3000 Extra_ V3.8.5 01042021.rar
5- TIGER T3000 Extra_ V3.8.4 13032021.rar
4- TIGER T3000 Extra_ V3.8.3 30012021.rar
3- TIGER T3000 Extra_ V3.8.1 03122020.rar
2- TIGER T3000 Extra_ V3.8.0 16102020.rar
1- TIGER T3000 Extra_ V3.7.9 01102020.rar
TIGER T3000 EXTRA_ Receiver Software New Update 09/11/2022
Download TIGER T3000 EXTRA_ NEW SOFTWARE, FIRMWARE.