TIGER T8 FOREVER V2 HD SATELLITE RECEIVER NEW FIRMWARE DONLOAD
TIGER T8 FOREVER V2 Digital Satellite Receiver Software Latest Update. With a lot of free IPTV Packages Free Server Download. Other Tiger Receiver Latest Software Update Click Here. and Contact Us at Facebook Page or Twitter.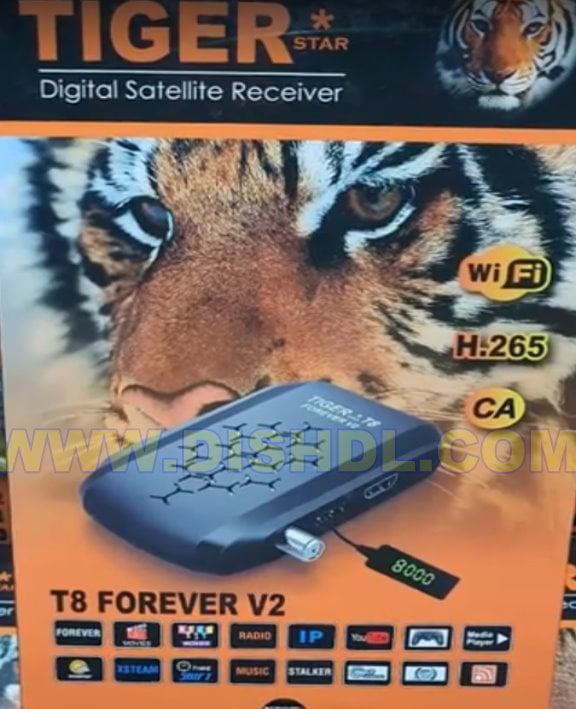 Specifications:

HEVC H265 Broadcast Support
Support for all terrestrial broadcasting companies and their systems
Sky Libya, Skylibya, Asaria, Tripoli, Smart, Linda, Galaxy, and others.
The terrestrial card input is compatible with all types of cards.
Forever 15 months server
2 years 24 months IPTV Huge library of channels
TV shows, children's cartoons, and movies.
Time Shift Arabic comment …
2 remote controls
2 USB port
HD Cable – HD Out – AV Out
Connect to any internet network via WIFI
Display mobile content on the screen.
Upgrade and update the receiver manually or online.
File Name
New! Tiger T8 Forever_ V2 V1.53_ 14042023.rar
24- TIGER T8 FOREVER V2_ V1.45 06022023.rar
23- TIGER T8 FOREVER V2_ V1.42 24102022.rar
22- TIGER T8 FOREVER V2_ V1.41 10102022.rar
21- TIGER T8 FOREVER V2_ V1.39 15092022.rar
20- TIGER T8 FOREVER V2_ V1.36 15072022.rar
19- TIGER T8 FOREVER V2_ V1.34 25062022.rar
18- TIGER T8 FOREVER V2_ V1.33 22062022.rar
17- TIGER T8 FOREVER_ V2 V1.32 30052022.rar
15- TIGER T8 FOREVER V2_ V1.31 20052022.rar
14- TIGER T8 FOREVER V2_ V1.30 15052022.rar
13- TIGER T8 FOREVER V2_ V1.29 29042022.rar
12- TIGER T8 FOREVER_ V2 V1.28 21042022.rar
11- TIGER T8 FOREVER V2_ V1.26 24012022.rar
10- TIGER T8 FOREVER V2_ V1.25 28122021.rar
9- TIGER T8 FOREVER V2_ V1.21 18112021.rar
8- TIGER T8 FOREVER V2_ V1.20 18102021.rar
7- TIGER T8 FOREVER V2_ V1.14 23052021.bin
6- TIGER T8 FOREVER V2_ V1.12 25042021.bin
5- TIGER T8 FOREVER V2_ V1.11 21042021.rar
4- TIGER T8 FOREVER V2_ V1.08 08042021.rar
3- TIGER T8 FOREVER V2_ V1.06 11032021.rar
2- TIGER T8 FOREVER V2_ V1.04 25022021.rar
1- TIGER T8 FOREVER V2_ V1.03 22022021.rar
 Update TIGER T8_ FOREVER V2 Receiver Latest Software 14/04/2023
DOWNLOAD TIGER T8_ FOREVER V2 HD RECEIVER LATEST SOFTWARE UPDATE