TIGER X90 HD RECEIVER LATEST SOFTWARE DOWNLOAD FREE
TIGER X90 HD Satellite Receiver Software Latest Update, TIGER X90HD ввод бисс ключей. Update Tiger HD Receiver Firmware with New Option. For All Model Tiger HD Receiver, Latest Software Update Click Here. New Update and For any Help Contact Us @ Facebook Page or Twitter.
The cheap satellite receiver Tiger X90 HD is a continuation of the popular Tiger X80 HD model. With a software update to version 2.27, Tiger X90 will support T2MI , and the receiver also has pre-installed IPTV channels and movies.
The Tiger X90 HD is powered by the budget GUOXIN GX6605S processor clocked at 600MHz. On board 512 MB of RAM and 4 MB of permanent memory, this amount is quite enough for the daily tasks of the receiver. The maximum output resolution is Full HD (1080p).
By connecting USB Wi-Fi adapters on the RT5370 chip, you can organize access to the local network and the Internet. This will allow you to play videos from YouTube, keep abreast of the latest news through RSS aggregators.
Tiger X90 HD is a satellite receiver with tuners capable of receiving signals from DVB-S and DVB-S2 transponders with MPEG2 and MPEG4 stream compression. The receiver supports DiSEqC 1.0, 1.1, 1.2 and USALS protocols.
Processor: GUOXIN GX6605S Processor
frequency: 600 MHz
RAM: 512 MB
Flash memory: 4 MB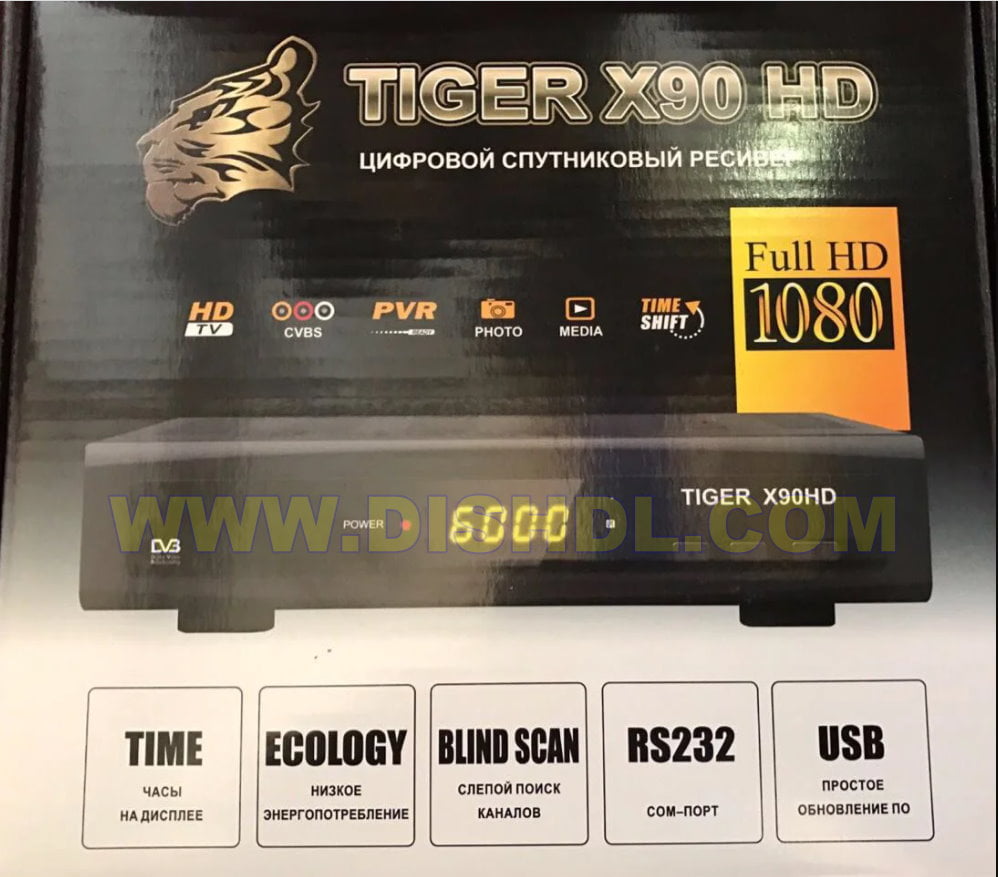 Secification TIGER X90HD:
Standards support: SD/HD (MPEG2/MPEG4 H.264), DVB-S, DVB-S2
DiSEqC Control Version 1.0; 1.1; 1,2/USALS
Memory up to 10,000 channels (TV and radio)
LED display with channel number.
Fast switching between channels
Easy to create their lists of favorite channels
Electronic Programme Guide – EPG
Multi-language menu
The "Protection of children»
Software update via USB
PVR – for configuration and recording/playback
Video recording and playback (when the USB drive is connected)
Supported formats playable files: jpg, bmp, gif, mp3, ogg, flac, wav, mpg, avi, 3gp, mkv, mp4, mov, ts, m2ts, dat, vob .
Support for external Wi-Fi adapters
Front panel "Tiger X80 HD"
VFD display
menu control buttons
Rear panel "Tiger X80 HD"
NB IN, for connecting the cable from the satellite dish;
DV-OUT digital audio and video output (HD);
VIDEO, AUDIO L, AUDIO R, analog composite video outputs and audio for connection to analogue television sets;
HDMI, the interface with digital audio and video, to connect to your TV, ensures maximum image and sound quality;
Port USB 2.0, USB port (1 pc)
RS-232 service port with serial data transmission, for trained service engineers and technical staff and is not recommended for use by the receiver owners;
ON/OFF switch, the power to issue 90-240 V 50/60 Hz on the receiver.

File Name
New! TIGER X90 HD_ V3.10 25022022.rar
New Update TIGER X90 HD_ Digital Receiver New Software 25/02/2022
Download TIGER X90 HD_ Satellite Receiver NEW SOFTWARE