UCLAN USTYM 4K COMBO OTT SATELLITE RECEIVER LATEST FIRMWARE UPDATE
Download latest software for UCLAN USTYM 4K COMBO OTT digital satellite Receiver. UCLAN USTYM 4K COMBO OTT ca full hd прошивка. Latest Download UClan TV receiver update прошивка 2022. Now Download All Model of UClan satellite receiver firmware Click Here. Download Other digital satellite tv receiver software latest software and information Visit and Like Our Facebook Page.
Description :
The modern Hisilicon Hi3798Mv200 processor from HUAWEI with Quad-core 64bit ARM Cortex A53 architecture was used;
4K in the name means support for resolutions up to UltraHD 2160p@60fps with bit depth up to 10bit;
Support for the H.265 HEVC compression standard for both content playback and channel viewing;
Support for HDR and HLG image quality enhancement technologies;
COMBO in the name means the universal possibility of receiving satellite channels, channels of digital T2 broadcasting or digital channels of cable TV operators;
Rich opportunities for viewing IPTV and OTT channels, work with Stalker TV portals, online cinemas, stable operation of the Youtube service, many Internet radio stations for every taste and genre, weather forecast service;
Ability to receive channels from the satellite in the MultiStream / T2 MI format;
Compact case with a convenient location of a sufficient number of interfaces and the possibility of discreet placement behind a TV, for example;
Conveniently located in the hand remote control with functional "hot" buttons for quick access to services and four programmable buttons for controlling the TV (power, volume, AV input selection).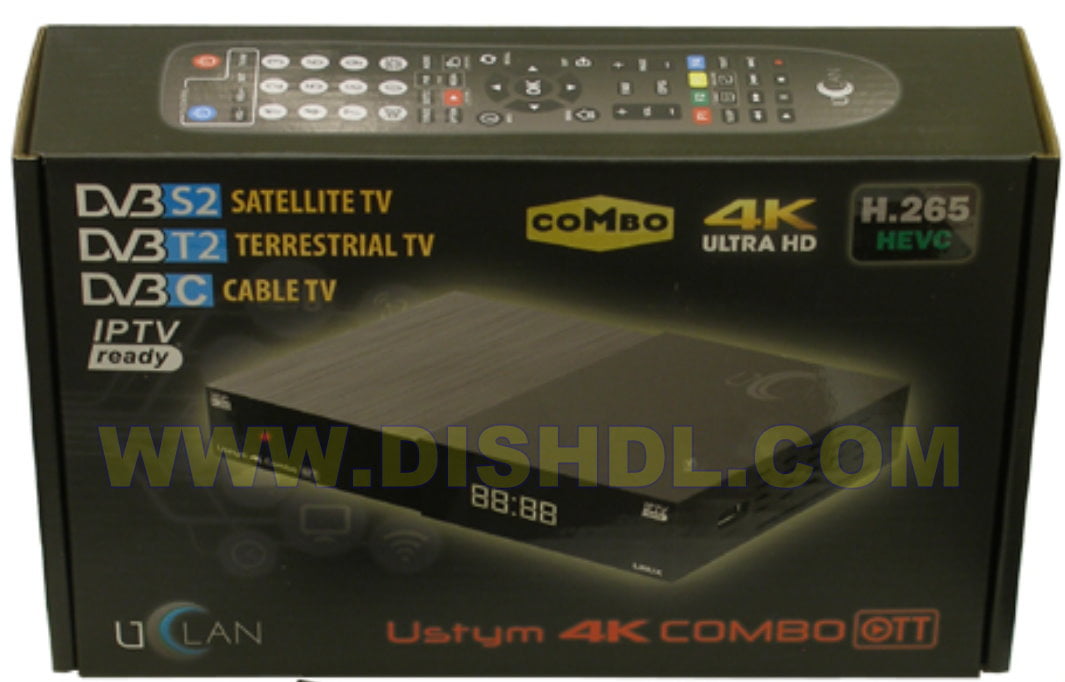 Specification :
Hisilicon Hi3798MV200
Quad core 64 bit (4x 1.6 GHz) 15000 DMIPS
Multi-core high performance GPU
4GB fast eMMC flash
RAM 1 GB DDR3
Phenomenally fast loading times
LAN Ethernet (100 Mbps)
4-digit 7-segment display
Card Reader + BlindScan Hardware (blind search)
DVBS / S2 tuner with MULTISTREAM and T2MI support
DVBT / T2 / C tuner for terrestrial / cable digital TV
HDMI 2.0a CEC
USB2.0 + USB 3.0 ports
External infrared receiver for hidden installation
HDMI CEC support
Support for import E2 settings (Enigma2)
Learning remote control with virtual mouse function
Features and functions :
Denys_OS software (base operating system Linux OS)
Unique high resolution OSD user interface
Resolution: 4K / UHD (3840 x 2160)
HDR10 and HLG support
Stalker Simple API and WEB browser support
WebTV & VOD Video Club
OTT Player, IPTV m3u, m3u8, m3u8 +, launching m3u from the STB memory, operator mode and much more
Support mouse and keyboard function in WEB browser
IPTV user portal and logo support
Internet radio and YouTube
1 USB 2.0 port and 1 USB 3.0 port
WebIF for settings and management
FTP access
card reader
Recording and TimeShift
10 / 100Mbit LAN
Supports USB-WiFi and 3G modems via USB ports
DLNA Player (DMS, DMR) and built-in media player
Remote control and web browser (WebIF)
Unicable & FastScan support
DiSEqC 1.0, 1.1, 1.2 and USALS support
1- EPG electronic program guide (DVB)
2- EPG XMLTV: support for connecting links to external EPG sources for DVB parts
3- EPG XMLTV: support for connecting links to external EPG sources for OTT IPTV player
4 programmable buttons on the remote control
Mode selection menu for automatic loading
Support for subtitles and teletext (teletext)
0.5W standby
Dimensions (W x D x H) 148 mm x 110 mm x 25 mm
File Name
New! UClan Ustym 4K Combo OTT_ V2.00.76 06082022.rar
2- UClan Ustym 4K Combo OTT_ V2.00.66 15032022.rar
1- UClan Ustym 4K Combo OTT_ V2.00.57 12022022.rar
UCLAN USTYM 4K COMBO OTT_ Satellite Receiver Software Update 06/08/2022
Download UCLAN USTYM 4K COMBO OTT TV RECEIVER NEW FIRMWARE, SOFTWARE.