UCLAN USTYM 4K S2 OTT LATEST SOFTWARE UPDATE
Download latest software for UCLAN USTYM 4K S2 OTT UltraHD OTT IPTV set-top-box with WEB browser and Dual Boot (Denys_OS+Enigma2) software. UCLAN USTYM 4K OTT прошивка. Latest Download UClan TV receiver update прошивка 2022. Now Download All Model of UClan satellite receiver firmware Click Here. Download Other digital satellite tv receiver software latest software and information Visit and Like Our Facebook Page.
Description :
Ustym 4K S2 OTT got fast and convenient LINUX OS called: Denys_OS, developed on the basis of and with UX (User experience) of the famous U2C / uClan Denys H.265 model. Because of its success, that model was repeatedly cloned by many brands. Now all the best that was in Denys H.265 you get at an even higher speed and in 4K resolution!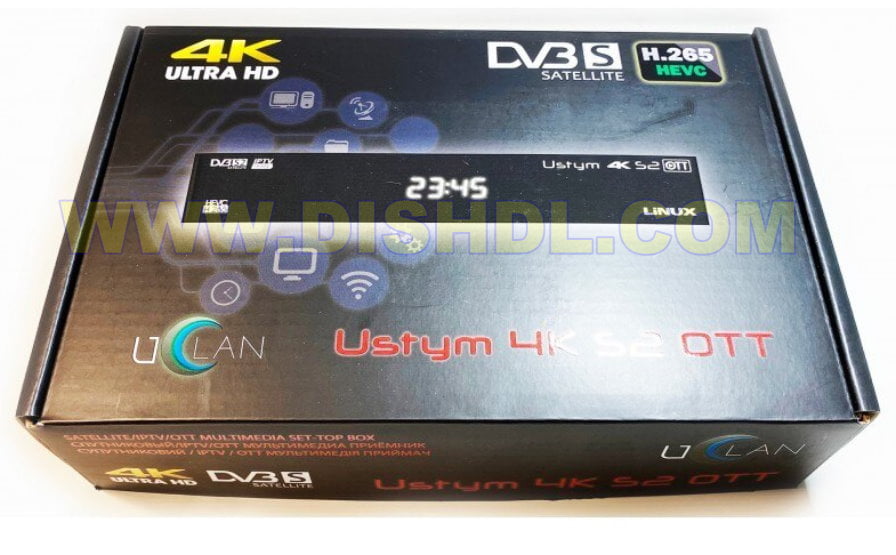 Specification:
Quad-core 64 bit (4x 1.6 GHz) 15000 DMIPS Hisilicon Hi3798MV200
Multi-core high-performance graphics processor
4GB eMMC flash memory
RAM 1 GB DDR3
Very fast booting time
Ethernet LAN 100Mbps
4-digit 7-segment white color display
Card reader
Blindscan hardware (Blind Search)
Satellite DVBS2 tuner with MULTISTREAM and T2MI support
HDMI 2.0a
USB 3.0 port
USB 2.0 port
Infrared receiver for hidden installation
Supports HDMI CEC
Support import E2 settings (Enigma2)
Learning remote control unit with virtual mouse function
Features and functions :
Denys_OS software (the base operating system Linux OS)
Unique high-resolution OSD UI user interface
Resolution: 4K / UHD (3840 x 2160)
Supports HDR10 and HLG
Portals support
Chromium browser with mouse support
WebTV & VOD Video Club
OTT Player, IPTV m3u, m3u8, m3u8+, m3u startup, operator mode and more
Mouse function support
IPTV user portal and logo support
Internet radio and YouTube
USB 2.0 port and USB 3.0 port
User friendly screen interface
WebIF & FTP access
Card reader
Recording and TimeShift
Network 100Mbit ethernet LAN
Supports WiFi (WLAN) + 3GB via USB ports
DLNA player (DMS, DMR)
Built-in network and USB media player
Support for Unicable & FastScan
DiSEqC 1.0, 1.1, 1.2 and USALS support
EPG – Electronic Program Guide
4 programmable buttons on the remote control
Support for subtitles and teletext (teletext)
0.5 watts standby
Dimensions (LxDxH) 142 mm x 93 mm x 24 mm
File Name
New! UClan Ustym 4K S2 OTT_ V2.00.76 06082022.rar
1- UClan Ustym 4K S2 OTT_ V2.00.66 15032022.rar
UCLAN USTYM 4K S2 OTT_ Satellite Receiver Software Update 06/08/2022
Download UCLAN USTYM 4K S2 OTT TV RECEIVER NEW FIRMWARE, SOFTWARE.