XCRUISER XDSR 785HDR AVANT SOFTWARE FREE DOWNLOAD
Download XCRUISER XDSR785HDR AVANT TV Receiver Software, Firmware Latest Update. Update XCRUISER HD Receiver Firmware with Many New Options. For All Model XCRUISER HD Receiver, Latest Software Update Click Here. New Updates and For any Help Contact Us on our Facebook Page or Twitter.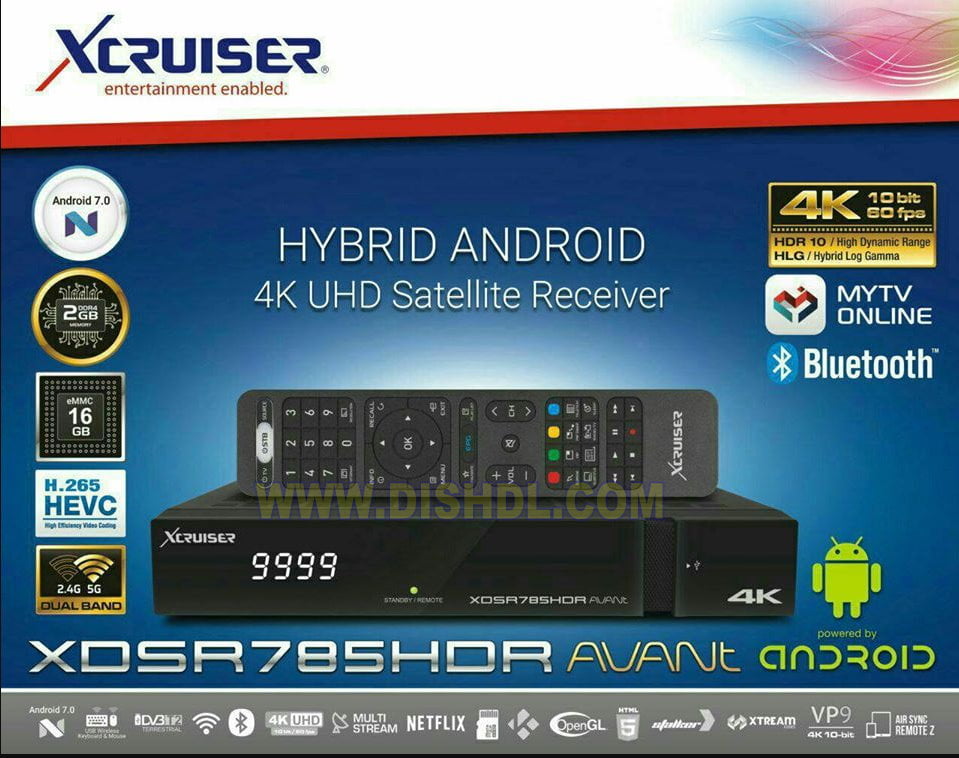 XCRUISER XDSR 785HDR AVANT Description:

An upgraded model of the XDSR785HDR Avant; Android Operating System of Nougat 7.0 with a resolution of 2160p in Ultra High Definition of 4K 60fps & Multistream.
The Xcruiser XDSR785HDR Avant boasts a massive 2GB of Ram and 16GB internal storage capacity. Equipped with a Hisilicon Hi3798MV200 QuadCore 1.6GHz processor XDSR785HDR AVANt is a powerful beast.
It allows you to seamlessly watch and record DVB-S2, and DVB-T2, Live Stream Internet, browse, gaming, and listen to music or run multiple apps simultaneously. The 16GB internal storage can be combined with up to 64GB of expandable memory, leaving you with ample capacity to stock all your Apps, music, and videos. The XDSR785HDR Avant provides stunning picture quality in HDR (High Dynamic Range) and HLG (High Log Gamma) with WCG (Wide Color Gamut), offering you the most advanced viewing experience, advanced user interface, convenience, and the most powerful features together, to make your Digital Life easier.
XCRUISER XDSR 785HDR AVANT Specification :
CPU: Hisilicon Hi3798MV200 QuadCore 1.6GHz
RAM: 2GB DDR4
Memory: 16GB
Tuner: DVB-S2 MultiStream
Front Panel Display: 7 Segment White
Video output: AV 3.5 Jack / HDMI
Memory Card Slot: Yes Micro SD
USB Port: 2 ports of USB2.0 and 1 USB3.0
Digital Optical Output: Yes
LAN: Yes
WiFi & Bluetooth: External USB WiFi/BT Dual Band included
IR Remote Sensor: Yes Extendable
Card Slot: Yes

XCRUISER XDSR 785HDR AVANT Software Features:
Operating System: Android 7.0 Nougat
4K ULTRA HD: 4K 60FPS HDR 10Bits, WCG, HLG
Resolution: 480I NTSC to 2160P
Supported Media: MKV, MP4, AVI, TS, MPEG
Android Market: Google Play Sore + Xcruiser Market
TimeShift Playback & Record: Yes
Schedule Record/Playback: Yes
Picture in Picture: Yes, HD & 4K
Record to Storage: Network Drive, USB, HDD, SD Card
Multiple Channel Record: Yes, Satellite and M3U
Channel Scan Type: Manual, Auto, Blind, Advanced
File Name
New! XCRUISER XDSR785HDR Avant_ V1.7.69 R26830 11112022.rar
XCRUISER XDSR 785HDR AVANT Software New Update 11/11/2022
Download XCRUISER XDSR785HDR AVANT NEW SOFTWARE.