ALPHASAT SENSE DIGITAL SATELLITE TV RECEIVER SOFTWARE NEW UPDATE
Alphasat Sense – Android 7.0 – 16GB ROM 2GB RAM/ 4K /ISDB-T / USB 3.0 / Bluetooth. Download ALPHASAT SENSE Receiver Software, Firmware Latest Update. Update ALPHASAT HD Receiver Firmware with Many New Option. For All Model ALPHASAT HD Receiver, Latest Software Update Click Here. New Update and For any Help Contact Us @ Facebook Page or Twitter.
Alphasat Sense 4K Ultra HD Wi-Fi Android Receiver
Protocol: IKS / SKS / CS
4K Ultra HD Wi-Fi Android Receiver
Power, innovation and technology!
Alphasat's Sense KVM is a TV receiver that has several operating modes and great specifications to enjoy the best programming! It has android 7.1, 16GB of internal storage and 2GB of RAM. Supported protocols are IPTV, SKS, IKS and CS. Buy yours at Receptorcia.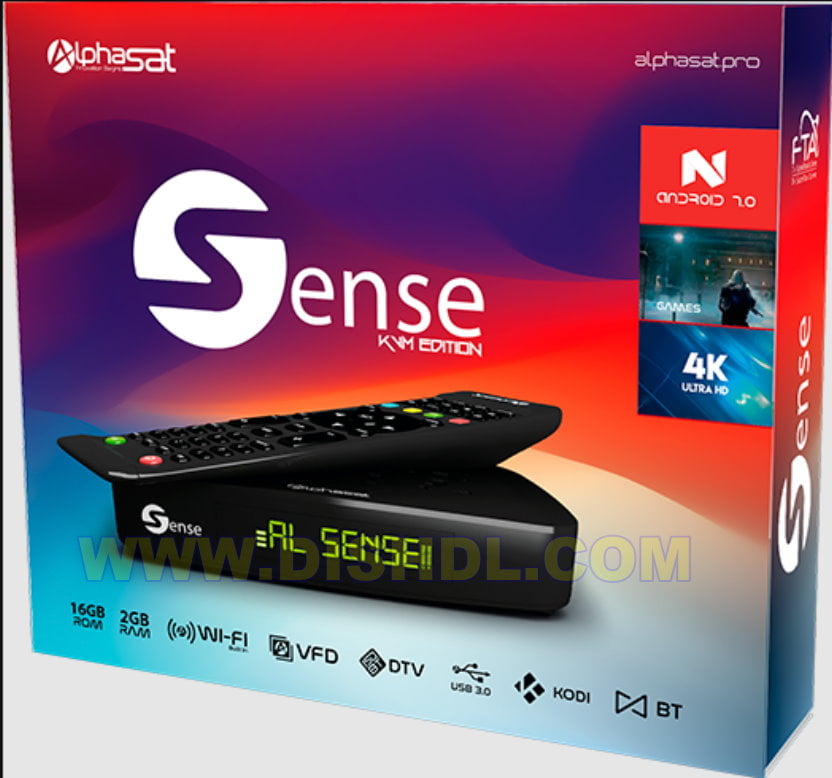 ALPHASAT SENSE_ Specifications :


MARCA: Alphasat
MODELO: Sense KVM Edition
COR: Preto
DISPLAY: LCD retroiluminado por LED
MEMÓRIA: 16GB
MEMÓRIA RAM: 2GB
PROCESSADOR CPU: ARM Cortex A53
SISTEMA OPERACIONAL: Baseado em Android
CONECTIVIDADE WIRELESS: Wi-Fi – Bluetooth
CONEXÃO A INTERNET: Wireless e LAN (Porta Ethernet)
VOLTAGEM: 100 – 240 V ~ 50/60 Hz
CARACTERÍSTICAS: Suporta serviços de Streaming (YouTube, Amazon e Netflix) e uso de aplicativos da Play Store – Com função IPTV e conversor de TV ISDB-T
INTERFACE: USB 3.1 – USB 2.0 – HDMI – RS232 – A.V – Optical – Porta Ethernet – Slot para tarjeta Micro SD – ISDB-T IN – 2 Tuner
RESOLUÇÃO DE VIDEO: 4K Ultra HD
FORMATO DE COMPRESSÃO DE VÍDEO: H.265 e H.264
REPRODUZ: MP4, AVI, MPG, RMVB, MKV, WMV, MOV, MPEG-1/2/4, DivX, MP3, WMA, AAC, RM, FLAC, OGG, JPEG, BMP e PNG
PESO BRUTO (g): 769
DIMENSÕES DA EMBALAGEM (cm): 24.6 x 5 x 22
INCLUI: Control remoto – Manual – 2 Pilas AAA – Cable AV
File Name
New! Alphasat Sense_ V082911 06092023.rar
3- Alphasat Sense_ V103517 02032023.rar
2- Alphasat Sense_ V092546 24032022.rar
1- Alphasat Sense_ V094720 17122021.rar
ALPHASAT SENSE_ Receiver Software New Update 06/09/2023
Download ALPHASAT SENSE_ NEW SOFTWARE, FIRMWARE.