DUOSAT TWIST HD SATELLITE RECEIVER LATEST SOFTWARE UPDATE (Atualização)
Download Receptor Duosat Twist HD Satellite and Cable Latest update (Atualização). This website (dishdl) provide all duosat series model receiver new software and all duosat receiver tools download for free and fast. For more information comments on page like our Facebook Page or follow us on Twitter.
Flash Memory: 16MB
RAM memory: 256MB
Duosat Twist HD : Cable and Satellite for sale in Brazil. Receiver that has been working perfectly on cable and satellite systems. The DuoSat Twist Hd Hibrido receiver was recently launched by the largest receiver manufacturer on the market. Duosat has been standing out even more in the field of receivers and now in its line of receivers it launches another novelty working for both systems.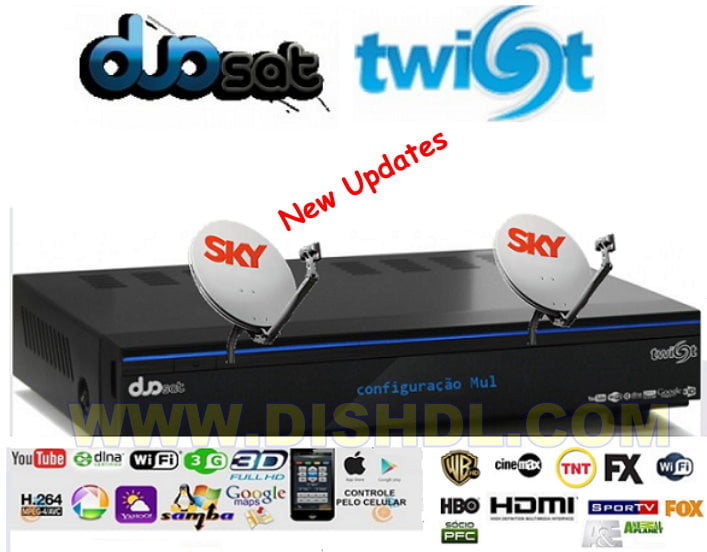 Duosat Twist HD Satellite & Cable SKS/IKS/CS/IPTV Specifications:
The duosat twist hd receiver comes with 16ram memory, 256 hd built-in, Chipset: 667MhZ High-Performance 32-bit MIPS 24KEc, Satellite Tuner & Channel with input for 2 tuners in the Iks and SKS system, Tuner Cabo & Channel with INPUT/OUTPUT Connector: IEC 169-2, Female Input Frequency: 54~862MHz (ITU-T J-83 Annex A/B/C) Sensitivity: -72dBm Typ (64QAM) Demodulation: 16/32/64/128 /256 QAM. Video Decoding, Audio Decoding, Audio / Video / Data Input/Output. Works on Amazon Satellites, Sky and Claro tv. IPTV , telecine on Demand, 3D, Hybrid Media Center, Pornotub.
Satellite Tuner & Channel Duosat Twist HD
Number of Tuners: 2x
Input and Output Connectors: F-Type, IEC 169-24, Female
Input frequency: 950MHZ ~ 2150MHZ
Signal input level: -65dBm ¡« -25dBm
Connectors: 75 Ω ¸ unbalanced
Input Impedance : -Vertical: +13.5V (+14.5V at high voltage)
-Horizontal: +18V (+18.5V at high voltage)
-Maximum Current: 400mA (Protection for short circuits)
22KHz Tone : -Frequency 22KHz-+4KHZ
-Amplitude 0.6+-0.2Vpp
DiSEqC Control : Versions 1.0, 1.1 & 1.2 compatible
Type: DVB-S, DVB-S2
Demodulation: QPSK, 8PSK
SYMBOL RATE INPUT : 1~45MS/s, SCPC and MCPC capable
FEC mode:
DVB-S: Auto, 1/2, 2/3, 3/4, 5/6, 7/8
DVB-S2
QPSK: Auto, 1/2, 3/5, 2/3, 4/5, 5/6, 8/9, 9/10
8PSK: Auto, 3/5, 2/3, 3/4, 5/6, 8/9, 9/10
Cable & Channel Tuner
INPUT/OUTPUT Connector: IEC 169-2, Female
Input Frequency: 54~862MHz (ITU-T J-83 Annex A/B/C)
Sensitivity: -72dBm Typ (64QAM)
Demodulation: 16/32/64/128/256 QAM
Video Decoding
Transport stream: MPEG-2 ISO/IEC 13818-2 MPEG-4 Part 2
Profile Level: MPEG-2 MP@ML, MPEG-2 MP@HL MPEG-4 AVC/H.264 [email protected]
Input rate: 15mbit/s Max
Video Format: 4:3, 16:9, Letter Box
Video Resolution 1080p, 1080i, 720p, 576p, 576i, 480p, 480i
Duosat Audio Decoder
1- Audio Decoding: MPEG/MusiCam Layer I & II, AC3 Downmix
2- Audio mode: Mono / Dual / Joint Stereo / Stereo
3- Audio Bitrates: 32Kbits/s – 384Kbits/s
4- Sampling frequency: 32, 44.1, 48KHz
Audio / Video / Data In/Out
Ethernet (LAN): 1 x RJ45
HDMI: 1 x HDMI (Ver 1.3)
AUDIO: 2 x RCA (L/R)
VIDEO: 1 x RCA (CVBS)
SPDI: 1 x SPDIF (Optical)
RS-232C: 1x 9 Pin D-Sub
USB: 1 x USB 2.0 Host (Front Panel)
WiFi (802.11N): 1 x SMA (2dBi antenna)
File Name
New! Duosat Twist HD_ V9.6 03122022.rar
Update Duosat Twist HD_ Receiver Software 03/12/2022
Download Duosat Twist HD Receiver Firmware New Update