EDISION PICCOLLO S2+T2/C SATELLITE RECEIVER FIRMWARE UPDATE
PICCOLLO S2+T2/C is the new EDISION H.265/HEVC 10 Bit COMBO receiver with Card Reader, two tuners, one satellite for DVB-S & S2 and one HYBRID for DVB-T/T2 and DVB-C. It features new processor for fast menu and channel selection, while it can store up to 6000 channels. The new embedded CI is compatible with all cards and and encryption modes while its applications, in combination with its elite IR remote control will provide you with even more fun and enjoyment of your favourite programms and functions. Of course, it comes with the trusted EDISION guarantee and support.
EDISION PICCOLLO S2 T2C Satellite Receiver Software Latest Update. Receiver Update Edision HD Firmware with New Receiver Option.Download edision satellite receiver manual. How to update edision digital satellite receiver. Latest updates for All Edision Satellite Receiver Click Here. New Update and For any Help Contact Us @ Facebook Page or Twitter.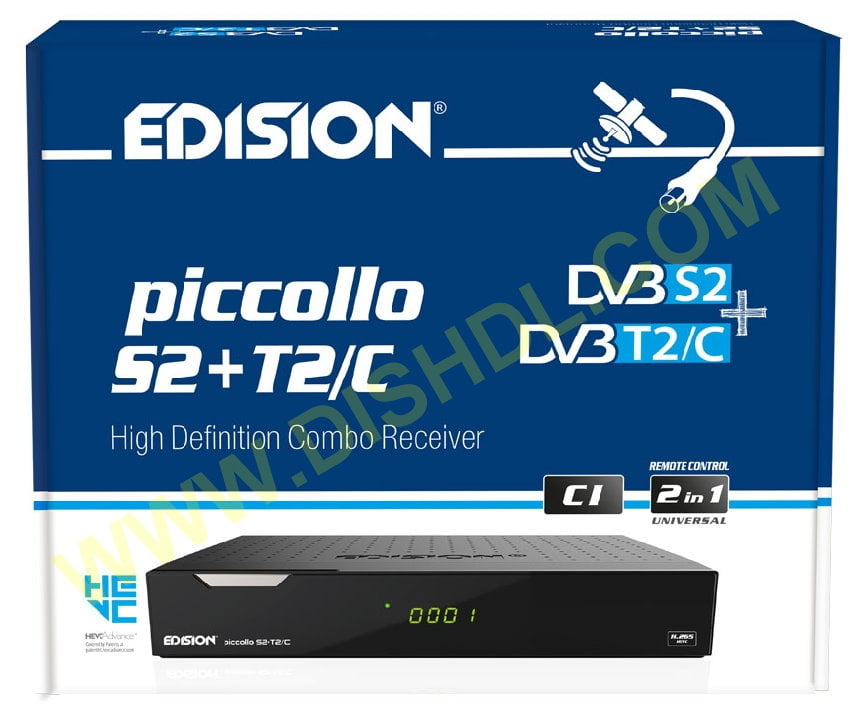 Technical Features:
Type: Digital Combo Receiver for DVB-S2, DVB-T2 and DVB-C H.265/HEVC
Full HD H.265/HEVC 10 Bit decoding support (covered by patents listed at patentlist.hevcadvance.com).
01 x Satellite TUNER DVB-S2
01 X Hybrid Tuner for DVB-T2 / DVB-C
_1 x Card Reader
1 x Common Interface
Connection ports: 2x USB, HDMI, RCA, LNB IN, ANT IN, SPDIF, LAN, RS232
Image resolution: 480p, 576p, 720p_50, 720p_60, 1080i_50, 1080i_60, 1080p_50, 1080p_60
HDMI Full HD (1080p) Audio/Video output
Dolby Digital bit-stream Output via HDMI
USB Wifi Dongle connection, with 3G support
DiSEqC 1.0, 1.1, 1.2, USALS support
Unicable & SCR Unicable 2 support
– RTC (Real-Time Clock)

6000 TV & Radio channel memory
True-color Multilingual On-Screen Display
Channel switching in less than one (1) second
Channel editor & Favorite lists
EDIVISION Electronic Programming Guide
Subtitle support
Teletext support
Full Picture In Graphic (PIG) function
PVR / program recording schedule
TimeShift function
Menu Lock / Parental control
Games: Tetris, Snake, Othello
Software upgrade & backup/channel list, via USB
Media player: MP3/JPEG/BMP/AVI/DivX/VOB/MKV
Supports FAT 16/32, NTFS
Ecological mode StandBy: 0,5 Watt
Mains Voltage: 100 ~ 240V, 50Hz/60Hz
File Name
New! EDISION PICCOLLO S2 T2C_ V1.6.17 10102023.rar
12- EDISION PICCOLLO S2 T2C_ V1.6.16 28092023.rar
11- EDISION PICCOLLO S2 T2C_ V1.6.13 05082023.rar
10- EDISION PICCOLLO S2 T2C_ V1.6.08 20032023.rar
9- EDISION PICCOLLO S2 T2C_ V1.5.92 28032022.rar
8- EDISION PICCOLLO S2 T2C_ V1.5.77 15022022.rar
7- EDISION PICCOLLO S2 T2C_ V1.5.65 10112021.rar
6- EDISION PICCOLLO S2 T2C_ V1.5.63 03112021.rar
5- EDISION PICCOLLO S2 T2C_ V1.5.58 05082021.rar
4- EDISION PICCOLLO S2 T2C_ V1.5.57 27072021.rar
3- EDISION PICCOLLO S2 T2C_ V1.5.39 19012021.rar
2- EDISION PICCOLLO S2 T2C_ V1.4.60 22102020.rar
1- EDISION PICCOLLO S2 T2C_ V1.4.40 19032020.rar
Manual: EDISION PICCOLLO S2 T2C_ Manual.rar
Update EDISION PICCOLLO S2 T2/C New Software 10/10/2023
Download EDISION PICCOLLO S2 T2C RECEIVER NEW SOFTWARE