EDISION PROGRESSIVE HYBRID LITE SATELLITE RECEIVER FIRMWARE UPDATE
EDISION Progressiv HYBRID LITE LED is a Full High Definition Hybrid (DVB-T2 / DVB-C) receiver, with incredibly compact dimensions and features beyond any expectation. It has one HDMI output, one USB input, supports 3G USB and WiFi USB Dongle, one Card Reader and resolution up to 1080p, aiming to be your best 'TV friend'!
EDISION PROGRESSIVE HYBRID LITE Satellite Receiver Software Latest Update. Receiver Update Edision HD Firmware with New Receiver Option.Download edision satellite receiver manual. How to update edision digital satellite receiver. Latest updates for All Edision Satellite Receiver Click Here. New Update and For any Help Contact Us @ Facebook Page or Twitter.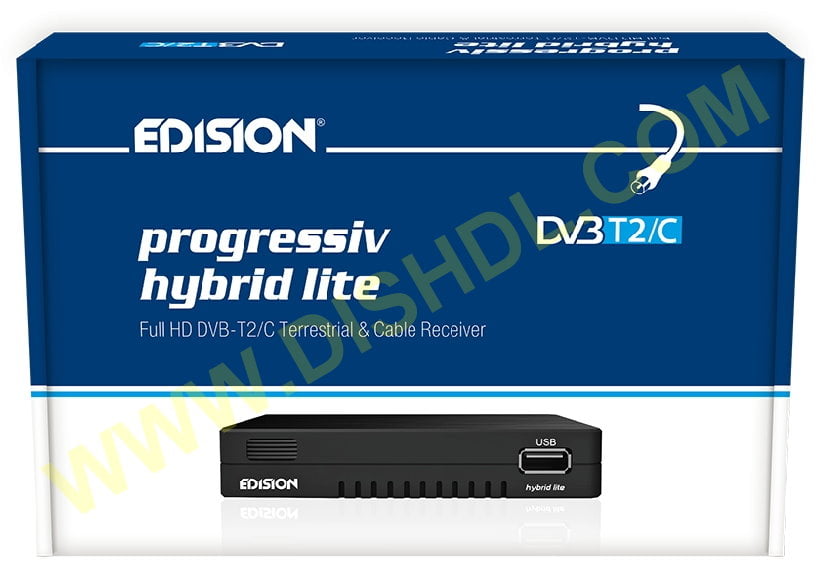 Technical features :

Type: DVB-T2 / DVB-C Full High Defiition receiver.
Terrestrial Digital receiver Mpeg-4.
Resolution 480p, 576p, 720p/50Hz, 720p/60Hz, 1080i/50Hz, 1080i/60Hz, 1080p/50Hz, 1080p/60Hz TV-Standard
RF in
6000 TV & Radio channels memory
PAL/NTSC Auto switch
Multilingual OnScreenDisplay
EDIVISION electronic program guide
Supports Picture In Grafik (PIG)
Channel Edit and Favorite Lists
Auto and Manual channel search
Auto Timer ΟN/OFF
3G Connection (with USB 3G Modem)
Wifi Connection (only with WiFi USB Dongle)
PVR via USB
Τime Shift function
Subtitles
Teletext
Last selected channel auto-save
Upgrade & Software Backup / channel lists, via USB.
Supports FAT 16/32, NTFS
Parental Control function
Eco-mode standby 0,8 Watt
Mains voltage 100 ~ 240V , 50Hz/60Hz
Media player MP3/JPEG/BMP/AVI/DivX/VOB/MKV
Dimensions: 115x85x25 mm (W x D x H)
File Name
New! EDISION PROGRESSIVE HYBRID LITE_V1.2.57 05082021.rar
4- EDISION PROGRESSIVE HYBRID LITE_V1.2.55 27072021.rar
3- EDISION PROGRESSIVE HYBRID LITE_V1.2.52 12012021.rar
2- EDISION PROGRESSIVE HYBRID LITE_V1.2.50 22102020.rar
1- EDISION PROGRESSIVE HYBRID LITE_V1.2.37 19032020.rar
Manual: EDISION PROGRESSIVE HYBRID LITE_Manual.rar
Dongle List: EDISION PROGRESSIVE HYBRID LITE_3G USB Dongle Support List.rar
Update EDISION PROGRESSIVE HYBRID_LITE New Software 05/08/2021
Download EDISION PROGRESSIVE HYBRID_LITE RECEIVER NEW SOFTWARE