FERGUSON ARIVA 103 MINI TV RECEIVER SOFTWARE DOWNLOAD

FERGUSON ARIVA 103 MINI Satellite Receiver Firmware Latest Update Download, ferguson electronics, Ferguson 4K, Ferguson pl, Ferguson ariva and all set top box, receiver price. Click here for Ferguson receiver homepage and find Specification, Subscription, Webleaflet, User Manual and PC Software, Ferguson 4K IPTV, Istar TV channel, remote Control apps and Tools. Satellite Receiver New Update and For any Help Contact Us @ Facebook Page or Twitter.
Ferguson Ariva 103 mini is the small powerful satellite receiver, Full HD up to 1080p also have bulid in universal pay TV card reader so you can use few types of card. It ensures a perfect picture and great sound quality on the new high-definition (FULL HD) television. Ariva 103mini is ideal for anyone who wants hang large flat scren wall in you livingroom or bedroom – is small enough that it can be hidden behind the TV and you dont need any shelves.
This small box have many more other functions, Ariva 103 mini supports time shifting, real time and planned TV broadcast recording, playing of audio (mp3, ogg, flac), video (mkv, avi, xvid) files – also with full external subtitles support – and of course you can view photos from you smartphone or iPad or USB attached external devices. It is also eco-friendly and use 12V power supply, it can be used in the car, camping or camper-van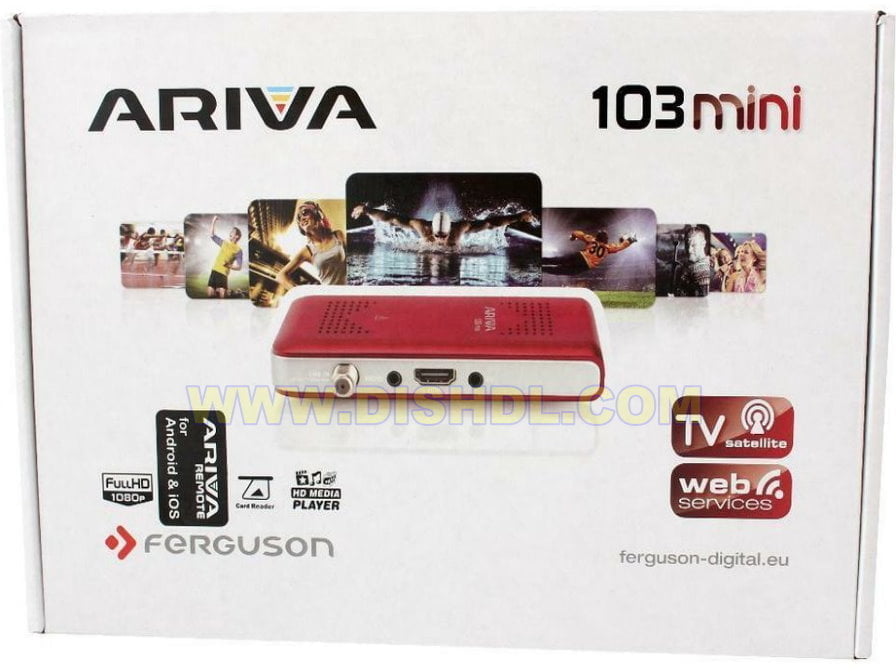 Technical Specifications :
1. LNB IN – input for connecting the LNB converter of the satellite antenna.
2. HDMI – connector for connecting the receiver to an LCD or plasma TV.
3. AV – analog audio/video output. Using the Jack/cinch cable, you can connect the receiver to an older TV or audio amplifier.
4. LAN – serves to connect the receiver to the Internet using a LAN cable.
5. SPDIF – digital optical audio output that serves to connect the receiver using an optical cable to an AV receiver or home theater.
6. 2 x USB – two USB 2.0 ports are used to connect USB components such as: USB key/USB HDD/USB wifi adapter, etc.
The receiver also has an RS232 service port in JACK design .

Main Features::
Reception Full HD chanels
PAL upscaling to 720p or 1080p
Supports 32 programmable timers
Separate lists of favorite TV and Radio stations
Quick search function channels (QuickFind)
Teletext and subtitles
DiSEqC 1.0, 1.1, One Cable and DiSEqC 1.2, USALS
Support for MPEG-2, MPEG-4, MPEG-4 AVC / H.264
Compatible with DVB-S, DVB-S2
Card reader for pay TV

Inputs/Outputs:
LNB IN: Input coaxial cable from the converter.
HDMI: Digital video and sound.
AV: Analog audio and video output.
LAN: Ethernet port used for communication over LAN/Internet.
SPDIF: Digital optical audio output.
2 x USB: Ports for recording on external memory devices.
File Name
New! FERGUSON Ariva 103 Mini_ V1.33B7 28082019.rar
3- FERGUSON Ariva 103 Mini_ Manual.rar
2- FERGUSON Ariva 103 Mini_ EromUpgrade.rar
1- FERGUSON Ariva 103_ Channel Editor.rar
Update FERGUSON ARIVA 103 MINI_ Receiver New Software 28/08/2019
Download FERGUSON ARIVA 103 MINI Receiver New Firmware