FERGUSON ARIVA 103 TV RECEIVER SOFTWARE DOWNLOAD

FERGUSON ARIVA 103 Satellite Receiver Firmware Latest Update Download, ferguson electronics, Ferguson 4K, Ferguson pl, Ferguson ariva and all set top box, receiver price. Click here for Ferguson receiver homepage and find Specification, Subscription, Webleaflet, User Manual and PC Software, Ferguson 4K IPTV, Istar TV channel, remote Control apps and Tools. Satellite Receiver New Update and For any Help Contact Us @ Facebook Page or Twitter.
Ariva 103 A99371 combines the features of a DVB-S / S-2 satellite TV receiver and a media player. It provides the highest image quality in both high definition HD and standard SD. Ariva 103 is equipped with, among others with two high-speed USB ports for connecting both an external memory device and a wireless WiFi card. Recording / timeshift and playing music (mp3, ogg, flac), movies (mkv, avi, xvid) and viewing photos (jpeg, bmp) are just a few examples of the use of this versatile equipment. The card reader hidden under a flap on the front panel allows you to watch pay TV in high definition HD and standard SD. The standby power consumption does not exceed 0.5 W.
Small2Big is a unique functionality of the satellite receiver that allows you to display multimedia content (movies, photos) from your phone or tablet directly on the TV screen. The function is dedicated to be operated by the Android system. The function uses the local area network (LAN) for operation.
The Ariva 103 A99371 receiver is built around a very advanced dual-core main unit. Its built-in image processor – in cooperation with DDR II memory – subjects the signal to a rigorous, five-step process of removing noise, filtering, sharpening, correcting and enhancing. As a result, it provides the highest quality of sound and digital image available on the market in full Full HD resolution.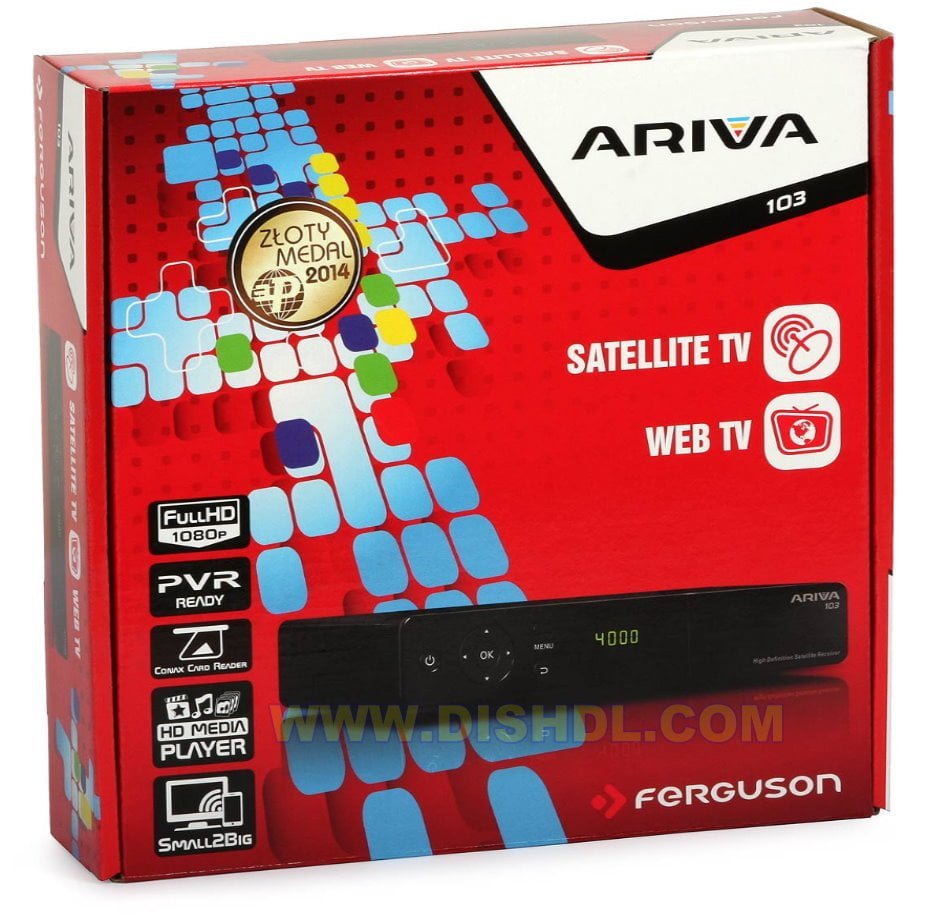 Technical Specifications :
Name Ferguson Ariva 103
Code A99371
CPU frequency 600 MHz
Flash memory 1 PC 32Mbit / 8Mbyte SPI FLASH
DDR II memory 1PC 64MX16bit / 128Mbyte
Input frequency range 950 … 2150 MHz
Input impedance 75 Ω
Tenderness -65 …- 25dBm
Standard DVB-S / DVB-S2
Demodulation QPSK, 8PSK
Symbol speed 2 … 90MS / s
FEC
1/2, 2/3, 3/4, 5/6, 7/8 for DVB-S
1/4, 1/3, 2/5, 1/2, 3/5, 2/3, 3/4 ,
5/6, 8/9, 9/10 for DVB-S2
Audio decoder
MPEG-1 layerI / II, PCM downmix, IEC958 SPDIF, Dolby 5.1, Dolby downmix, Dolby Prologic2MPEG1
Video decoder
MPEG2 ISO / IEC 13818-2 MP @ ML, H.264 (MPEG4-10) MP/[email protected]/MPEG2 MP @ HL
Resolution 1920×1080, 1280×720,720×480
Audio sampling 32kHz, 44.1kHz, 48kHz
Power AC 175 … 250V, 50Hz / 60Hz
Power consumption Max 25W
Dimensions; Mass 220/153/40 mm; 0.7 kg

Distinguishing features:

Reception of High Definition channels
PAL signal scaling to 720p or 1080i resolution
Support for 32 programmable timers
Separate lists of favorite channels, TV and Radio
Quick channel search function (QuickFind)
Teletext and subtitle support
Support for DiSEqC 1.0, 1.1, Unicable and DiSEqC 1.2, USALS
Support for MPEG-2, MPEG-4, MPEG-4 AVC / H.264
Compatible with DVB-S, DVB-S2 systems
Card reader for pay TV
Tuner outputs:
LOOP OUT: Signal output from the converter to another satellite receiver,
LNB IN: Input of the coaxial cable from the converter,
HDMI: Digital picture and sound output,
LAN: Ethernet port used for communication over LAN / Internet,
USB: 2 USB ports for connecting external storage media and / or wireless WiFi card,
SPDIF: Digital Coaxial Audio Output
TV: SCART output for connecting a TV,
RS232: RS232 port for communication with a PC.
File Name
New! FERGUSON Ariva 103_ V1.33B7 06082019.rar
3- FERGUSON Ariva_ 103 Manual.rar
2- FERGUSON Ariva 103_ EromUpgrade.rar
1- FERGUSON Ariva 103_ Channel Editor.rar
Update FERGUSON ARIVA 103_ Receiver New Software 06/08/2019
Download FERGUSON ARIVA 103 Receiver New Firmware