FERGUSON ARIVA 255 COMBO S TV RECEIVER SOFTWARE DOWNLOAD
Combo satellite, terrestrial and cable TV receiver Update
FERGUSON ARIVA 255 COMBO S Satellite Receiver Firmware Latest Update Download. ferguson electronics, Ferguson 4K, Ferguson pl, Ferguson ariva and all set top box, receiver price. Click here for Ferguson receiver homepage and find Specification, Subscription, Webleaflet, User Manual and PC Software, Ferguson 4K IPTV, Istar TV channel, remote Control apps and Tools. Satellite Receiver New Update and For any Help Contact Us @ Facebook Page or Twitter.
Smart Card Interface for pay TV
Common Interface
Reception of High Definition channels
PAL signal upscaling to 720p or 1080p resolution
Support for teletext and subtitles
DiSEqC 1.0, 1.1, Unicable and DiSEqC 1.2, USALS support
Support for MPEG-2, MPEG-4, MPEG-4 AVC/H.264, HEVC/H.265 10bit standards
Fully compliant with DVB-S, DVB-S2, DVB-C, DVB-T, DVB-T2 systems
Web services (Internet access required via LAN or by connection of Ferguson W03 Wi-Fi adapter (not included))
Ferguson Ariva 255 Combo S is a real multimedia center for your home. A wide range of supported containers and codecs will ensure trouble free playback of most multimedia files.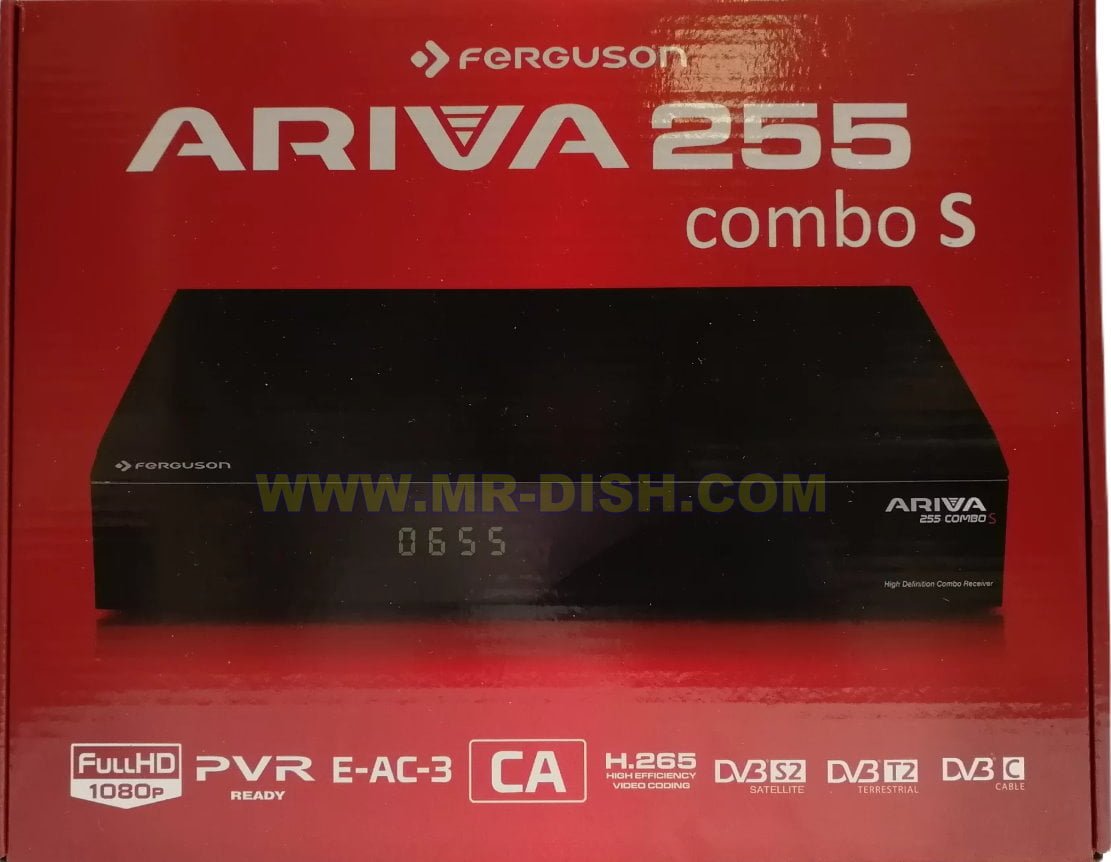 Technical Specifications :
Main Features
STB type: DVB-S2+T2 combo receiver
Main chipset: ALI M3529
CPU frequency: 594MHz
Flash memory: 1PC 8MB SPI FLASH
SDRAM memory: 1PC 128MB DDR3
Mechanical: W case
Interface: ANT in, LNB in, USB, S/PDIF, LAN, HDMI, SCART, DC12V
Function type: Single CI
Condition Access: CA

DVB-S2 Tuner
Tuner type: M3031 on-board
Demodulator S2: Embedded
Frequency range: 950 ~ 2150MHz
Input impedance: 75Ω
LNB power and polarization: Vertical 13VDC; Horizontal 18VDC @ 400mA (max) 22KHz±0.4KHz(0.6V±0.2V) tone; Overload Protection
Input level range: -65dBm ~ -25dBm
Loop-through: No loop through

DVB-T2 Tuner
Tuner type: R836 On board
Demodulator T2: AVL6762
Frequency range: 50 ~ 870MHz
Input impedance: 75Ω
Antenna power: 5V
Loop-through: No loop through

Video Decoding
Video decoding: MPEG2 ISO/IEC 13818-2 MP@ML, H.264 (MPEG4 part 10) main and high profile level 4.1/MPEG-2 MP@HL, H.265/HEVC 10bit
Aspect ratio: 4:3, 16:9
Video resolutions: 1920×1080, 1280×720, 720×480

Audio Decoding
Audio decoding: MPEG-1 layerI/II, PCM downmix, IEC958 S/PDIF
Sound mode: LEFT/RIGHT/STEREO/MONO
Sampling frequency: 32KHz, 44.1KHz, 48KHz

AV Output
HDMI: HDMI 1.4
HDMI interface: 480i/p, 576i/p, 720p, 1080i, 1080p
bandwidth: SD:5.0MHz (-3dB)
impedance: 75Ω
voltage Level: 1.0 Vp-p
Audio freq. range: 20 ~ 20KHz
impedance: 600Ω
voltage level: 2V rms (5.6Vp-p)

Software Features
MPEG: MPEG2 SD, MPEG2 HD, MPEG4 SD/HD, H.265/HEVC 10bit SD/HD
CA Type: Embedded Conax
SCPC/MCPC: SCPC and MCPC receivable from C/Ku band satellite
PAL/NTSC: Automatic PAL/NTSC conversion
Channels number: 5000 channels of programmable TV and Radio
Favorites: 32 different favorite groups selection
OSD language: Multi-language OSD (English, French, German, Italian, Spanish, Portuguese, Russian, Turkish, Arabic, Polish, etc)
EPG: Full support up to 7 days Electronic Program Guide (EPG)
PIG: Picture in Graphics (PIG) support
Color OSD: 16-bit color On Screen Display
Network: Automatic network search for newly added transponders
DiSEqC: DiSEqC 1.2 full support, 13/18V, 0/22K LNB control
Channel edit: Various channel editing functions (favorite, moving, locking, renaming, deleting and sorting)
Parental control: Parental control for channels
Easy menu: Ease to use Menu System
Software upgrade: Supported via USB
Timer: 8 Timer reservations with automatic switch to a specific channel
Subtitle: Subtitle support DVB EN300743 and EBU
Teletext: Teletext support DVB ETS300472 by VBI and OSD
Save channel: Automatic save for last channel
Sort channel: Channel list can be sorted by alphabetic A-Z, Scramble, Favorite, Lock, Sat
MutiPicture: Dual display – HD and SD simultaneous
USB disk: Support for FAT16/FAT32/FAT12/NTFS
Folder browser: Only list JPEG/BMP files
Games: Games (Tetris, Othello, Sudoku)
Recording: 1 recording with timeshift capability

Environment
Power supply: DC 12V
Maximum power consumption: Max 18W
Operating temperature: -5 ~ 45°C
Storage temperature: -40 ~ 60°C
Humidity: <95%
Standby: <0.5W
Dimensions (LxWxH): 220 x 160 x 40mm
Weight: 1kg
File Name
New! Ferguson Ariva 255 Combo S_ 20220610 EU.zip
2- Ferguson Ariva 255 Combo S_ User manual.rar
1- Ferguson Ariva 255 Combo S_ Datasheets.rar
Update FERGUSON ARIVA 255 COMBO S_ Receiver New Software 10/06/2022
Download FERGUSON ARIVA 255 COMBO S Receiver New Firmware